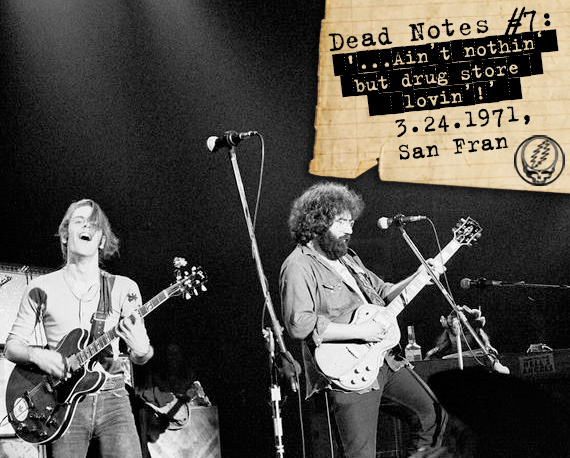 And we're back. Welcome to the seventh installment of Dead Notes where we find our former psychedelic heroes continuing to shed their kaleidoscopic, meandering, ways. Tightening up, both literally and figuratively, by March of 1971 the Dead's live show had been transformed into a lean, mean, rock 'n roll revue. The band had just lost second percussionist, Mickey Hart, who left indefinitely after his father, Lenny Hart (the Dead's former manager), absconded with the band's savings. While the loss of Hart was indeed significant, drummer Bill Kreutzmann had become a swinging powerhouse in his own right, and was more than able to compensate for the sudden loss. In return, the Dead were able to open up — moving them further into the jazz idiom while producing some of the most dynamic live shows of their career.

On the night of the 24th, the band convened for the Sufi Benefit at their old Bay Area haunt, Winterland Arena, with a crowd of "about 4000 characters — Dead fans, freaks, mystics, religionists, spiritualists and a few semi-straights" – aka a Grateful Dead concert. Following an opening set by the Sufi entertainers, the band sauntered on stage plunging straight into a jam with the Sufi choir, immediately kicking shit into high gear with the one-two punch of "Bertha" and "Sugar Magnolia." Deep into the first set, the opening notes of Otis Redding's posthumous 1968 hit "Hard to Handle" ring out, as Pigpen's high pitched warble – "Baaaay-beh, here I am, I'm the man on the scene" – whip the crowd into a frenzy. The band quickly locks into a solid groove as Phil and Billy provide a punishing backbeat while Jerry lays down a sleazy, fluid blast of licks that tangle and weave with Bobby's chunky rhythm breaks. Pig, of course, dons the role of mister sweet talker, an experienced sugar daddy who doesn't mess around with drug store lovin'; promising "to prove every word he say(s)." Phil throws down a thick, funky, bass line allowing Pig to really turn on his special brand of poetic charm. A Pigpen rap then ensues, centered around when he "gets a little hungry" — see: the evening, the afternoon, the morning again and the times between. On a dime, Jerry tightens up, leading the band into a thick rhythm and blues jam that percolates with Phil's bass oozing through Bobby's rhythmic punches, building into an epic explosion of blood, sweat and tears.
In some sort of post-coital astral haze, the group limps back as Pig reminds us – "I can give you what you want, but you got to come home with me." Phew! words/ d norsen
Grateful Dead :: Hard To Handle
Elsewhere: As a companion to Light In The Attic Records' recent vinyl issue of One From The Vault, our buddy Jess Rotter, of Rotter & Friends, designed commemorative t-shirts. We have a few to give away to AD readers. To enter, leave a comment with your name, size, favorite GD show and why. Winners notified via email.
Archives: Aquarium Drunkard — Dead Notes (Volumes 1 — 6)