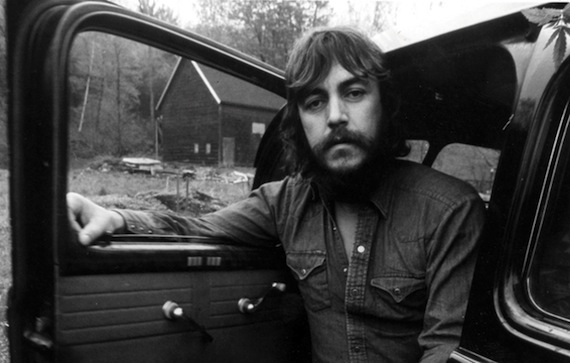 As a teenager, Bobby Charles–né Robert Charles Guidry in Abbeville, Louisiana–cut several swampy, R&B-based sides for Chess and Imperial, including "See You Later, Alligator," which the Texan Bill Haley would hit with in 1956. Then in 1960 and '61, Charles scored two more top-ten hits as a writer, giving the immortal "Walkin' to New Orleans" to Fats Domino and "(I Don't Know Why I  Love You) But I Do" to Clarence "Frogman" Henry. Though he found some touring success with R&B audiences in the late '50s (Leonard Chess is rumored to have booked Charles on a tour of the chitlin circuit, not having realized that his new signee was a white Cajun), he never broke through as a performer; after releasing a few barely-noticed records in the early '60s, he disappeared, and after being arrested for possession in Nashville in 1971, wound his way to Woodstock. He'd never heard of the festival; he just liked the name.
Though his best-known songs had by that time largely faded from the public consciousness, it was a good time to be a Louisiana musician with a rock 'n' roll bent. Doug Kershaw had just released The Cajun Way and was palling around with Johnny Cash, and The Band were popularizing a hybridized form of rural rock that was deeply indebted to Louisiana roots (they'd open 1973's Moondog Matinee with a cover of another "Frogman" song, "Ain't Got No Home"). Dr. John was helping Mick Jagger and Eric Clapton get their ya yas out. Out in L.A., upstart singer-songwriter Randy Newman was beginning to twine piano lines worthy of Professor Longhair through his sophisticated art-pop. It wasn't exactly the British Invasion–invasions never having been Louisiana's style–but it's the closest mainstream rock has ever gotten to full-on gris-gris.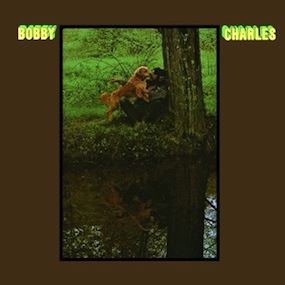 So it's not terribly surprising that Charles wound up befriending The Band, or that they'd be so taken by the 33-year-old's songs that they'd all (with the exception of Robbie Robertson) wind up playing on Bobby Charles. You don't need to read the liner notes to know that Rick Danko had a heavy hand in the production; the ten tracks hang together with the same kind of slack grace that Danko brought to his bass, and his trademark style–more rhythmic bumping than sustained playing–forms a nice counterpoint to Charles' seasoned vocals. Gone is the velvet-trimmed voice that tricked Leonard Chess fifteen years prior. Charles' voice here is easy, relaxed, and he sings his songs with a kind of loose, Kristoffersonian authority: "It's all small-town talk," he consoles his live-in lover on the album's lone single, "You know how people are." Later, he and his boys will slowly turn up the heat on the poor-man lament "All the Money" till it rolls into a boil of trilling sax, splatting trumpet, and Charles jokingly complaining "He got all the power, and he won't give me none!" These aren't great lyrics in the way that Kristofferson's (or even Robbie Robertson's) are–Charles isn't shooting for posterity here–but they're great in the same way that "A wop bop a loo bop" is a great line, or, if you prefer, "Tipitina, tra-la-la." It's not so much what Charles is singing as it is the general attitude, the kind of easiness afforded by failure and foiled expectations that can animate a couplet as banal as "You got a long face/Your head's in the wrong place." Words and music slide out like honey.
That easiness–or maybe joy–is the record's animating spirit. There's no high drama, really, no attempts to reanimate Confederate corpses, no real grappling with moral or spiritual uncertainties; though the two are close stylistic cousins, Bobby Charles is the anti-On the Beach. You can practically hear the creak in Charles' chair as he leans back in the opening moments of "Street People," setting the record's tone with a lazy little up-and-down guitar line and a shake of rhythm. It's also the major difference between Charles and his Louisiana contemporaries: He lacks the alienating persona of Dr. John (who appears here) and the high-minded aspirations of Newman, and his apparent ambivalence toward mainstream success means that he has far less to prove than Kershaw. You can hear echoes of Fess' big-handed piano playing in the opening moments of "I'm That Way" and "Long Face," and "All the Money"'s aforementioned raveup could shut down the Maple Leaf, but Charles is just as happy to croon a lovestruck invitation over a Ben Keith pedal-steel line in "Let Yourself Go." It's a Louisiana record, both in spirit and in style, but it's far less interested in that fact than just about any other Louisiana record of the era that I can think of.
Charles eventually moved home to Holly Beach, on the Gulf Coast. He lived a quiet life there, receiving Neil Young, Bob Dylan, and Willie Nelson as guests and emerging with the occasional album. Like Alex Chilton, who lived a couple of hundred miles down the road in New Orleans, he remained in relative obscurity, and maybe contentedly so, a onetime casualty of the hitmaking machine living off of his old royalties. As with all those Big Star records, you can't call Bobby Charles a masterpiece, because that would freight it with ambitions far greater than it ever sets for itself. But you can call it perfect. words / m garner