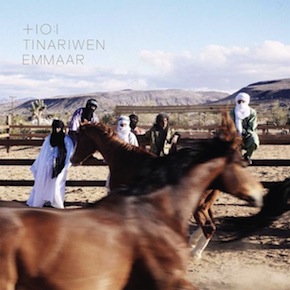 Tinariwen's music speaks for Kel Tamashek, the Tuaregs, and their desert home, the "tenere." The typical descriptor of "desert blues," suggests a genre defined by it's point of origin, but how linked are music and place, really? This music–of which Tinariwen are storied masters–clearly resonates with listeners across the world, and the Tuaregs are nomads after all, constantly between places. The photo gracing Tinariwen's new album cover says a lot about where the band is at: a desert, but one of scrub and horses instead of dunes and camels.
Emmaar was recorded in Joshua Tree, California–the dusty cradle of "cosmic" American music–due to violent political instability in the band's home in Northern Mali. In the wake of the Arab Spring, a militant Islamic sect called Ansar Dine seized control of the Tuareg lands and imposed Sharia law–the strict religious code which views music as the stuff of the devil. Those familiar with Tinariwen and contemporary Tuareg music know this is history repeating itself. The Tuareg are a nomadic people and geopolitical boundaries have always been gray in the Sahara, but the violence escalated so intensely last year that the French military intervened, the celebrated Festival Au Desert was cancelled… even one of Tinariwen's guitarists, Abdallah "Intidao" Ag Lamida was detained by the Ansar Dine during the recording of Emmaar (but has since been released). Since forming in 1979, Tinariwen has endured many of these violent periods, most notably the Tuareg Rebellions in 1990 and 2007. Some band members even answered calls to arms. Yet throughout all of this complicated, tragic history, Emmaar is the first Tinariwen album truly made in exile. In their current website bio, bassist Eyadou Ag Leche says of the surrogate desert, "the air is different. . . (it) brought us in a special mood, the landscape, the big space, the South."
Emmaar is girthed with Tinariwen's heaviest sound to date. A dense interplay of electric guitars stir up rich textures and resonance, accented with fingernails clicking on the pickups and trilling hammered-on notes. Thick smacks of handclaps and frequent call-and-response make plain the group's communal approach. Tinariwen has always operated as a collective with founding member and singer/songwriter Ibrahim Ag Alhabib in the lead. The current lineup is a multi-generational affair, and the songs evidence a synthesis of all sorts of West African musical styles and Western pop rock through the Tuareg "assouf" group guitar style. Tinariwen's original music has always been a vessel for Ag Alhabib's peace poetry–a new musical tradition, so to speak–but this set highlights the most sonically developed iteration of the band's core live sound. Many of these tunes have a dark urgency about them, and Ag Alhabib's are more plaintive and frustrated than ever–and rightly so considering the situation at home.
The band's droning song structures are enriched with "cosmic" atmosphere thanks to a few subtle Western collaborators–guitarists Matt Sweeney and Josh Klinghoffer as well as the Nashvillian multi-instrumentalist Fats Kaplan. The poet Saul Williams delivers the album's spoken introduction, a meditation on the desert. In fact, Kaplan helps deliver a peak moment on the riff-heavy "Imdiwanin ahi Tifhaham" with a delightfully at-home fiddle shuffle. On a propulsive number like "Chaghaybou" or a spectral drone like "Tahalamot," the band possesses acute nuance, achieving a wide expressiveness often from a single chord.
The band's previous album, Tassili, was billed as a return to the band's roots: acoustic instruments recorded in protected Algerian desert where the studio was a tent. Tassili featured more Western collaborators than ever before and scored these Tuaregs the Best World Music Album Grammy. But Emmaar is their new best–it's a mature and powerful document of a band that completely owns its deep, mesmerizing groove and lives by the words of its songs. words / a spoto
Tinariwen :: Imdiwanin ahi Tifhamam
For heads, by heads. Aquarium Drunkard is powered by its patrons. Keep the servers humming and help us continue doing it by pledging your support via our Patreon page.