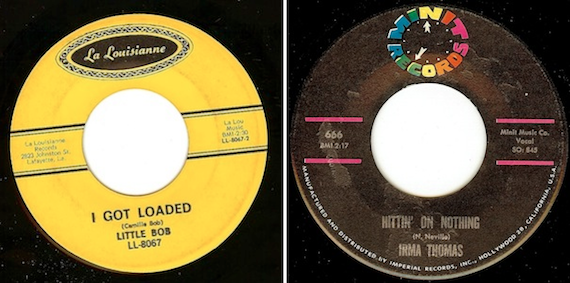 With its complex and rich history, New Orleans has long served as a hotbed of rhythm and blues, with the city's musicians often adding an air of sophistication (i.e. jazz influence) to the music. This provided a unique slant to the soul sounds of NOLA. As such, there's a staggering number of great NOLA soul recordings — from the output of minuscule local labels, pressed in tiny quantities for the local market, all the way up to massive national releases.
Irma Thomas :: Hittin' On Nothing (1963)
Irma Thomas began her recording career at age 19 in 1960, and by the time of this release, had completely hit her stride as not only a powerhouse vocalist but one of pure carnal confidence as she demonstrates on this brazenly sexual groover. This lady EARNED the title 'Soul Queen Of New Orleans'. Minit Records was a subsidiary of Hollywood-based Imperial Records, set up almost exclusively as a vehicle to license and release records cut in and around New Orleans. The 'N. Neville' credit is actually New Orleans musician/ producer/ arranger raconteur Allen Toussaint operating under a pseudonym. Records such as this, as transmitted over powerful AM radio waves, were also highly influential to the Jamaican bluebeat scene, as the groove heard here isn't too far off from the type of Jamaican R&B that gave way to the rock steady sounds that morphed into reggae music.
Bobby Parker :: Watch Your Step (1961)
While the V-Tone label was based in Philadelphia, this record from Lafayette, LA native Bobby Parker is pure southern fried R&B of the rawest variety. While still in his teens, Bobby traveled far and wide playing guitar with the likes of Otis Williams, Bo Diddley, Sam Cooke, Jackie Wilson, and Clyde McPhatter. This was Bobby's fifth 45 release, and it's a blazing track that, while rooted in Ray Charles "What'd I Say", becomes something entirely different. The track proved highly influential to The Beatles (John Lennon is on record as saying the riff here was his inspiration for "I Feel Fine") and Led Zeppelin (Jimmy Page 'borrowed' the riff and feel for "Moby Dick"). Bobby had very few opportunities to record his own music (his next release under his own name didn't appear until 1968, and a missed opportunity to record for Led Zeppelin's Swan Song label in the 1970's led to incomplete tapes. He cut two blues discs in the 90s, and passed away in October of last year.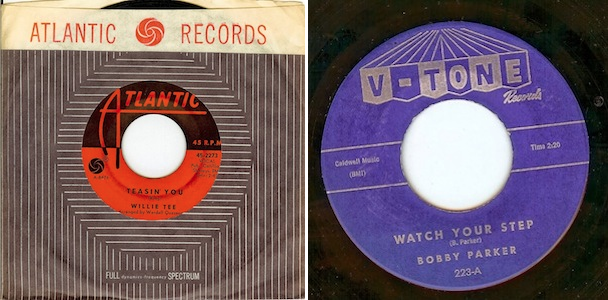 Little Bob :: I Got Loaded (1966)
With a horn chart that's pure jazz, Little Bob (real name Camille Bob) is a singing drummer that has been a staple of Louisiana music since the late 1950's. This party anthem epitomizes the feel good nature of NOLA music, and has been covered by the likes of Los Lobos.
Willie Tee :: Teasin' You (1966)
Willie Tee :: Walking Up A One Way Street (1966)
Willie Tee is another musician whose career began while still a teenager. While he may not have been the most prolific artist of the '60s (and continuing into the '70s), he released a few handfuls of stellar records that, just like New Orleans itself, are a musical gumbo of jazz, R&B, soul, funk and pop. Willie was all of 18 when he cut his first record, and by age 21 he was signed to Atlantic for this glorious double sider (issued earlier on the NOLA label and licensed almost immediately by Atlantic). This record established a breezy, jazzy soul sound that became a very important part of the New Orleans vernacular, driven by Willie's playful piano, fantastic lyrics and ultra-soulful vocals.
(Derek See is a Bay area based musician who plays guitar with The Bang Girl Group Revue, Joel Gion & Primary Colours, and occasionally makes records on his own with The Gentle Cycle.)