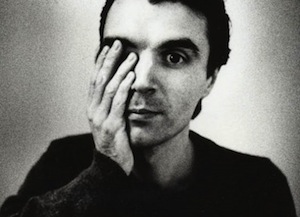 On Talking Heads' final album, 1988's Naked, the band imagines a reverse evolution, the erasing of centuries of pollution, development and commercialization. The particular song in reference is "Nothing But Flowers." With a subtle, but knowing smirk, David Byrne laments the loss of the factories and shopping malls, the highways and parking lots, the Dairy Queens and 7-Elevens. "If this is paradise," he sings, "I wish I had a lawn mower."
Two years prior, Byrne would paint a picture of that world – the one of microwaves and discount stores, of rapid commercial and technological growth, in its prime, with his 1986 film, True Stories. Byrne's sole directorial work, True Stories is very much the film equivalent of a Talking Heads album. It is a keen and musical portrait of modern America, with Byrne serving as the nameless narrator and tour guide through the fictional town of Virgil, Texas – a sort of every town, USA, in the midst of celebrating its 150th anniversary. Virgil is populated by the idiosyncrasies and the seemingly mundanes found not only in America, but on Talking Heads records as well — highways, shopping malls, televisions and computers. And, of course, people.

In a 1984 interview with himself, Byrne describes the film as "a project with songs based on true stories from tabloid newspapers. It's like 60 Minutes on acid." And indeed there are some strange characters throughout; a woman who never leaves her bed, a man who advertises himself on television in hopes of finding a wife, and a married couple who haven't spoken to one another, directly, in years. Well, maybe not so strange after all. Our narrator, Byrne, interacts with all of them, weaving throughout the town's shopping malls, computer manufacturing plants, local bars, and highways. He notes the great radio reception in the open fields, but acknowledges the forthcoming development of the area. He references a quote about highways being the cathedrals of our time, but asserts he does not share the opinion. He discovers plentiful parking and a uniform dinnertime – all with a sense of objective appreciation. And while one can infer satire based on the purview of Talking Heads material, Byrne's delivery as narrator is straight and matter-of-fact.
The Music: One of the film's great many charms are the cast performances, which find the characters performing songs that would later be cut by Talking Heads for their sixth album, also entitled True Stories. And while Byrne did release a film soundtrack, Sounds from True Stories: Music for Activities Freaks, the cast's vocal performances are largely absent in favor of the instrumental score. Which is a shame considering how strong they are. John Goodman, in particular, gives a rousing performance of "People Like Us," that was released as the B-side to the "Wild Wild Life" single, and later included in the 2006 Bonus Rarities and Outtakes collection.
Pops Staples appears in the film as a voodoo practitioner, performing a gris-gris ready rendition of "Papa Legba." One of the film's highlights, this version would only first appear on record in 2006, as bonus track via Rhino's True Stories reissue. Most of the other performances from the film, however, have yet to see a proper release. Rich and unique as they are. These include Annie McEnroe singing "Dream Operator" during the fashion show scene – a fascinatingly ethereal and outsider-art like performance, the gospel choir rendition of "Puzzlin' Evidence" – delivered by John Ingle as a conspiracy-theorist preacher, and the St. Thomas Aquinas School Choir's performance of "Hey Now."
A must-see for any Talking Heads fan – and as singular as any one of their studio albums, True Stories is a unique, bizarre, and painterly attempt to make sense of a world that makes none. words/ c depasquale