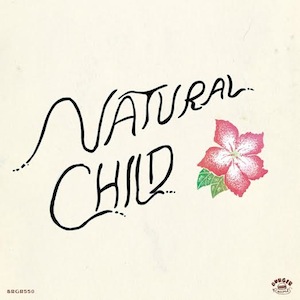 Someone's going to accuse Natural Child of going soft and they'll be wholly wrong. Across their previous 3 LPs, the Nashville trio carved out a little niche with a whole lot of machismo, a healthy dose of riff-rock and a firm rooting in country. Their shirts have beer stains. The bottoms of their lighters are colored black with ash. Their trail of women and buddies is long, often listed and equally tender and flippant. This is the band whose version of maturity was yelling, "want to tell you to suck my dick/but I gotta be a man."
And in truth, not a lot's changed. While the excellent starter "Out In The Country" gives off a dark Cale vibe that dips in and out across the record, one need look no further than the next track, "Don't The Time Pass Quickly," to know that Natural Child is still playing fast and loose. "I had things to do/had it all planned out/then she grabbed my…/and she kissed my mouth." They have matured, sure, they've gotten older. All that love making, chain smoking and beer chuggin' adds up, but that doesn't mean it goes away.
Dancin' With Wolves
is full of tales of use and abuse, both in substance and in love. But this is not to say that it's more of the same. Augmenting the fun of boredom on "Saturday Night Blues" and the cocksured defensiveness of "Country Hippie Blues" are some of the finest work the band has done. The lyrical contradiction of "Rounder" followed by "I'm Gonna Try" is missed on no one. "Rounder"s narrator can't settle down in spite of himself; "Try's" can't think of being with anyone else. The album's closer, and title track, is either a call to action for potential road-trippers (and "trippers" in general) or a plea to heed the call of resisting temptation if you're not sure what you're getting into. It's always about perspective for Natural Child, and the lens they look through can be equally fogged by love, shots or smoke.
The band has also become more technically sound – something no one was begging for but everyone should appreciate. The slide guitar playing across much the record is a gorgeous and welcome addition. Wes Traylor's bass is high in the mix, his playing alongside Seth Murray's guitar on equal-footing. And their one-two punch of vocals are beat-up in just the right places, smooth in others. And while record has a bigger dose of country than previous efforts, their ability to not go too sentimental or cliche is impressive. "Dancin' With Wolves" sees Natural Child on a strong path. It's not groundbreaking, but they've presented a record without clunkers, in that true country tradition of plowing along, sounding good, having good and bad times – and living to sing about it. words / b kramer