(Sevens, a recurring feature on Aquarium Drunkard, pays tribute to the art of the individual song.)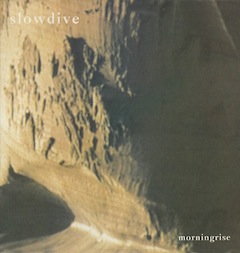 If you haven't heard, Slowdive have reunited for a batch of festival performances throughout Europe and are adding more dates as the weeks progress. Apart from My Bloody Valentine and Cocteau Twins, there hasn't been a more name-checked shoegaze band in the past decade. And rightfully so. Their legacy and impact on current music culture far surpasses their initial footprint and squashes the highly suspect UK press backlash they endured for nearly the entirety of  their career. But, here, on the band's second Creation Records single, "Morningrise" – melting inside an array of noise, delay, and reverb – they are undeniably brilliant and beyond criticism.
"Morningrise" is one of the few Slowdive tracks that sounds totally unhinged and raw — like an overheated engine of guitars howling into a mess of undefined sludge. Layers repeat and bounce back into the verse, thanks to a huge helping of delayed guitar feeding back through digital-reverb rack effects. It's a sound that allows one to disappear. Neil sings casually and stretched out (always) over an insanely beautiful warped guitar melody with overdriven amps roaring behind him. Then in comes Rachel, floating  gently into the mix adding a sensuality that justifies all of the MBV comparisons (and note: this is one of the few tracks in their discography where she's adding guitar). And while Slowdive were never "heavy", definitely not in their studio recordings, this is by far their heaviest moment.
What's so weird about this track is how aggressive it is, even though it lives within such a mellow sedative tempo. There's this balance of urgency and laziness as the music spills all over the place while the lyrics are delivered at a leisurely pace. "Machine Gun", "Souvlaki Space Station", and "Catch the Breeze" are also perfect examples where Slowdive somehow makes time stand still, but "Morningrise' is their first step on the moon. It encapsulates all that is beautiful and mesmerizing about "shoegaze". Be thankful they're back. words / s mcdonald