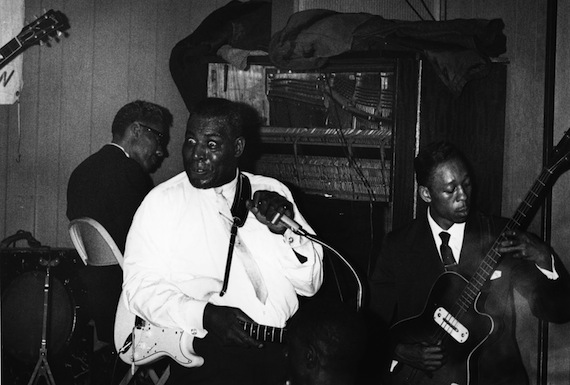 Chicago style blues is a sound rooted in the deep South. Many bluesmen moved north to escape Jim Crow and to make a living working in the steel mills of Chicago and northwest Indiana; the music followed and when Muddy Waters took his Mississippi roots and electrified them in the late 1940's, a whole new thing was born.
While electric blues remained a popular club attraction into the early '60s, soul music and civil rights practically worked hand in hand to become an incredibly important social upheaval. Blues, rooted in 'the country' was viewed by some as a style that was too deeply connected to a world that the black community was doing their best to escape from. Soul rhythms and a more polished, 'uptown' feel began to infiltrate the music of the great Chicago bluesmen in the early '60s, yet this music was practically ignored by radio and for the most part and sold very little until a whole new (white) audience began discovering this amazing music by the middle of the decade.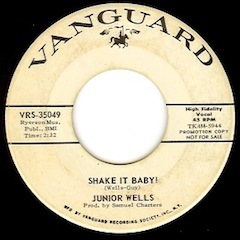 Probably my favorite of all the '60s Chicago sides is this double sided (double headed) monster from Junior Wells. Released in 1966, "Shake It Baby!" b/w "(I Got A) Stomach Ache" once again finds Wells working with Buddy Guy on guitar and as a songwriting collaborator; a duo that came together for the previous years' incredible LP, Hoodoo Man Blues (an album that is regarded by many as the greatest electric blues LP ever recorded). "Shake It Baby" is the sound of a wild night at a west side bar, one of those magic moments where the energy and unchained atmosphere is somehow captured in the studio. The band cuts a deep groove and swings hard, with Buddy Guy answering Junior's powerful vocal as a wild call and response between lyrics and guitar. The flip side, with Junior scat-singing the intro, captures the 3 AM vibe of the club, when everyone's gotten woozy but the band's still cookin' and we ain't ready to go home yet. Junior Wells moved from Arkansas to Chicago around age 14, and by the age of 18 he was playing harmonica with Muddy Waters. Buddy Guy moved from Louisiana to Chicago at age 21, and immediately cut a presence in the city with his razor sharp guitar playing.
Junior Wells :: Shake It Baby
Junior Wells :: I Got A Stomach Ache
Magic Sam's immense talent was cut short in 1969 when died of a heart attack at 32 years of age. Sam released two incredible LP's that epitomized his soulful blues style (West Side Soul and Black's Magic both on Delmark Records). There's no telling what this man could have done musically had he lived. Sam (Maghett) moved to Chicago in 1950 at age 13 from Mississippi, and he spent a whole lot of time with fellow Mississippi-to-Chicago transplant Syl Johnson carving out their musical styles during this time. Sam cut many 45's for various labels before signing to Delmark in 1967, and this 1966 single is a haunting track that retains the raw, earthy energy of blues and mates it with a deep soulful ballad yielding glorious results.
Magic Sam :: She Belongs To Me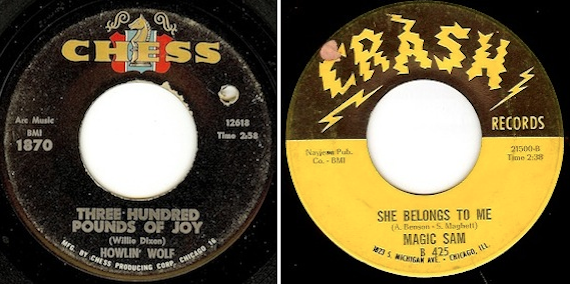 Howlin' Wolf's "Three Hundred Pounds Of Joy" (1963) finds the man's massive, downright threatening voice working quite well with an uptempo R&B track where Hubert Sumlin's guitar lines are echoed by the horn arrangement. Both Wolf and Hubert were Mississippi born, ended up in Memphis, and moved to Chicago in 1953. Sumlin, several years Wolf's junior, became Wolf's guitarist when (guitarist) Willie Johnson did not move north to Chicago. Even though Howlin' Wolf comes across as primitive on record, the man insisted that Hubert study classical guitar in the '50s, which Hubert used to add great sophistication to his deep seated blues licks. The matchup of Howlin' Wolf and Hubert Sumlin is one of the greatest long term collaborations in all of blues music.
Howlin' Wolf' :: Three Hundred Pounds Of Joy
Otis Rush cut some big hits in the mid 1950s while he was in his early 20's, but by 1960 (the year "I'm Satisfied" was released) the hits had dried up. "I'm Satisfied" is a record that was truly ahead of its time; burning with intensity, grooving HARD, and capped off with a vocal from Otis that is nothing but pure soul, the sound contained on these grooves led the way for the arrival of Jimi Hendrix.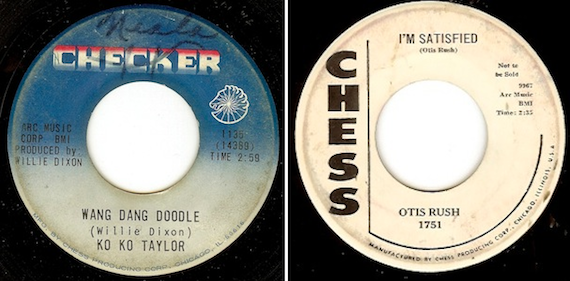 While "Wang Dang Doodle" (1966) is the most well known cut here, its appearance is crucial. Chess Records (and its offshoot label, Checker) wasn't messing around with the records they were releasing between 1965-1966; between a record like this and Etta James/ Sugarpie DeSanto's masterpiece "In The Basement", these records drip with intensity and just flat out kick ass. "Wang Dang Doodle" lays out a groove that sounds as if the drum track could have been cut in the steel mill itself, and Koko Taylor delivers Willie Dixon's lyric – possibly the best characterization and story line in all of blues – in a way that cuts so deep into the gut that it's a wonder we could ever recover.
Koko Taylor :: Wang Dang Doodle
As an added bonus, here's a phenomenal video example of this blues-soul hybrid, as Buddy Guy brilliantly covers James Brown.
(Derek See is a Bay area based musician who plays guitar with The Bang Girl Group Revue, Joel Gion & Primary Colours, and occasionally makes records on his own with The Gentle Cycle.)