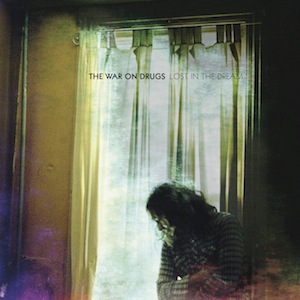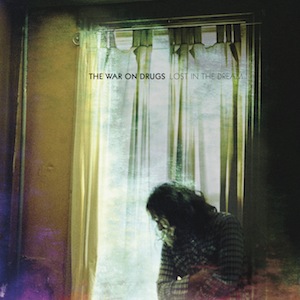 The War on Drugs were born with a sound. When Adam Granduciel's Philly-bred concern released Wagonwheel Blues in 2008, they were already singular. There were familiar signifiers–woo-hoo-hoos stolen from Born in the USA-era Springsteen, Granduciel's pinched vocals and turnaround chord progressions nicked from Dylan via Tom Petty–but they were specks in a maelstrom of searing synth patches and controlled feedback, with a tick-tack rhythm doing its damnedest to pin it all together. By the time of 2011's Slave Ambient, Granduciel seemed overwhelmed by the size and potential of his creation. That record lacks the energy and sense of awe that give Wagonwheel its trajectory, its way through the tornado of sound, and their absence makes the record feel at times too dissipated, too depersonalized. It's a good record, nearly a great one, but it's also a record given over almost entirely to its guiding aesthetic. Granduciel haunts its heartland drone like a tired ghost, and it can be tiring trying to coax him out.
That's no longer an issue. Lost in the Dream is easily the most direct and engaging work that The War on Drugs have ever released. It's also the best. Those two statements–both technically subjective but still readily apparent from the moment Granduciel lets his voice unwind around a big-sky melody in opener "Under the Pressure"–aren't necessarily complementary, and Granduciel's particular genius has always seemed to be for obfuscation. In the past, he allowed, say, loneliness to drive him into an ambient haze and left a nice-looking chemtrail for us to gaze into. But here he forces his songs to bloom outward, exposing them and himself. It gives you something to see, a pair of eyes to make contact with, and it gives the record a sense of purpose greater than its own aesthetic achievement. It's such a frequently and effectively heartbreaking listen that when he finally gets loose a joyous, unqualified yelp in the record's final few minutes, you want to jump up and shout for him.
Which isn't to say that Lost in the Dream is some kind of bummer. Sadness here is buoyed by a kind of tentative triumph. "Well the comedown here was easy," Granduciel sings in "Under the Pressure," "Like the arrival of a new day." When the lyric gives way to breakdowns and runaways and pain, they're countered by a horn chart that could've been ripped from Sports or Fore! and a sparkling galaxy of synth. It takes a full three minutes of ambient exhale for the song to catch its breath. Lead single "Red Eyes," itself threaded with the kind of milky guitar line that Granduciel and former bandmate Kurt Vile practically invented, builds to a defiant, orchestral stomp.
But Lost in the Dream is at its best when it goes dark. The gentle Rhodes and synth washes of "Suffering" move like The Band lilting across space, with Granduciel floating out ahead as he repeats the title phrase. "I'm just a bit rundown here at the moment," he sings over a float of lap and pedal steel and synthesized strings in "Eyes to the Wind," the slow-building ballad that is the album's emotional centerpiece. "There's just a stranger living in me." Suffering, alienation: These aren't exactly new sentiments, particularly in the folk-rock realm in which Granduciel still works. But he's harnessed all of that free-floating noise that engulfed him on Slave Ambient and put it in service of relatable pain. The result is a set of songs that sound sad, sure, but they sound sad in a way that sadness has never quite sounded before.
The prevailing narrative surrounding the creation of Lost in the Dream has centered on Granduciel's relationship to the sonic fog that covers his group's first two records. He spent a full year editing down Lost in the Dream, meticulously shaping and taming wild sound, trying to understand what makes his band effective. Read enough profiles and you get the sense that these disparate tones grow from him like bright mold up a humid wall. Rest assured, all of those sounds and patterns and fractals of mysterious feeling are still here, and they're still central to what makes The War on Drugs compelling. But for the first time, really, you get a very clear sense of the source of all of that sound. Adam Granduciel sits in the center of it, illuminated. And there's color blooming and decaying all around.  words / m garner