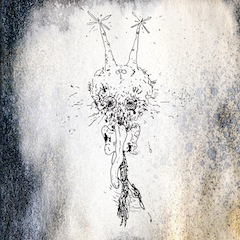 Psych rock lifers Bardo Pond go back to the beginning with Refulgo, a double LP of previously hard to come by recordings from the mid 1990s. Though essentially an odds-n-sods compilation, the release works just fine as a cohesive whole, thanks to the single-mindedness of the band's intentions — like Neil Young used to say: "It's all one song."
Kicking off with the band's very first seven-inch, a woozy take on the old gospel chestnut "I Want To Die Easy," Refulgo boils psychedelia down to its purest elements: Lacerating feedback, pounding drums, disembodied vocals, fuzzed out bass, unconscionable amplifier abuse. It's a beautiful trip throughout, but they save the best for last. "Sangh Seriatim" closes things out with a full side of free rock drift, just the barest of bass lines holding things together for a 20+ minute journey beyond the infinite. You'll wish it was 20 minutes longer.
But if that's not enough time spent in the Pond, Three Lobed Records has also just put out
Shone Like A Ton
, a never-before-reissued collection from the band's earliest days. Actually a bit more swampy than pond-y, the six jams here are raw and rough, but thrillingly so. "Tarahumara," in particular, is a fuzzy, dreamy delight.
Of course, Bardo Pond is still a going concern, and they've got some fresh material hitting the racks for Record Store Day: Looking For Another Place, a very enticing 12-inch featuring extended covers of the Velvets' "Ride Into The Sun" and Eno's "Here Come The Warm Jets." Both renditions start off reverently, but in typical Bardo fashion, the band soon takes things into the outer regions. Very much worth tracking down. words / t wilcox