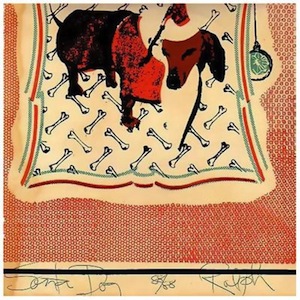 "Do you ever… wonder who you are?" A cartoonish voice asks this question on "Aircraft Damage," a track from The Residents' first official release in 1972 called Santa Dog. It's a curious debut EP, a heterogeneous mixture of deconstructoid musical satire and homespun concrî¨te  experimentalism. The aesthetic is grotesque and subversive, a spooky pop culture mélange with a heightened sensitivity to music history.
The question of identity has persisted with The Residents throughout the group's 40 odd years of existence. They've made an art out of confusing who and what The Residents are–the band's classic disguises are cartoonish, top-hat wearing eye-ball masks. However it's not quite right to call The Residents a band, because they are visually prolific as well as musically: the Residents were cranking out overly ambitious "music videos" a decade before MTV and have made movies, scored films. Tirelessly multimedia in their understanding of medium, they were early adaptors of the CD-ROM and eager practitioners on YouTube.
The Bay Area archival label Superior Viaduct is releasing the Santa Dog EP as well as Residue of The Residents, an expansion of the band's 1983 out-takes and rarities album of the same name. The Residents bulging oeuvre is daunting to the uninitiated, but these releases make a solid and concise point of entry to The Resident's first decade of music-making. Additionally, a promising documentary on The Residents is in the works called Theory of Obscurity. It catches up with the masked singer "Randy Rose" on the band's 2013 40th Anniversary tour, aiming to give some perspective on the breadth of the group's work and the depth of their influence across several generations.
A pillar of Residents philosophy, the "Theory of Obscurity" claims that an artist can only produce pure art when the influences or the outside world are not considered–it was put forth by N. Senada, a mysterious, pivotal figure in Residents mythology (who is rumored to have been The Residents early hero, Captain Beefheart). Believe what you will and have fun connecting the dots, but as the Residents' chief cronies and Cryptic Corporation member Jay Clem says in the Theory of Obscurity trailer, ""the idea of the anonymity eliminates barriers to the creation of art." So with that, may the mystery live on. words / a spoto
The Residents :: Aircraft Damage
"to be anonymous, gives them license to do anything… anything because if there's no persona there and it's whatever you make up, their imagination is the only limitation" Graeme Whifler Film Director
"the idea of the anonymity eliminates barriers to the creation of art" — Jay Clem Cryptic Corp 76-82