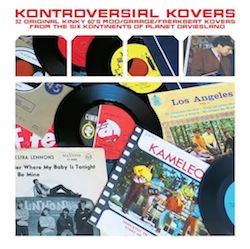 There are the kind of completists for whom even the whole discography isn't enough. After tracking down practically everything the Kinks had to offer, one such collector turned his attention to the Kinks covers from all around the world.
Luckily for us, he decided to share his findings with Kontroversial Kovers: 32 Original Kinky 60's Mod/Garage/Freakbeat From The Six Kontinents Of Planet Davies. The collection bears the logo of "Reprieve," the grey market label responsible for famous '80s boots Kollektable Kinks and Kontraband, and shows off the influence the Kinks had on fuzzy, wild-eyed acts all over the world. There's plenty to dig into: Mexico's Los Angeles do a gorgeous version of "Waterloo Sunset" en espaî±ol, New Zealand's Human Instinct twist "You Really Got Me" into wah-wah-laden psychedelic soul, Slovenian combo Kameleoni perform "Too Much On my Mind" as a hazy dirge. There's much more, all Ray Davies-compositions molded into new varieties.
Aquarium Drunkard spoke with the mysterious Dan H about the collection.
Aquarium Drunkard: There's really wide spectrum of styles presented on Kontroversial Kovers. What inspired you to put the project together?
Dan H: I have been an avid record collector since I was 5 years old. I'm 34 now, so I've been collecting for nearly 30 years. Of the many specialties I go after, the Kinks have always been my favorite band and I own literally hundreds of releases on vinyl from all corners of the globe. A few years back, I got to the point where I pretty much had everything and needed something new and Kinks-related to spend my money on. I stumbled on a few unknown covers of Kinks songs here and there, but once I really started to research just how much was out there, I was hooked. Over the next 3 or 4 years I had put together over 100 mostly unknown Kinks covers from the 1964-69 era. Many had been found online on eBay and Discogs etc, but a bunch of the tracks were located at records stores I had stopped at on my travels from L.A. to Sweden, and Australia.
I've also always been a huge fan of the Nuggets-style garage comp and had always hoped to make one myself. I figured since no one had ever assembled such a band specific garage comp and I had the material, why not put it together? It really came together nicely and I think it's a great item to be enjoyed by both the Kinks fan who has heard all of these songs a million times, as well as the obscure garage/psych collectors.
AD: These selections are all from your personal stash?
Dan H: All of these were from my personal collection. I found out about many if them doing research online but I ended up tracking down the originals. The only exception is the Cyclones' cover of "Stop Your Sobbing." That one cane from the personal collection of Mr. Joseph Pereira who literally wrote the book on '60s beat pop and garage from Singapore, which it turns out had a very active scene in the mid to late '60s. Everything on the record was mastered from the best possible sources and in most cases sounds better than ever!
AD: Clearly the Kinks had a worldwide impact. If you had to try and narrow down what it is about the Kinks' sound that translates across borders, what would you say it is?
Dan H: I think it comes down to the genius of Ray Davies' songwriting. I know that's a cliché answer, but I really can't put it any better than those who have tried to explain the Kinks' enduring value to pop music. Even though most of the tracks on Kontroversial Kovers were written before the Kinks so called "classic era," there is a certain rawness that I think bands are still to this day trying to match. words / j woodbury