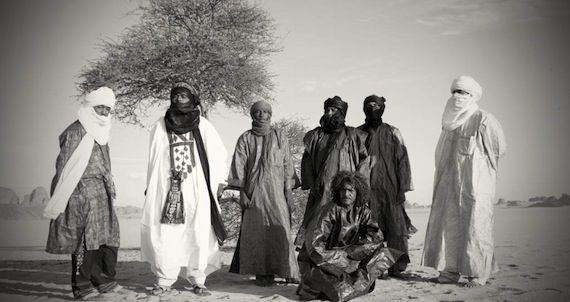 Tinariwen's music speaks for Kel Tamashek, the Tuaregs, and their desert home, the "tenere." Formed in 1979, the group's latest LP (Emmaar) is a continuation of Tinariwen's rhythmic, and at times incredibly psychedelic, Saharan desert blues. Unlike previous output, the new album was recorded in the U.S., specifically Joshua Tree, California — the dusty cradle of "cosmic" American music — due to violent political instability in the band's home in Northern Mali.
A return to form following their previous (mostly) acoustic album,Tassili, Emmaar is a heady, droning, affair aided and abetted by guitarist Matt Sweeney and the Nashvillian multi-instrumentalist Fats Kaplan. The group is presently wrapping up a US tour before heading to Europe. See them live. You'll thank me later.

Debut of the new video for "Chaghaybou", off the Emmaar LP, directed by Antoine Carlier.

For heads, by heads. Aquarium Drunkard is powered by its patrons. Keep the servers humming and help us continue doing it by pledging your support via our Patreon page.