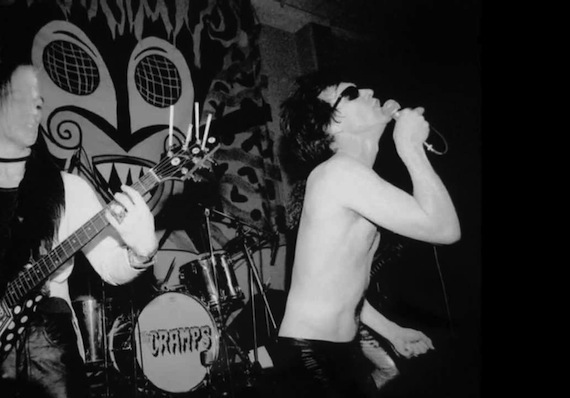 Diversions, a recurring feature on Aquarium Drunkard, catches up with our favorite artists as they wax on subjects other than recording and performing.
Boys and girls, the circus is coming to town…or in this case, Guided By Voices and Bobby Bare Jr. are gigging Friday night at the Fonda in Hollywood. The club is, indeed, open. Bare not only has has a new LP out (Undefeated), but is the subject of filmmaker William Miller's new documentary, Don't Follow Me (I'm Lost). As such we took this opportunity to catch up with Bobby as he waxes on the transformative music of his youth, growing up in Nashville, TN.
Bobby Bare Jr., in his own words, below…
In late 1982 my parents bought the first VCR machine available to the public. It was HUGE. It weighed about 100 lbs and covered the entire top of our television. It looked like a smashed  microwave with a trap door that rose out of the middle of the top where the VCR tapes would go. Lucky for me my Dad bought a bunch of pirated tapes and one of those was a music movie called URGH: A Music War.  It's a showcase of all the new underground bands from the late 70s/early 80s. The film "stars" The Police but includes many of the other most popular "NEW WAVE" bands including  Devo, The Go-Gos, Oingo Boingo, X, XTC, Echo and the Bunnymen, Gang of Four, OMD, Toyah Willcox,  The Cramps, Surf Punks, Jools Holland,  Joan Jett, Pere Ubu, Gary Numan,  and more. IT TOTALLY FREAKED ME OUT.

Growing up in Nashville  with no MTV  the most outrageous  music I could find was Ted Nugent's WANG DANG music. That was as outrageous as I  could get in 1981 while living next door to Tammy Wynette and George Jones. The URGH  music defined everything about me after watching it over and over again for about a month. The quality of the duplicated copy was bad – really bad – but I could see and hear everything I needed to realize that "Terrible Ted" was really just kinda – uh – terrible, and uninspired, while  halfway on his way to rip off  Chuck Berry. The Cramps were doing '50s inspired music, too, but it was horrifying and funny and creative  all at the same time. Ted was trying to get you  laid and Lux was trying to get you uncomfortable. The movie defined the 16 version of myself.  I bought a Devo t-shirt and let my hair grow in a sort of Echo and the Bunnymen  direction — and stopped listening to Ted. Years later, after Devo exploded on MTV, I remember seeing David Lee Roth make fun of Devo during an interview. I  realized  how threatened he was. He was dumb enough to be wearing leopard skin pants but smart enough to know they were mocking him and all he stood for. Neil Young was smart enough to know exactly what Devo was up to and embrace them as sincerely as possible. He featured  them in his anti-nukes film The Human Highway.
Check out the clips from Urgh, below. The DVD came out in 2009 and you can find it online. Supposedly there is a total of three songs mixed and edited from all the bands in a Vault somewhere.  If we buy enough copies maybe it will inspire  someone to spend enough  money on the lawyers to someday get all the songs released!
The Cramps – Tear It Up (Live – Urgh! A Music War) 1980
Devo – Uncontrollable Urge (Live – Urgh! A Music War) 1980
Go-Go's – We Got The Beat (Live – Urgh! A Music War) 1980
Bleed For Me – Dead Kennedys (Live – Urgh! A Music War) 1980
Gary Numan – Down In The Park Live – Urgh! A Music War) 1980
Related: Diversions :: Chris Forsyth (Bootleg Mix)