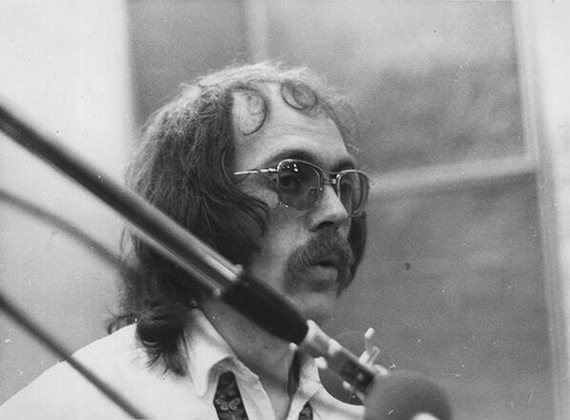 In the early '60s, Mick Jagger wanted British guitarist Mike Cooper for a band he was starting — a band that would go on to be the Rolling Stones — but Cooper had his eyes on a different path, one that has found him incorporating blues, folk, pop, progressive jazz, and exotica into his songs for 40 years.
Cooper's work has been hard to get a hold on, and long hard to get a hold of, but the crew at Paradise of Bachelors, folks who've helped bring to light underexposed gems from genre-defying misfits like Chance and the Red Rippers, have shined a light on some of Cooper's key albums, 1970's Trout Steel, 71's The Places I Know, and '72's The Machine Gun Co. with Mike Cooper, the latter two packaged together in the double album format Cooper originally intended.
The albums — and his upcoming collaborative LP with Steve Gunn, due later this year on RVNG Intl. — showcase the work of a unique artist, one whose songcraft is always bolstered by relentless experimentation. Cooper answered Aquarium Drunkard's questions from Rome, Italy. Like his songs, his answers are detailed, wry, and unexpected.
Mike Cooper :: The Singing Tree
Aquarium Drunkard: I want to start by asking you about the title of Trout Steel, which references Richard Brautigan's Trout Fishing in America. How did you become familiar with the book?
Mike Cooper: I was in my 30s by the time I made these records — the point being that I was pretty well "worldly" by then. I had travelled and read extensively. I was reading Garcî­a Lorca at the same time for instance, as well as Gurdjieff and Brautigan. I had gone through the "beats" as they happened, not retrospectively. I have a feeling someone in Spain recommended Brautigan to me. I had ex-pat artist friends there… both English and American. One of them suggested I might like Brautigan, maybe?
AD: "Pharaoh's March" from Trout Steel is dedicated to Pharoah Sanders. How did you become familiar with his work?
MC: I was pretty hip to the "new jazz" scene (Ornette, etc) right from the start in the early sixties. My sax player friend Geoff Hawkins turned me on to it. I was also an avid record buyer. I bought American imports from a shop in London by the bucket loads. I also discovered Sonny Sharrock via a Herbie Mann record and so I bought anything that he was featured on. I had all the Herbie Mann records and then Tauhid, of course. I had the New York Jazz Composers Orchestra box set with all the wonderful photographs of the recording sessions — Cecil Taylor, Pharoah, etc. That set had a fantastic Larry Coryell guitar solo track as well. He never did anything like it ever again after that. Very Hendrix inspired.
AD: Free jazz seems to have influenced you work as much as folk and blues. What about the sounds of free jazz spoke to you?
Mike Cooper: I have a trio called Truth In The Abstract Blues. I always thought that free jazz was the natural extension of country blues and we try to elaborate on that idea…Blind Boy Fuller and Charlie Patton meets Sun Ra and Stockhausen or Robert Johnson meets Ornette at the crossroads where Pendereki is waiting for the bus to the terminal beach to go surfing one more time.

AD: What do you think ties country blues and free jazz?
Mike Cooper: Country blues — particularly bottleneck and slide playing — is a microtonal music when played properly and is a "vocalizing" style, imitating or paraphrasing the voice. I hear free jazz as being musically rooted in the blues and as a natural extension of the genre with its microtonality, extended techniques, and vocalizing (singing) character. I'm thinking particularly of players like Albert Ayler for instance…
AD: What were the circumstances of your label at the time, Pye/Dawn, deciding not to release Places I Know and Machine Gun Co. together as a double album as you intended?
Mike Cooper: Well, that was a corporate decision that involved musical taste, economics, politics and men in suits with cigars and bad taste in ties.
AD: How did you get involved with the Machine Gun Co.?
Mike Cooper: I formed The Machine Gun Company in an attempt to play live some of the music that I was recording in the early seventies; songs from the Do I Know You? album onwards through Trout Steel, etc. Which we did — that was our repertoire and of course we then went on to record Places I Know and then the Machine Gun Company LP. Geoff Hawkins (the sax player) and I had been friends for many years and he was in fact part of my first ever band, The Blues Committee, towards the end of its life. As far as I remember, he was playing as a jazz trio with Alan Cooke (pianist) and Tim Richardson (drummer) and when I decided I needed a band and explained what I wanted to do he suggested using the trio and adding electric bass. I think they had an acoustic double bass player when they played jazz. We asked Les Calvert to join on electric bass. I knew Les through his involvement with GT Moore and The Memphis Gents. GT formed Heron, who also recorded for Dawn Records.
AD: Digging around I saw that "The Singing Tree" was included in a collection of music inspired by JJR Tolkien. But I've more recently read that it was inspired by an actual tree, and poet Farid ud-Din Attar. Was there any Tolkien at all in the song's genesis?
Mike Cooper: Well I had no knowledge of that Tolkien compilation — which seems it might have something to do with someone involved with the Pye/Dawn label but my song is in no way inspired by anything Tolkien-ish. I have never read his books and have no wish to either. They were (and are) children's books as far as I am concerned.
Going back to "The Singing Tree," my song was inspired by a real tree in Almuî±écar in Southern Spain and also by The Conference Of The Birds, a Persian book/poem. The real tree was, at that time, one of the few trees that grew near the beach in Almuî±écar and in the evening before sunset the tree would attract hundreds of birds from all the surrounding orchards. Now Almuî±écar is full of palm trees (my favorite tree) and there is a plaque near one of them with this inscription: "Tîº también eres, îoh palma! / En este suelo extranjera" ["You too, oh palm!, are /Foreign to this soil"] which is from a story written by JL Borges called La busca de Averroes ("Averroes' Search"). Averroes was a 12th-century Spanish Muslim philosopher famous for his commentaries on Aristotle. Much more interesting and exciting than Tolkien.
AD: You wear Hawaiian shirts almost exclusively. Could you tell me a little bit about your affinity for them?
Mike Cooper: Hawaiian shirts are a complicated piece of anthropology on my part. I started wearing them because of my love of Hawaiian music firstly. I then began to appreciate the graphic design and history of them as objects and how they came to be associated with Hawaiian culture when in fact they had nothing to do with traditional Hawaiian culture in the beginning (1932c.) They were first made by a Chinese tailor/shirt maker, Ellery Chung, out of Japanese kimono material. That's the origin. American servicemen bought them and he was in business.
I recently made an audiovisual art installation which featured, amongst other things, fifty Hawaiian shirts. The concept of the whole thing was how some objects start life as one thing and become discarded after a while and become rubbish but then they get re-invested with interest or re-found and can become collectable items and even considered "art" — such as vinyl records for instance (there were 50 "exotica" records in my installation) or Hawaiian shirts.
AD: You recently recorded with Steve Gunn. Were you familiar with Steve's work before working with him? What are your thoughts about the finished album?
Mike Cooper: I was not familiar at all with Steve or his music. We first met in Lisbon to record and play a festival there. An interesting project for me (and hopefully for him) because I am a free improviser, in the broadest sense, and I don't have fixed genres. Steve I think has a "zone" in which he works and likes to play and so it was pretty open for me — I could pretty much do whatever, but I didn't want to impose too much but to just try and suggest some things that might help us come up with something that both of us might not have otherwise have played. I don't often play with other people in that kind of context and it was great fun. I think we made some interesting little pieces that cover some new ground –some new angles and corners. words / j woodbury
Aquarium Drunkard is powered by our patrons. Help us continue doing it by pledging your support via our Patreon page.