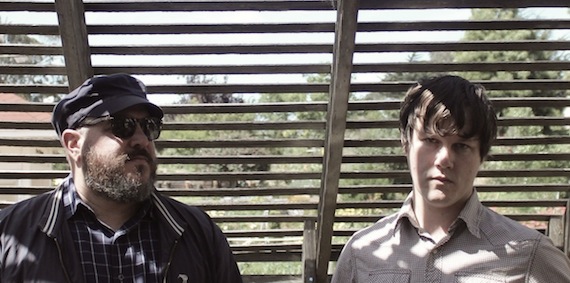 It's been half a decade since we were treated to an LP from San Francisco's Skygreen Leopards. Having taken some time earlier this year to collaborate with Ben Chasney (Six Organs of Admittance) as New Bums, longtime collaborators Donovan Quinn and Glenn Donaldson have revitalized their brand of bucolic, jangle-pop via Family Crimes, their first effort for Brooklyn-based label Woodsist.   Despite a lengthy intermission, the duo returns effortlessly to a project that seems entirely unyielding to any standard cyclical pressures created by the music industry.  It is not often you find a group so grounded and determined, yet equally blithe and untroubled.
Ahead of their eighth full-length under the SGL moniker, we spoke briefly with Donovan and Quinn about keeping this band afloat, returning to work with Papercuts' Jason Quever, and sticking to a formula.
Aquarium Drunkard: Hey Donovan/Glenn. How's it going and where are you writing us from?
Glenn: San Francisco (while I should be working).
Donovan: Everything is great. About to play at Vera Club in Groningen. Cool place.
AD: You guys are set to release your first LP since 2009. What sparked the writing and recording process again?
Glenn: It's our goal to outlast every other band and trend. No. Basically, every now and then it's fun to be creative around the concept of Skygreen Leopards and hang out; other times we get sick of ourselves and put it on hold for a while.

Donovan: We usually have about a year of harmonious beautiful music making togetherness before we start screaming at each other and making death threats. That's when it's time to take a break and rush back to our respective therapists.

AD: Where was the album recorded? Did you find the setting to dictate how certain songs came together?
Glenn: We did versions of most of the songs in my apartment studio. Then we tried them out with contributions from Jasmyn Wong, Nick Marcantonio and Jason Quever at Jason's studio on his 2″ tape machine. We wanted to inject a more live feel into the songs. But some of the songs ended up back to our old duo method.
AD: What made you choose to work with Jason again?
Donovan: Jason has been on fire lately. Life Among the Savages is a perfect record. I spend so much time with Jason that it would have been weird not to have him as part of the group.
Glenn: I agree. I love the new Papercuts. He is a good friend of ours, and also basically a member of the band. We all share a similar taste in songwriting music and non-rock dude arranging.
AD: You guys have operated as a bit of a collective over the years. Who were you most excited to work with on Family Crimes?
Glenn: Skygreen Leopards are a duo, but we have an extended group of "members", former Jewelled Antler folks and also dudes now in Fresh & Onlys and Sonny & the Sunsets etc. They put up with our proclivities over the years. I'm sure there are mixed feelings all around. Haha.
AD: Is it difficult to bring new people into the live/studio setting with every release or do you find it to be more of a liberating experience?
Glenn: People can get nervous, but we aren't pros. We try to get it right, but we embrace primitive elements and mistakes.
Donovan: Our method of leading a band is to find people who have the right feel for Skygreen and trusting them to come up with something we couldn't have done ourselves. That way of working can make things chaotic sometimes but it also keeps things from growing too rigid.
AD: Having put out records for over a decade now, how do you keep things fresh/interesting not only for the listener but for yourselves as well?
Glenn: It's a reflection of who we are, so it's easy to do. I think we bring a tone that's unique, tucked in between humor and melancholy, joy and embarrassment. A lot of musicians out there are posing. But we know we are ridiculous, and we don't care. I don't know if it's fresh; some people don't think we are fresh.
Donovan: Everything changes over time: your voice, musicianship, muses, friends, environment, etc. So unless you're consciously trying to stay the same (which many bands do) things naturally progress into fresh territory.
AD: With all of the projects the two of you are involved in, how do you know when a riff/idea is best for SGL as opposed to something else?
Glenn: it's definitely a formula: pop/folk/country chord changes, clean guitars, story songs and unprofessional harmonies. There should always be a place for simple music.
AD: What would you say has been the biggest change or influence in your songwriting in comparison to previous releases?
Glenn: Our influences remain the exact same as when we started. I could make a list of our favorite bands, and we still listen to them regularly and get inspired. Donovan handled a lot of the songwriting on this one. I was just trying to keep up. There is no change in the songwriting… as far as the arrangements go, the tempo was more upbeat on this one, and there are a few more organ and Casio bits, but our method is the same as when we started, a mix of cheap and vintage stuff.
Donovan: I always write a bunch of songs and hand them over to Glenn to be judged, changed, refined or whatever he feels like doing with them. He did more of the production on this one but basically the process has remained the same over the years.
AD: You're putting Family Crimes out with the Brooklyn-based label Woodsist. How did you initially link up with them?
Glenn: Jeremy sent me a Woods record probably around 2006, just wanting to reach out, and we became friends. I've known Jarvis now for almost ten years. I've toured with them and recorded with them. Woodsist released The Art Museums LP in the interim. Donovan and I actually did a tape for Woodsist years ago called the Brain Band with Elisa Ambrogio from Magik Markers and Karl Bauer from Axolotl. It was natural fit.

AD: Would you mind telling us a bit about the skull that appears on the cover, as well as a handful of your other releases?
Glenn: That's what we all are right? On the surface our music is light, but we acknowledge the dark. We consciously chose not to make heavy angry music, but we aren't trying to be cute either.
Donovan: The skull is Glenn's thing. He does all our art. To me it always seemed like our secret code. A void of darkness in the middle of our druggy cartoon dreamscapes. words / j silverstein
Skygreen Leopards :: Leave The Family