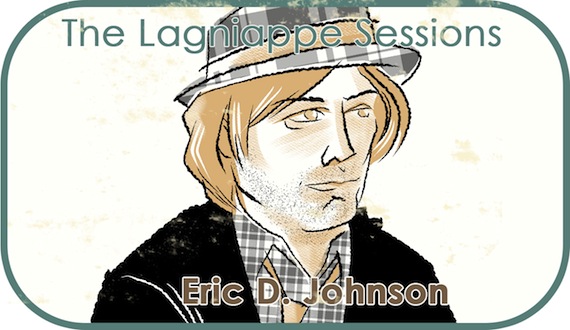 Lagniappe (la ·gniappe) noun 'lan-ˌyap,' — 1. An extra or unexpected gift or benefit. 2. Something given or obtained as a gratuity or bonus.
The Lagniappe Sessions return with two from Eric D. Johnson, whose first LP outside the long-running Fruit Bats, EDJ, is out next month via new label home, Easy Sound. Here, Johnson takes on the early 80s avatar that is Joe Jackson's "Steppin' Out", along with Richard & Linda Thompson's "A Heart Needs a Home". Johnson, in his own words, below.
Eric D. Johnson :: Steppin' Out (Joe Jackson)
This song is evocative for me – I remember it pretty well when it came out. I was only like 6 years old at the time but it was at a moment when I had completely discovered pop radio and was starting to make listening decisions for myself. Both then and now, there is something about this song that I find utterly melancholy. Looking at and learning the lyrics a little more closely, it is a little sad. He's trying to convince someone to come out of the darkness and into the light. It's a jam, but with these great washes of sweetness and sadness. Joe Jackson came to the world at a time when you could really, truly be a poet and a great pop-rocker all at once.
Eric D. Johnson :: A Heart Needs a Home (Richard & Linda Thompson)
Speaking of sweetness and sadness, good lord… Some years back, Fruit Bats did a pretty challenging tour of the UK during the grayest of winters. I pretty much had this song on repeat during that trip, and it seemed to fit just about right. This is really one of my favorite songs of all time. Its so devotional and heartfelt, but also clearly written about a relationship that is troubled and even ultimately doomed. There's a live version of this from "Old Grey Whistle Test," and Linda's vocal performance is utterly heart-rending. I know there are plenty of fans of these Richard and Linda records, but in my mind they should be considered even more iconic than they are.
Lagniappe Sessions Archives / original illustration  for aquarium drunkard by Ben Towle.