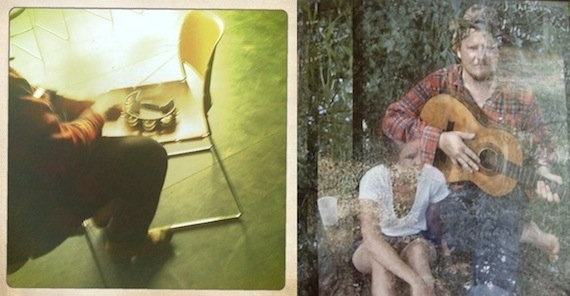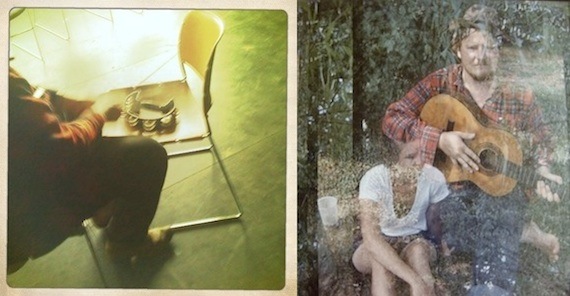 The reissue of Cotton Jones' 2009   Rio Ranger EP includes the previously unheard "Marula" – a breezy, cantina waltz. The track, which can be streamed here, finds frontman Michael Nau singing and scatting amongst hazy, mercury vibes, which include trumpet, mandolin, and strange, shapeless backing chants. It is yet another example of the band's singularly enchanting brand of cosmic Americana.
Another such hidden gem, of sorts, is the band's unreleased "Wax Hand Asleep In A Glove." Having appeared several years ago via Nau's personal SoundCloud page, the track is a languid, dimly-lit, front porch meditation, and thus fits perfectly between the humid, lo-fi psychedelia of 2009's Paranoid Cocoon and the cosmic grace of 2010's Tall Hours in the Glowstream.
The first minute and a half of the song are instrumental, beginning with a strikingly reverberating chord of guitar, piano and drums, all in unison – an opening note both declarative and enigma. Swaying aside one another, everything slowly finds its footing. 90 seconds in and it is Whitney McGraw's, not Nau's, voice that is heard. Here, McGraw floats across a heavy bed of bass and reverb, which drowns out the piano to a hauntingly low echo, while a timpani drum is tapped as Nau's whistle ebbs in and out before he eventually, but only ever so briefly, joins McGraw on vocals.
A little past the song's halfway mark, McGraw breaks into a murky and obscured vocal bridge that might be one of the band's finest melodic moments. At five minutes in, the music slowly begins to come apart, with the guitar, piano and timpani approaching a mysterious climax. And then, all at once, the band explodes into an incredibly psychedelic folk jam — a musical moment unlike any in the band's canon. "I found a lot of bitter love in my heart/ain't gonna take it from me," sing Nau and McGraw, fading out on that unexpected sentiment, making the waters all the more cloudy and mesmerizing. words / c depasquale