Diversions, a recurring feature on Aquarium Drunkard, catches up with our favorite artists as they wax on subjects other than recording and performing.
As the guitarist for post punk legends Mission of Burma, Roger Miller has played in some pretty crazy locales over the years, but he has never before boarded an airplane intent on playing in a divided country balancing the tensions behind a potential outbreak of civil war. What had before been an expected week of exciting performances with Alloy Orchestra (in which Miller plays keyboards) was now filled with curiosity as to how the people of the Ukraine were reacting to these developments, and what would it mean for the band and the concerts? There was only one way to find out, so he took his seat on the plane to Kiev and wondered what lay ahead…
Tuesday June 24:
Leaving Boston at 8:45pm, we were bounced up to Business Class at no extra charge: that was a definite bonus. Notice the expansive leg-room? After a pasta dinner with wild-caught mushrooms (probably grown on the lush organic gardens of Lufthansa's rear airplane wings), slept almost the entire flight in my seat's "Sleep Mode" position. Bodes well for the 7-hour time-change adaption to Kiev. Jimmy (Mission of Burma's Tour Manager), if you're reading this, get us a free upgrade up to Business Class when Burma heads out to the West Coast in August: I know you can do it….
Wednesday June 25:
Arrived zonky in Kiev. Amazingly easy Customs – they looked at our passports, at our faces, and let us right in. Didn't ask us a single question. More like entering a high school than a country in the middle of a crisis. Anna, our Ukrainian hostess from last year met us outside. She works for the U.S. Embassy, which is the organization that brings us here (your U.S. Tax dollars at work!). We were glad to see each other again, and off we were whisked into a van.
We unloaded our gear at the venue for tomorrow's show: a huge old arsenal turned into a Ukrainian avant-garde gallery/show-space. Cool. Then to the Intercontinental Hotel (same as last year) – good rooms, good English spoken, everyone charming and eager to help us. After settling in we had a classic Ukrainian dinner in a local tent-restaurant: a bit kitschy, but great. Beef Stroganoff please with various pickles and Borscht, please. No reason to complain (except for the mild lager beer).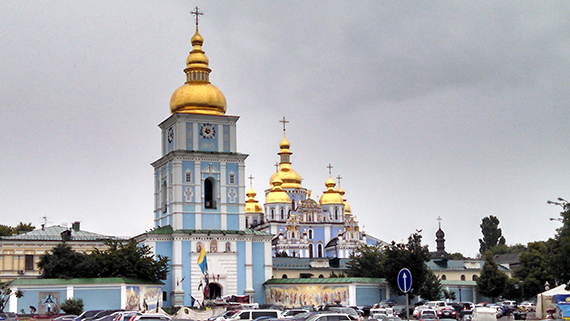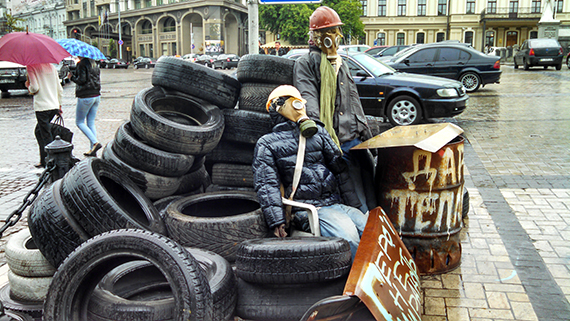 Our restaurant hostess spoke minimal English, and we, no Ukrainian. Russian can be spoken, but given the current political situation, I declined to use my very minimal Russian. Ken was trying to explain to her why we liked the pickles so much, how everyone likes fermented things. While he kept trying to explain this, she finally asked in broken English: "Does fermented mean good?" At that point Ken gave up and we all smiled.
We took a walk around the market area, and saw a button for sale titled "St. Putler" with an Adolf Hitler mustache on Putin's face.
I later had another Ukrainian beer at an outside bar so I'd stay awake until 11pm and hopefully align myself better to the new timezone. It's 7 hours earlier than Boston time, so ultimately we are waking up in Kiev at the time we'd normally be going to sleep in Boston. Not ideal, but part of the gig.
Thursday, June 26, Kiev
A bit time-lagged, but the Intercontinental has a superb breakfast spread which we made ample use of. Rainy day, so I worked on various other projects (Surrealist Games, this BLOG) in my hotel room.
After a lunch of Nettle Pasta (didn't sting my tongue a bit) and pickled artichokes, we were picked up by Anna and delivered to the arsenal. The feature in this large gallery is Ukrainian avant-garde art from the early part of the 20th Century. A lot of ballet costumes in a Constructivist style, very cool, and a piece by one of my favorite artists, Malevich. They had painted a huge mural on the wall based on one of his paintings.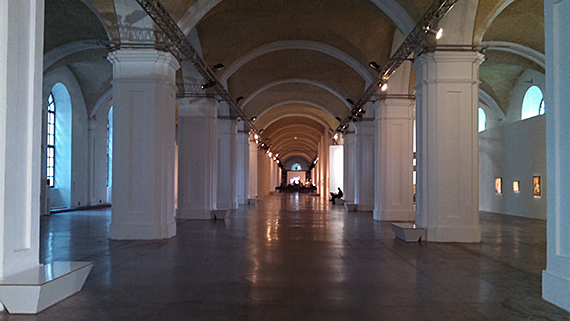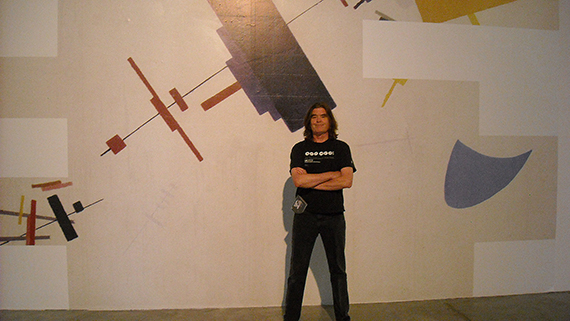 Set-up and soundcheck went very smoothly. The crew knew hardly any English, and we knew even less Ukrainian (though by now Ken and I were working on the word for thank-you: "Diakuju"). None-the-less, they were very friendly and efficient. Smooth would be the word. I was concerned because during our last show at The National Gallery in Washington DC my keyboard glitched patches – such that during the performance, while I was playing, it would change from strings to piano and floating synth at its own whim. Difficult to deal with during a performance where both hands are required to play, trying to wrangle it back into order. But I changed an internal battery in the keyboard since the DC gig, and mercifully it didn't glitch at all during soundcheck. That was a relief.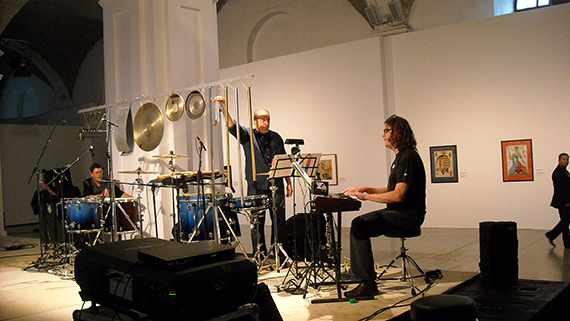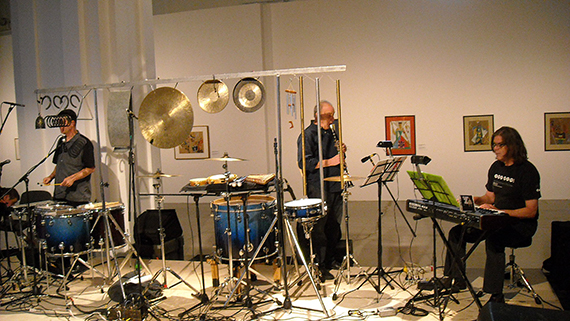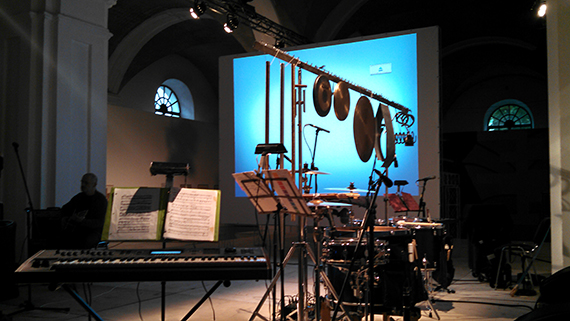 Through-out the day one would never guess this was a country in crisis. Many people came to look at the artwork, hang out and drink/party in the outer room, or listen to poets in the area just before our stage. All very cool. Word is they are used to disorder and disruption in Ukriane, so it's nothing new to them, just another day at camp. All in all interesting and just fine from our point of view.
After introductions by various U.S. diplomats (translated into Ukrainian for the audience), we played our score to the silent film "He Who Gets Slapped", a truly amazing film starring Lon Chaney (Man of a Thousand Faces). Despite all of us still rather zonky from jet-lag, it progressed quite well. And my keyboard did not change patches oncw without my commanding it: Great! When we got to the end of the film, I felt we'd done pretty well, all things considered. As we went center stage to bow, the entire audience was on its feet, standing ovation. Hey, that works for me….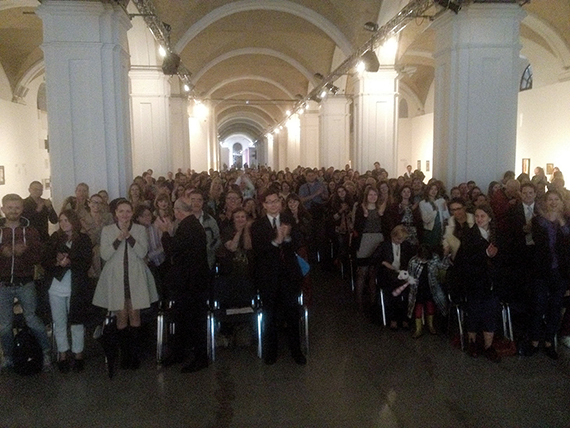 Curiously, a week ago today Mission of Burma was playing a festival in Calgary Canada. I suppose I get around…….
Friday, June 27 (Kiev to Odessa).
Got to sleep at a timely 12:15am. Woke up, thinking I'd slept for at least 5 hours, but it was 2:15am. Ah: all the fun of the Circus…..
The 1.5 hour Kiev to Odessa flight: feeling like I'm in Gulliver's Travels. If only I was three feet tall it would've been a great flight. Out the plane window, endless wheat fields, various rectangles stretching as far as the eye can see from Kiev to Odessa. Their flag is a rectangle of blue over a rectangle of gold: the blue sky over fields of golden wheat. Ukraine has been the wheat breadbasket for Russia as well as ancient Greece.
Today the new Ukrainian President, Petro Poroshenko, signs papers to start the merger of Ukraine with the EU. Hope it goes smoothly. Moldova and Georgia both joined the EU earlier, and all three were former Soviet states. Once it was announced they were joining the EU, Russia took a small piece of each one of those countries (Crimea from Ukraine). "And the Russians wonder why no one likes them!" someone commented in our vicinity. Our friends haven't developed a complete opinion about the new president yet – he just hasn't been in action long enough. Hope he'll be as good as his chocolate.
We got settled into our new hotel (The Londonskaya), which is rather elegant. Top treatment is difficult to complain about. After a brief nap, off to soundcheck at The Hub. This is a work-space with WiFi, 3D printer, and other things: people rent work-space here cheaply. Mostly 20/30-year olds.
The sound people weren't aware of our needs so we had problems getting transformers for our USA 110 vs. European 220 electricity. It was a bit confusing for a while, and took longer than required (the language barrier didn't help either), but eventually got sorted out. Small place, and Terry and Ken had to play their drums considerably quieter than usual. Again the film was the rather excellent HE WHO GETS SLAPPED. The writer of the story that the film was based on was Ukrainian, hence their added interest in us performing this film.
7:00 pm show-time, and maybe 3 people there. We finally went on around 7:30 and the small space was half-full, high contrast to last night's show. But as I have said many times, the least amount of people I've ever performed for is one. The show must go on, and you must give it your all every time. And when we reached the end, it was again a standing ovation. OK, that's worth it. The show was added late to the itinerary, and they didn't have a lot of time to promote it.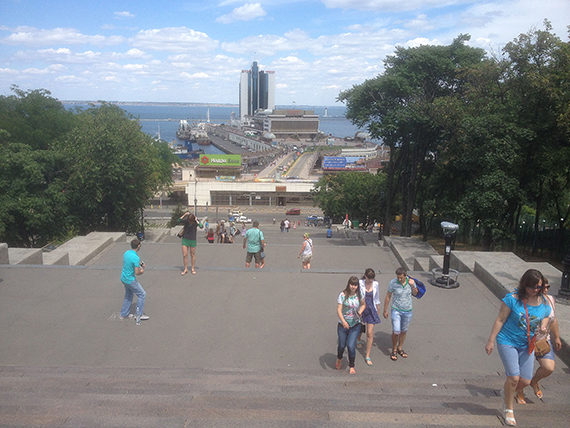 After we packed up, we went to an outdoor screening on a pier in the Odessa harbor/Black Sea. Perfect warm/cool night. Terry and I joined two of our Odessian hosts, Marsha and Olga, for some Ukrainian Cognac and a Polish beer. Conversation becoming lively. Then Marsha said "They are waiting for you." We of course thought it was nothing, but she repeated it again a minute or two later. Seems like we had special seats and they weren't going to start the show until we got in them. Yikes! Put the cognac into a small plastic cup and we are lead to our seats.
It was a Japanese silent film, with Japanese titles (of course), and what to Western eyes is a very odd stylistic approach. When my eye naturally looked down below those titles to see the "English" subtitles, nope, subtitled in Ukrainian. Combined with our still off-kilter time-distortion, the effects of a swift input of Pivo and the Ukrainian Cognac, then live keyboard accompaniment featuring a "Benshi" vocalizer – a Japanese fellow reciting all the titles and then ALSO constantly commenting on the film and taking character roles with considerable vigor, all in Japanese that virtually no one in the audience could understand – the result was an intensely surrealistic experience. There was no way we could make sense out of the film, but the various sensory disturbances and overloads resulted in non-stop amusement and a completely baffling experience for us. Quite enjoyable!
Later went out with Ken and had a couple Baltica (Russian beer that I enjoy) pints with two of the main people at the Ukrainian Film Archive.
Saturday, June 28, Odessa.
I'll say this much: people who complain about driving conditions in Boston should really come to Kiev or Odessa. That will shut them right up.
My biggest complaint about Ukraine: lame electro music non-stop, everywhere: restaurants, hotels, bars, inside, outside. It's supposed to be calming (?), but it's so relentless and so harmless it's infuriating.
Generally, people are pretty reserved (the language barrier certainly doesn't help), except for our hosts and people working at the festival who are all smiles and help. Plenty of fun talking, helping get us through the day. Sensed zero anti-Americanism here.
To the beach w/Anna and her daughter Lucy, sometimes with Marsha as well. Lucy plays in a punk band ("Ai Laika"), and has toured to Moscow, playing, amongst their own material, the Stooges' "I Wanna be Your Dog". Previously she was in a Psych. band called "Slow Ride Home". Amusing discussion about punk, touring, etc.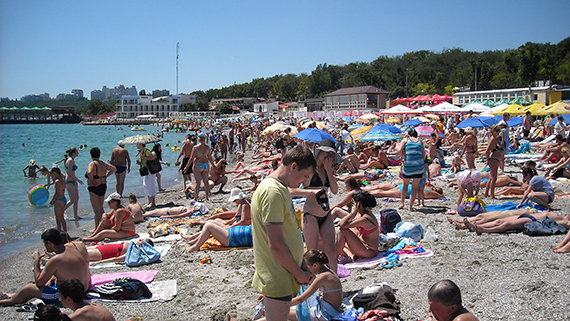 I studied Russian in High School, and brushed up on the Cyrillic alphabet when Alloy went to St. Petersburg a few years back. I don't know many actual Russian words, but I can sound out most of the signs on the street. "Ha-t Daw-g", then realizing I was just reading "Hot Dog" in Ukrainian/Russian letters (there was a hot dog stand near-by). It's quite an amusing way to pass the time, and sometimes amuses my associates as well.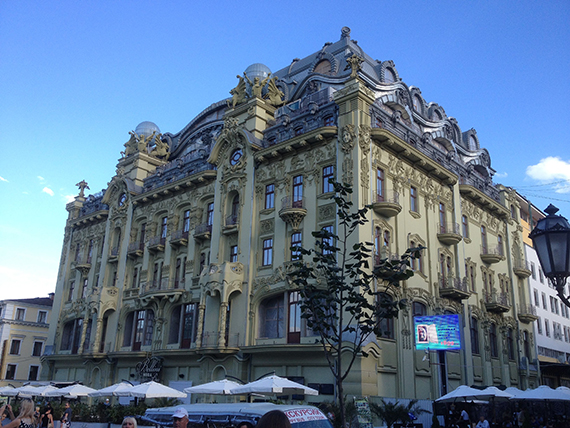 Excellent dinner at a high quality "Classic Ukrainian Food" restaurant, a mid-festival Party. The festival we are playing is called "Mute Nights", and is (of course) a Silent Film Festival. Fish and pickles, the curiously tasty boiled potatoes (don't forget the dill!). The Ukrainian Shabov Cognac was again available, but after last night's fun and games, I kept my intake low.
Walked back out to the pier and saw a really good French silent (1926) directed by a Ukrainian with a superb accordion player from Belarus. He had a few delays and effects on his accordion, and often as not was playing in 5/4 time, the kind of time natural to the Balkan areas but somewhat odd to Westerners who are used to 4/4. Not only was the music interesting, but he underscored the story perfectly – in this case a tragic story about two sisters. An example of a silent soundtrack done very well, which is not always the case.
Pretty relaxing day overall, Jet-lag receding.
Be sure to see one of the greatest live bands of all-time as Mission of Burma hit the West Coast this summer:
28 Aug: The Roxy, Los Angeles CA, US
29 Aug: The Independent, San FranciscoCA, US
30 Aug: Doug Fir Lounge, Portland OR, US
31 Aug: Bumbershoot Festival, Seattle, WA, US