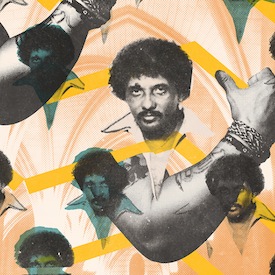 As Brett Ratner's Hercules wallows in the steroid-spill of yet another summer blockbuster season, it's an opportune time to think about the nature of myth. Sure, the classic image of Hercules is all brawn and virility, thrashing his way through obstacles–but myth is a flexible, amorphous thing forever being retold. New spins on old yarns.
Take for instance the hero of Allen Toussaint's "Hercules" (1973). As embodied by Aaron Neville on the Toussaint-produced single, the character is a street-wise kid doing his best to steer clear of trouble. 'Jungle rule, can't be no fool/might get caught by the hook of a crook no time for cool.' Neville's sweet voice marks the character out as easy prey, vulnerable to his surroundings. He may sing, 'I must be Hercules,' but it sounds as if he's trying to reassure nobody more than himself. The Meters back him up, keeping things tight and claustrophobic, everything held under the weight of the bass figure's demonic grunt. There is room for little else, here, but fear and trembling (reflected in the icy organ and synth). In Neville's rendering, the following lines come out a plea: 'I can feel the pressure, from every side/If you not gonna help, don't hurt, just pass me by.'
Just a year later, Boz Scaggs (who had already covered two Toussaint songs, "Hello, My Lover" and "Freedom for the Stallion" on his previous album) made his own cut of "Hercules," and the difference is remarkable. Now we don't have an Oliver Twist character huddled in a corner, but a cocksure Fagin. Scaggs opens the song up to strings and waka waka guitars that come straight off of Superfly. He struts his way through the verses, ditching Neville's fragile falsetto for something more akin to a meaner Bill Withers. When he sings Toussaint's lyric, 'the pimp on the corner looks like the sharpest cat in town,' he could very well be singing about himself.
Both versions are valid. Both give us a meaty slice of urban desolation. But these are wildly different heroes (which is probably more than you can say about the last two–or five, or ten–Hercules movies). words / dk o'hara
Aquarium Drunkard is powered by our patrons. Help us continue doing it by pledging your support via our Patreon page.