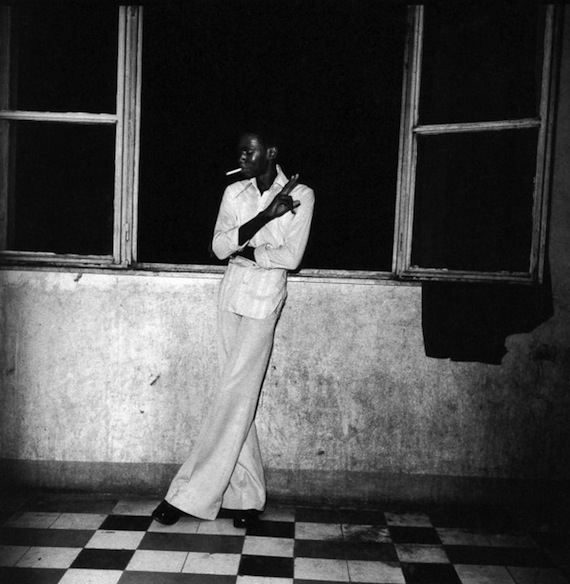 As you might expect from a vast continent consisting of a number of countries and thousands of languages, African music is not so easily categorized. Unfortunately, the tendency has been to bag it all together in much the same way
we do African literature
. Like the sameness of African book covers, we use Ladysmith Black Mambazo, Fela Kuti, and maybe Ali Farka Toure as stand-in representation for a continent that includes so much more than just them. It's pretense. We haven't seen or heard it all before because we've heard them.
Worse, we reduce our perception of African music to purely evolutionary terms — jazz and blues as its modern offspring — rather than seeing a two-way cultural inheritance. That is, John Lee Hooker or blues in general didn't come from Farka Toure or the desert music of Northern Mali. What echoes between the two is a musical affinity; the sound of artists drawing from the same sonic well. This is something that Martin Scorsese seemed to forget in his documentary The Blues when he brought American musician Corey Harris to Africa in search of musical roots. What ended up being rediscovered wasn't some ancient bluesy ancestor, but a multiplicity of cultural styles, a moveable feast.
Despite the fact musical trends are forever leaping cultural boundaries, we somehow persist in painting Africa in very broad strokes. In Teju Cole's novel, Open City, there is a scene in which the (half-Nigerian) protagonist goes to see a late night screening of The Last King of Scotland, the film in which Forrest Whitaker eats up the screen as Ugandan dictator, Idi Amin. After the lights go down, our narrator-hero observes how 'the jaunty credit sequence featured music from the right time period, but not the right part of Africa: what did Mali have to do with Kenya?' However, a little research shows that this song is in fact 'Nakawunde' by Percussion Discussion Africa, a Ugandan collective who have made a career out of fusing different African and Western elements. (I have a feeling Cole is actually thinking of a song later in the film, which does indeed sound like it comes from Mali, all lonesome guitar and guttural voice–although he'd be slightly wrong about this too, as the performer, Momo Wandel Soumah, is from nearby Guinea.)
For the past few years, a number of labels have, thankfully, been complicating the stereotypical view of African music by focusing their attention on distinctive funk, soul, and psychedelic sounds emanating not just from Nigeria, where Fela's Afrobeat reigns supreme, but farther afield: from independent studios in Ghana and Togo, to dance halls in Angola and Ethiopia. As mentioned here previously, Analog Africa and Soundways Records are currently the best of these labels, bucking trends in World Music exoticism by documenting the huge variety of influences that African music (particularly African music of the 1970s) has had at its disposal.
The history of music, like any good lyric, begins with relationships: friendships, romances, and break-ups. In the case of African music generally, the sooner we begin to see it as an always fluctuating network of local and foreign influences–and not simply a fixed quantity, a stagnant stereotype–the sooner we can start rediscovering African artists like William Onyeabor who defy easy classification. Here are some others:
Akofa Akoussah :: I Tcho Tchassa
Having, at the age of 16, represented her native Togo at the 1966 World Festival of Negro Arts in Senegal, Julie Akofa Akoussah remained an icon of Togolese music until her death in 2007. The title of this track roughly translates as 'Jazz Dance' in Yoruba, but what we get before that dance is all aching, nourish soul.
Gabo Brown and Orchestre Poly-Rhythmico :: It's a Vanity
Here, Gabo Brown is backed by Benin's legendary Orchestre. The track is funky, of course, but executed with all the moody intensity of Can and all the rawness of a garage band from Minneapolis circa 1966.
Girma Beyene :: Ene Negn Bay Manesh
Those who have seen Jim Jarmusch's Broken Flowers (the soundtrack of which featured Mulatu Astake) will have heard a similar blend of melancholy Ethiopique and organ-based jazz-funk. But this track is remarkable for showcasing the midnight, Morrissey-esque croon of songwriter Beyene who recorded just four songs as a vocalist. This one would appear to celebrate Ethiopia as a woman, and hides some rather risqué lyrics (to the degree that Amazon marks it as 'explicit' content).
K. Frimpong and his Cubano Fiestas :: Kyenkyen Bi Adi M'awu
A classic in its native Ghana and perhaps the quintessential recording in amidst all the 1970s reissues spilling out of Western Africa. Guitarist and singer Alhaji Kwabena Frimpong here is backed by the Muscle Shoals of Ghanaian music, a band otherwise known as Vis-A-Vis, here performing under a pseudonym, but still featuring the recognizably intense drumming of 'Kung Fu' Kwaku. Ask yourself whether American funk ever been this plaintive, this fiery with hurt. Then wait for the moment, five and a half minutes in, when Frimpong breaks it down: 'Oh my brother, you see, because of money, somebody's taken my baby from my hand.' words / dk o'hara
Related: Fela Kuti, Feliciano dos Santos, Afrobeat & Western Interpretation

Realted: AD Presents :: African Women Sing (Ghost Capital V — A Mixtape)
Aquarium Drunkard is powered by our patrons. Help us continue doing it by pledging your support via our Patreon page.