Diversions, a recurring feature on Aquarium Drunkard, catches up with our favorite artists as they wax on subjects other than recording and performing.
As the guitarist for post punk legends Mission of Burma, Roger Miller has played in some pretty crazy locales over the years, but he has never before boarded an airplane intent on playing in a divided country balancing the tensions behind a potential outbreak of civil war. What had before been an expected week of exciting performances with Alloy Orchestra (in which Miller plays keyboards) was now filled with curiosity as to how the people of the Ukraine were reacting to these developments, and what would it mean for the band and the concerts? There was only one way to find out, so he took his seat on the plane to Kiev and wondered what lay ahead… Part one can be found, HERE.


Sunday, June 29, Odessa.
Eisenstein stayed in this very hotel when he shot hi most famous silent film "Battleship Potemkin".   The first film I scored with Alloy Orchestra was Eisenstein's very first film, "Strike!"   Curious how things add up.
Directly in front of our hotel there are glassed in Greek ruins from 700 BC.   Not that impressive to look at, but pretty impressive if you think about time…..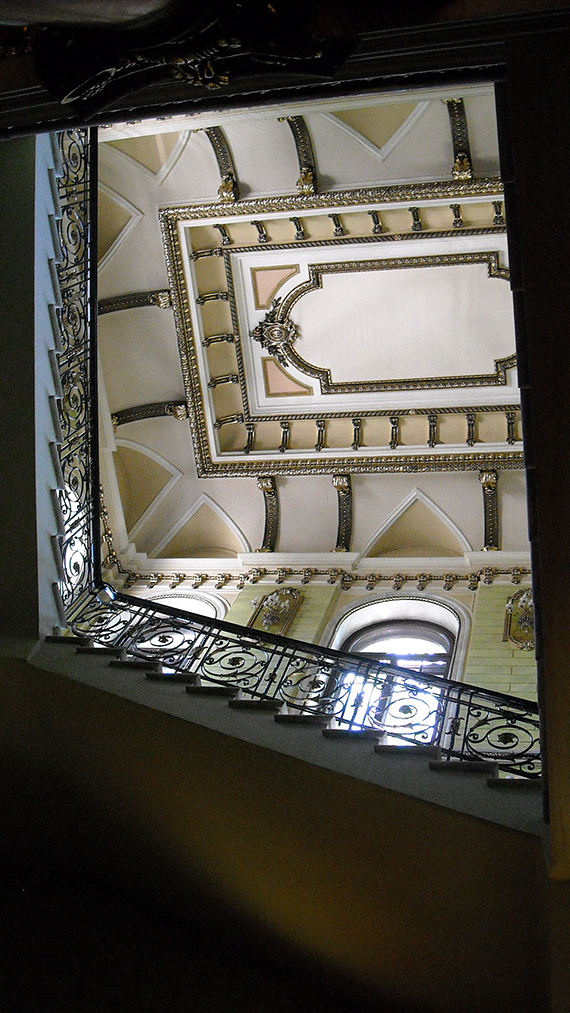 In Odessa you can speak Russian.   The 15 or so words I know (please, thank-you, "Pivo? Da!") feel like a relief after struggling to not speak Russian and learn a few Ukrainian words in Kiev.   Perhaps Kiev is more pissed at the Russians than Odessa because traditionally, Russian culture began in Kiev, then moved to Moscow.   Whenever "The Soviet Era" has been brought up on this trip, not much good is said of it!
For a pre-show snack I had "Herring in Fur Coat".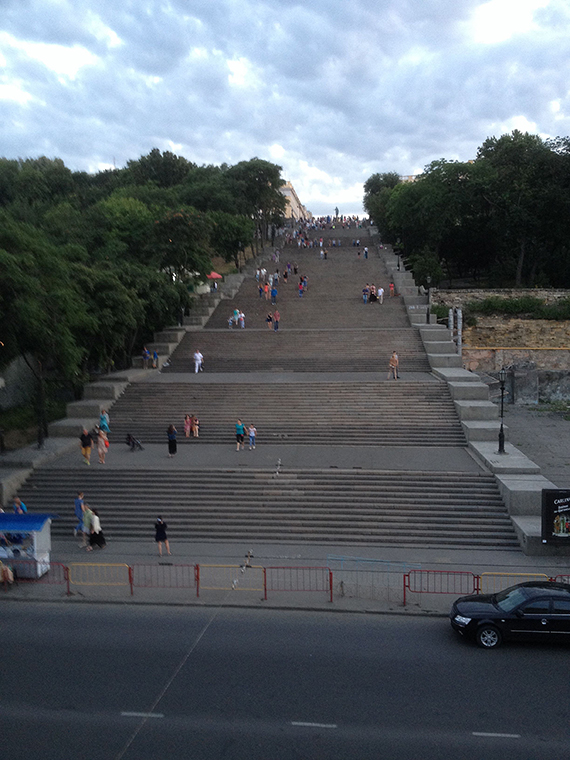 Potemkin Steps.   My calves hurt by the time I'd climbed up and down to the venue many times.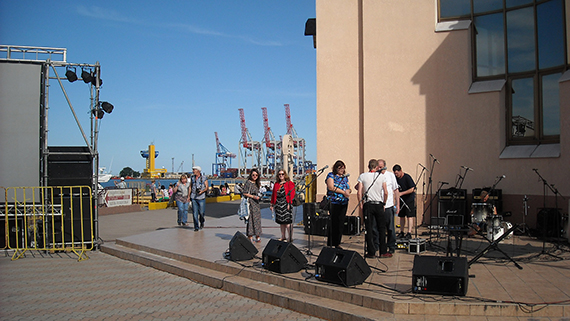 Our outdoors 9pm show quickly became 10:30pm.   First there was a Ukrainian silent film with accompaniment by a Crimean guitarist.   He did a superb job, with various loops and delays, some pre-recorded percussion tracks that actually didn't suck, and often applying unusual techniques in his playing.   Plus he was a really nice guy!
Our film was "The Last Command", a (silent) film starring Emil Jannings (who later became a Nazi).   It centers around a commander of the Czar's army during the revolution, but is mostly told in a flashback.   Half the film is set in Hollywood – the other half in Russia: a very intense film.   Despite the very complicated score (which we wrote, like all our scores) and the fact that I dropped some clothespins (which held my music score down in case of wind) mid-show, our performance was very well received.   Some said the music was better than the film, but we always say our music (if we don't screw it up) is the same quality as the film.   Our goal is for you to forget we are playing, hopefully merging our music seamlessly to the film.
There was a jam session afterwards which I bagged out on – there was an Odessian keyboardist already.   One keyboard is enough.   I found out later that there were some good moments, especially with the Crimean guitarist and Belarus accordion player, but that too many notes were often played.   I didn't want to contribute to that in any way…….   So I Skyped with my gal and as I was falling asleep at 3am, I heard Terry and Ken walk up the hall to their rooms.
Monday, June 30 Odessa
At my 10am breakfast I got the ultimate techno experience here: the CD is skipping.   "Boincy, Boincy!" goes the male vocalist, same 2 seconds, over and over.   Finally get the hostess to turn it off – I prefer the quiet and the fountain.   On goes the World Cup, but that's a lot better than another half hour of "Boincy, Boincy!"
Tried to nod off after our equipment was moved into the hotel (all done by Odessian assistants – great!), but didn't really sleep.   Let my mind wander and stretched out completely.   There will be very few stretching moments on the trip home tomorrow.
Got some good work done on my string orchestra and pink noise composition "Half Moon Pond".   I found the frequency spectrum to use on the internet, so now I can apply that grid to the photograph for the pink noise Equalization.   This might end up to be quite interesting…
Odessa in summer is usually HOT.   Mercifully for us it was in the mid-70's the entire time.   And DRY.   Zero humidity.   Made for a very pleasant outside experience.
Lots of buskers near our hotel:   There was a teenage string quartet playing Mozart and some pop arrangements – I actually gave them a few "Hryvnia".   Accordions abound: mostly "button type" rather than "keyboard".   I prefer Ukrainian folk music to weird versions of "Strangers in the Night."   Today there was a "Covers Show" on the band-stand, and a rock band performed Smells like Teen Spirit in Ukrainian.   Oddly comforting, and a definite relief from the relentless techno-pump usually heard on that stage.
Ukrainian pro-Russians claim that the US gave 5 Billion USD to support the protesters last year.   That seems pretty unlikely to me: our hosts from the US Embassy said THEY never saw any check like that!   The pro-Russians are like Fox News…..   Nobody believes it except the extreme pro-Russian contingent.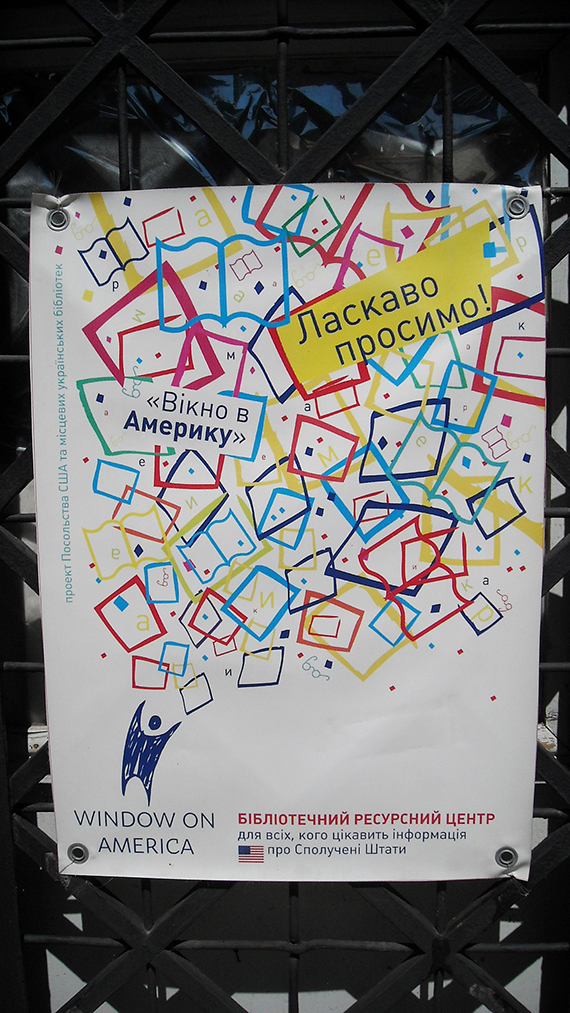 We had a mid-day talk at "Window on America", where only English is spoken in a "cultural club" vibe.   Mostly ladies, though Alloy Orchestra does have the ability to be charming when required.   We talked about our process and the films, and showed various shorts we scored from the DVD "Wild and Weird".   The three-minute long film starring flies pinned to tiny aluminum foil chairs and juggling tiny aluminum foil barbells definitely was more "culture" than most of the audience was expecting, but two hours went by very quickly.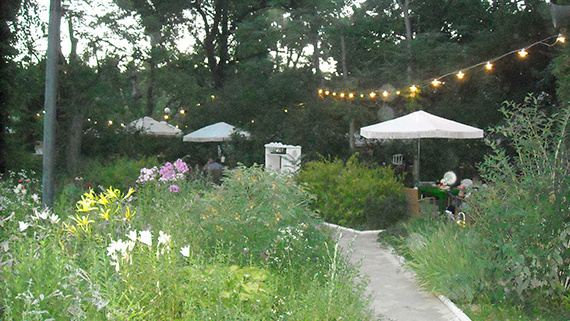 That night Anna took us to "Dacha", an outdoor restaurant that has "Food like your grandmother would make" and plays soviet-era songs over the house system.   Great food, very cool setting.   I had Chernigorskoye (unfiltered) on draft and it was pretty good.   Best of the Ukrainian beers I had. Try to get to sleep asap since we have a 5am departure tomorrow……
Tuesday, July 1   Odessa to Boston.
The cease-fire between Ukraine and the Pro-Russian separatists ended today:   Perhaps the Ukrainians put the cease-fire in place to keep the Alloy Orchestra's visit safe….   very considerate of them!   When I mentioned these Ukraine gigs to my Burma cohorts before we left, Clint responded: "So you couldn't get a gig in Baghdad?"" But in reality, we never felt the faintest hint of danger.
I'll not speak of the 24 hours spent traveling from Odessa to Boston.   Suffice it to say, we were not spontaneously upgraded to Business Class.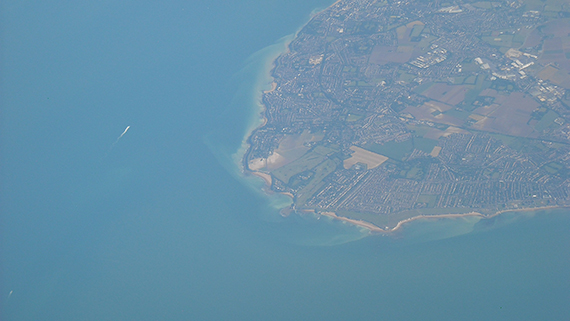 When Burma played the Sled Island Festival in Calgary, Canada last week, we went on at 1am, i.e., 3am Boston time.   We got to bed by 5:30am Boston time (weren't in Calgary long enough to adapt to time-shift).   The show went remarkably well considering we didn't have any fans and it was hot as hell on stage (Pete almost died, but he's remarkably able to spring back to life).   The other bands on the bill were all really fun, which is not always the case at festivals.   Mostly sounded 1979-1982, with a dose of Capt. Beefheart thrown in.   Plus they were all fun people to hang with.   Crowd was extremely enthusiastic, and except for our near-death experience from the heat, it was a great bout of rock, all night long.
Then another grueling set of flights, 2 days after flying in to Calgary.   Where's the joy?   In fact, if I hadn't had this gig in Ukraine with Alloy Orchestra, Burma might have all rented mountain bikes and pedaled over the Canadian Rockies to Seattle.   Scenic as all get-out and probably would've gotten there just in time for the shows at the end of August…..
Burma had one of the most disorienting U.S. customs experiences in Toronto I've ever had.   Some new "3-step" method, with plenty of repetition and Kafka-esque demoralization.   The passport scanner couldn't read my passport – I've never once had that problem in any airport, ever.   I mean, come on US of A, can't you do as good as Air Canada or Lufthansa?   After senseless waiting, we were told by the Canadian customs to go to the head of the US customs line.   When we got to the US customs, we were told we had to go back to the Canadians.   We could see this was going to be a bad case of bouncing the ball back and forth, but finally Jimmy cornered a Canadian agent who realized the bullshit and went with us to US customs and forced us through.   Oh, joy.   Joy.
Contrast this with Alloy getting into Ukraine.   They looked at each of us; looked at our passports; let us in.   Relaxed.   Which country is really under lock-down?
This US Embassy in Ukraine Warning has been in place since June 5.   We found this out on June 28….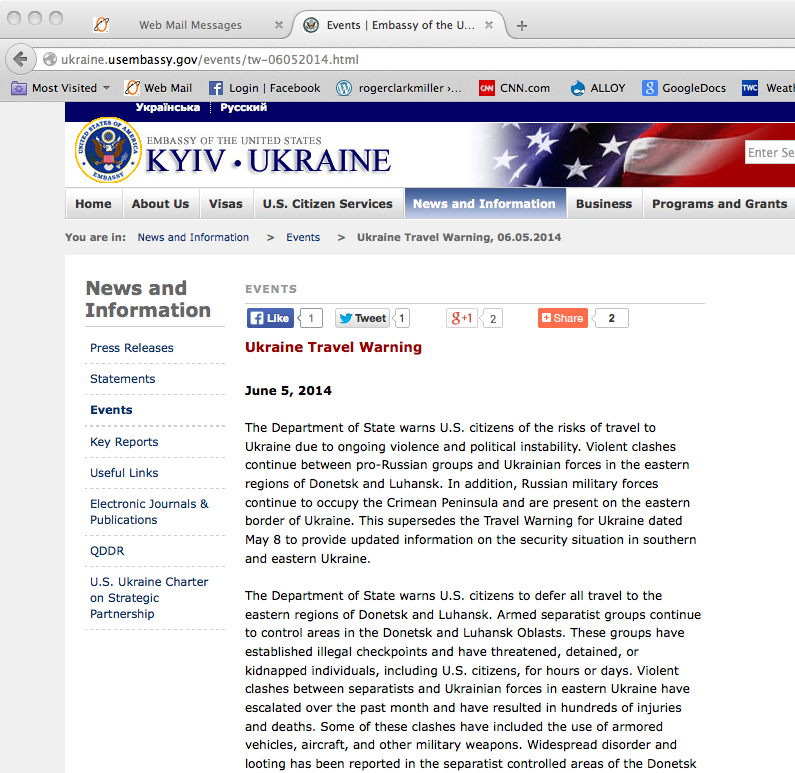 Be sure to see one of the greatest live bands of all-time as Mission of Burma hit the West Coast this summer:
28 Aug: The Roxy, Los Angeles CA, US
29 Aug: The Independent, San FranciscoCA, US
30 Aug: Doug Fir Lounge, Portland OR, US
31 Aug: Bumbershoot Festival, Seattle, WA, US
Read Part One: A Different Kind of Tension: Mission Of Burma's Roger Miller Details A Week in The Ukraine