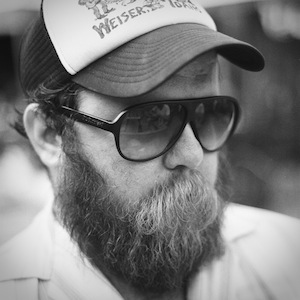 It's been 10 years since Raymond Raposa's Castanets released  Cathedral, a powerful work of skeletal folk and dread. Since then the songwriter has been consistent — releasing a string of Castanets albums, each one stretching out in strange and wild ways, incorporating skittering electronics, booming dub, and ambient noise into Raposa's blues and folk explorations. In 2012, though, he shuffled off the Castanets moniker with a freewheeling rock record called  Little Death Shaker, credited to Raymond Byron and the White Freighter (around the same time he recorded some incredible covers for Aquarium Drunkard, including a haunting take on a Toby Keith number).
That album felt like a potent rebirth, but now in 2014, a decade after  Cathedral, Raposa has returned to the Castanets name with  Decimation Blues. It wasn't planned, Raposa explains, but simply a matter of recognizing what makes a "Castanets" record different from a "Raymond Byron" record: the fruitful collaboration he's enjoys with the producer, Rafter Roberts.
"It was gonna be a solo record, but I flew down to San Diego, mostly because I wanted to get in some ocean time," Raposa says. While there, he began work with Rafter, and quickly recognized what the musician and producer had brought to each installment of the Castanets discography. It became apparent to Raposa that it wasn't a solo record, but a Castanets one, and the idea was echoed by drummer Nathan Hubbard.
"Nathan and I were in the live room, and Rafter was in the booth, and he said the combination of Rafter and I 'sealed the deal' that it was a Castanets record," Raposa says.
Decimation Blues demonstrates the sprawling approach that defines Castanets. Booming bass and Rhodes piano open the album with "It's Good to Touch You in the Sunlight," employing a gentle ramble that is quickly disrupted by the twitching "Be My Eyes," where Raposa's vocals are filtered through disorienting effects. There's woozy Americana, like the warped country ballad "Pour It Tall and Pour It True," and the skewed "My Girl Comes to the City." Raposa filters his voice through a vocoder for "Tell Them Memphis," recalling warbled R&B, and "Thunder Bay" features a gorgeous multi-track choir over Van Morrison-evoking reeds.
"At the core they're simple songs, there are three-or-four chords," Raposa says. "You could play them with a bluegrass quartet and they would sound naturalistic and serve a purpose." But Raposa explains that Rafter's Singing Serpent Studios is stuffed with gear, "more gear than you could ever possibly desire," and that surrounded by keys, synths, and analog toys, the songs quickly took on new textures and dimensions.
"You pick what you're going to use for the day and hammer it out. We worked this record faster than any record I've made."
The resulting album adds a fascinating new chapter to the Castanets catalog, one that speaks to both the isolation and fierce beauty found in Raposa's words, a sentiment summed up best by his notes concerning "Out for the West": "The days are short and the night ain't so bad if we're lucky." | j woodbury