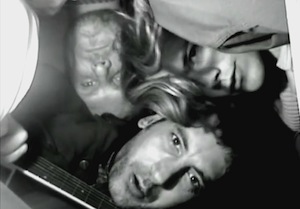 Towards the end on the Nineties, everyone in the UK seemed to be suffering en masse from Oasis-burnout and Acid House comedowns. The coked-up fervor that had nurtured a startling variety of music from Suede to Blur, from Supergrass to Elastica, was now producing shark-jumping acts like Chumbawumba and Republica. The dancefloors were sticky, the houselights were about to go up, and something more subdued was needed. Enter a handful of bands like Gorky's Zygotic Mynci, The Beta Band, Mojave 3, and Gomez–all of whom seemed to be working from a druggy, post-Radiohead template, but who could draw just as generously from English psychedelia of the Sixties (Pink Floyd or Canterbury Scensters like Kevin Ayers and Robert Wyatt). Debts to The Jesus and Mary Chain, My Bloody Valentine, and Teenage Fanclub were also in evidence, yet the squalls of feedback and VU-cacophonies had ebbed away. It was time to get a tad more low-key.
Even Creation Records, that pioneer of Planet Brit-Pop, could see the light. On the verge of bankruptcy, the label decided to release a mini-album of quiet, ramshackle demos recorded (in a barn) by a band called Arnold. And for just a moment, the clubs sounded very far away indeed. Here, finally, was the musical equivalent of someone beating a retreat to the countryside while feeling as worn out as Withnail & I. You got rained on  but the air was nice.

The band had started life as a four piece, but had only cut their demos following their lead singer's untimely death. This perhaps explains the melancholy understatement that distinguishes their sound. Even on their first full length album, Hillside, the songs remain hazy, half-formed thoughts. The music seems cobbled together, a lo-fi patchwork of folk, psychedelia, and Sister Lovers  atmospherics.
Indeed, what set Arnold apart from the other folky after-hours bands emerging at the time, was their unpolished, un-commercial approach. Background noises, studio banter, snatches of world music and atonal tinkering all get roped into the mix. Many of their songs are simple enough ditties, but Arnold manage to orchestrate them (or to de-orchestrate them) in such a way that they become strangely expansive, full of shadow and light–and not a million miles away from Sparklehorse.
When Creation finally collapsed under its own weight in 2000, Alan McGee was enough of an Arnold supporter to re-sign the band to his subsequent label, Poptones. However, the sophomore Arnold album, Bahama was to prove something of a last hoorah for both band and label. With the downbeat, anthemic pop of Travis and Coldplay taking over the airwaves, it was harder now for bands like Arnold to stand apart. But while hardly anyone was listening, they still continued crafting epic pop soundscapes–just as jumble-sale as before, but now crisper, sunnier, custom-made to round off a long summer. words / dk o'hara