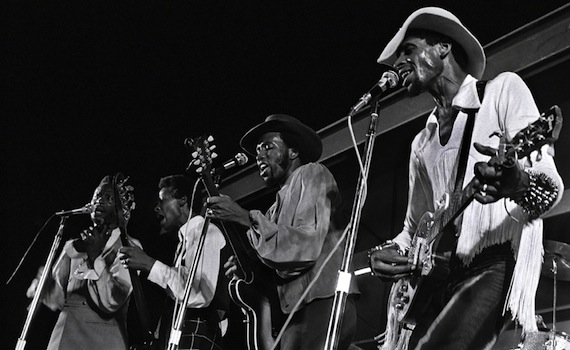 (Volume 23 of Clifton's Corner. Clifton Weaver, aka DJ Soft Touch, shares some of his favorite spins, old and new, in the worlds of soul, r&b, funk, psych and beyond.)
It's been a while since the last Clifton's Corner; so I thought I'd share some of my favorite soul and funk sounds of the moment to help us get reacquainted.
The Chambers Brothers :: Funky
Probably best known for their psych-soul masterpiece, "Time Has Come Today", this lesser known track will be familiar to Tribe Called Quest fans as providing the sample for "I Left My Wallet In El Segundo".
Lee Sain was born in Muskegon Michigan, where he attended the Muskegon Heights school system. He first started singing at the age of four in a gospel group consisting of him and his four brothers. He recorded his first record in Chicago, "We'll Meet Again," and went on to record "Hey Baby and "I Can't Fight It", featuring Denise Williams. After leaving Chicago he recorded "Them Hot Pants" and "She's my Old Lady Too" at Stax and was one of "The Stax Golden 13" who performed "Old-Time Religion" at the 1972 Wattstax concert in Los Angeles."
Samson & Delilah :: Will You Be Ready?
Roy Redmond :: Good Day Sunshine
An interesting cover of the Beatles track off of Revolver. This particular version was featured in the obscure 60s pop art film, The Touchables. Coincidentally (or not), the film was directed by Beatles photographer Robert Freeman. As well as this gem, the soundtrack features songs from the original UK band Nirvana and organist Wynder K Frog.


Carol Jones :: Don't Destroy Me
Heart wrenching devastation never sounded so good as on this 45 out of Detroit.
Willie Hutch :: I Can't Get Enough
This is the flip side to the better known "northern soul" song, "Your Love Has Made Me A Man". Another classic on the Bihari Brothers' Modern Records out of L.A.
Apple & The 3 Oranges :: Love Brings Out The Best Of You
This sweet soul song comes from legendary LA drummer, Edward "Apple" Nelson. Over the course of his career, Apple played with such luminaries as Etta James, Charles Wright, and Dr. John. This track comes from the Now-Again Records comp devoted to his own output called Free & Easy.
Peggy Scott & Jo Jo Benson :: Lover's Holiday
The Lou Garno Trio :: Chicken In The Basket
Released on the Giovanni's label, "Chicken In The Basket" was actually a promotional record for the Giovanni's restaurant located in Phoenix, Arizona. The Lou Garno Trio was the featured band and had developed quite a following. Hoping to capitalize on it, the restaurant recorded and released this 45.
Simtec & Wylie :: Socking Soul Power
This frenetic soul/funk 45, released on the Toddlin' Town label out of Chicago.
Related: Find  archived Clifton's Corner entries, HERE…