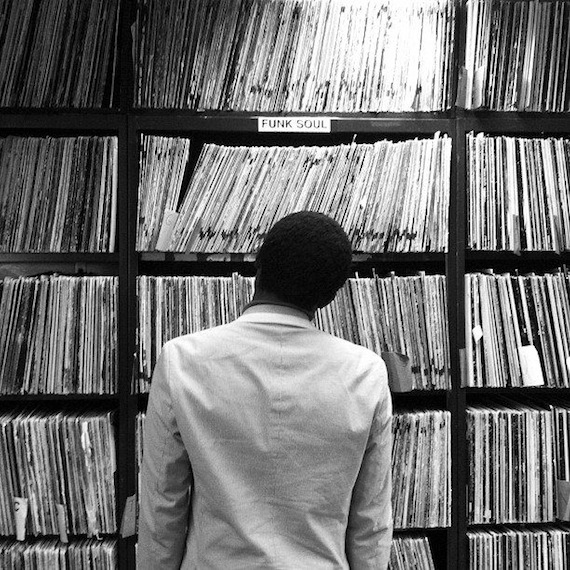 (Volume 24 of Clifton's Corner. Clifton Weaver, aka DJ Soft Touch, shares some of his favorite spins, old and new, in the worlds of soul, r&b, funk, psych and beyond.)
Lately, I've really been getting back into playing guitar. Long before DJ'ing, I played guitar and bass in bands. Now that I've been playing again, I've also noticed a shift in my listening tastes. Of course, I still love funk and soul, but if there's a fuzzy guitar in the mix, it definitely catches my attention over other sounds. As such, I've been buying a lot of guitar heavy 60s/70s sounds.
Slade :: The Shape Of Things To Come – Before becoming glam rock standard bearers, Slade toyed with a skinhead look and general post-psychedelic/hard rock sound. This version of the Mann/Weil song comes from their 1970 LP, Play It Loud.
Winston's Fumbs :: Real Crazy Apartment – Jimmy Winston was the original organist (also guitar) in legendary mod group Small Faces. Unfortunately, his tenure with the band was short lived. One year after releasing a version of the Small Faces' "Sorry She's Mine" as Jimmy Winston & The Reflections, he followed with the excellent "Real Crazy Apartment". The only release by Winston's Fumbs, the song is definitely heavy but retains a pop sensibility and never devolves into the crude clichés that plague a lot of late 60s/early 70s 'heavy" sounds.

Giant Crab :: Watch Your Step – Blue eyed soul, pop, and psychedelia come together to great effect on this song from Santa Barbara based Giant Crab. It can be found on the debut Uni LP A Giant Crab Comes Forth.
The Spencer Davis Group :: Looking Back – This is a great post-Steve Winwood single that was featured on the soundtrack to Here We Go 'Round The Mulberry Bush (funny enough half of the songs on the soundtrack are Traffic songs). Heavily influenced by Johnny Guitar Watson's "Looking Back", sadly the single went nowhere.
Traffic Sound :: Yesterday's Game – Nice bit of prog/psych out of Peru.
Fear Itself :: In My Time Of Dying – Featuring lead vocals by Ellen McIlwaine, Fear Itself was psych/blues band based in San Francisco. This version of the traditional song is from their only LP release. For years, I'd heard this was a big influence on Led Zeppelin's version of the same song.
Bo Diddley :: Pollution – The b-side of "The Shape I'm In", this single and the album – Another Dimension – were an attempt to update Bo Diddley's sound for a new generation of rock & blues fans. Like Muddy Waters' Electric Mud and Howlin' Wolf's "dogshit" album, the results were varied. However, in my opinion, "Pollution" is great and I feature it frequently in my DJ sets. Also, look out for a brilliant version by the Moroccan soul singer Vigon.
Julie Driscoll, Brian Auger & Trinity :: This Wheel's On Fire – Ok, technically this isn't a guitar driven version but Brian Auger's organ on this Dylan cover is as heavy as any guitar I've heard.
Related: Find archived Clifton's Corner entries, HERE…