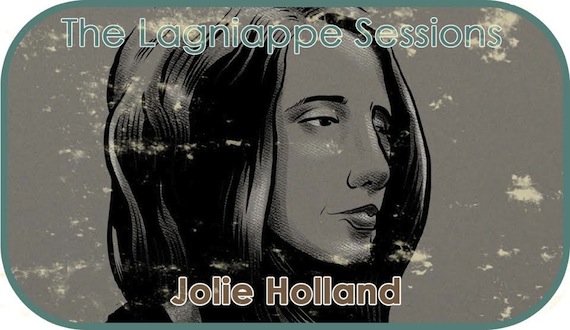 Lagniappe (la ·gniappe) noun 'lan-ˌyap,' — 1. An extra or unexpected gift or benefit. 2. Something given or obtained as a gratuity or bonus.
The Lagniappe Sessions return with Jolie Holland, who is about to kick off her European tour beginning September 22nd, in Paris, in support of her latest full-length, Wine Dark Sea. From the palm wine guitar of Sierra Leone's S.E. Rogie to the post-crash muse Robert Zimmerman was chasing, Holland digs in, reinvents the material, and shares her thoughts on each, below.
__________________________________________________________________________________
Jolie Holland :: Do Me Justice (S.E. Rogie)
S. E. Rogie (1926-1994) was one of the originators of  'high-life' West African music. He's a beautiful guitarist and a powerful songwriter. His music has been a big influence on me since the late nineties. "The Littlest Birds" (a song I wrote when I was in the Be Good Tanyas) was highly influenced by West African guitar feeling, as well as by Western Swing, which are not so distantly related after all: I heard that the two-step comes from Africa. S. E. Rogie alludes to Western Swing,  surf guitar and other rock and roll idioms in his work. Aside from the brilliant syncretic nature of his music, Rogie wrote some gorgeous songs.  "Do Me Justice" is a shining example. It's deeply personal and absolutely universal. My song "On And On" off of  Wine Dark Sea directly quotes S. E. Rogie. It was a sincere pleasure to reinterpret his "Do Me Justice"– it's impossible to get inside such a song without being uplifted.
Jolie Holland :: Tell Me That It Isn't True (Bob Dylan)
I happened to need a pretty large band to express the material I wrote for Wine Dark Sea. Two drummers with full kits play simultaneously on each track, and as many as four electric guitarists play at once. Our bandmate Doug Wieselman suggested Bob Dylan's large-ensemble recordings as inspiration. That brought us to listen to Blonde On Blonde, with its  seamless integration of many live elements into a whole. "Tell Me That It Isn't True," from Dylan's album  Nashville Skyline features Kenny Buttrey on drums. It's an especially moving performance. We've been playing a couple Dylan songs from that  era on the road– they originate from the place between so called modern folk music and rock and roll. As my music  has made a similar transition, it's been a strong meditation to perform songs  that  date  from when Dylan forged that passage. You'll seldom hear a band play so hot and sweet as you do on those recordings of Dylan's from the late sixties and early seventies.
Lagniappe Sessions Archives / original illustration  for aquarium drunkard by Ben Towle.