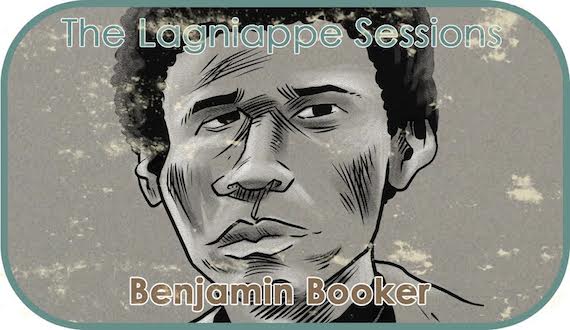 Lagniappe (la ·gniappe) noun 'lan-ˌyap,' — 1. An extra or unexpected gift or benefit. 2. Something given or obtained as a gratuity or bonus.
In 2012 I wrote about a young guy living in New Orleans who had just released a set of self-recorded demos. His name was Benjamin Booker. Like his voice, they were raw, intense and inspired. I then lost track of him, only to hear his name reappear a couple of years later. Turns out Booker has been busy, gigging around North America and Europe behind his debut s/t album – out now via ATO Records. For this installment of our  Lagniappe Sessions, Booker takes on Furry Lewis and Otis Redding. Booker, in his own words, below.
__________________________________________________________________________________
Benjamin Booker  :: Falling Down Blues (Furry Lewis)
This summer I played a show with Jack White in Chicago. We were listening to some blues in the back and I mentioned I loved a cover of "Falling Down Blues," by Ramblin' Jack Elliot. He wasn't familiar with the song so we started doing the cover on the tour. After a show in Detroit, my bass/violin player Alex Spoto and I went back to our hotel and recorded the song on my phone in the bathroom. We enlisted the help of Yvonne Spiczynski and her husband, a sweet couple from Toronto we met at the hotel, who did some clapping in the song.
Benjamin Booker  :: Shout Bamalama (Otis Redding and the Pinetoppers)
Otis Redding was a huge influence on my songwriting and singing, but I wouldn't dare doing one of his more popular songs for fear of getting fruit thrown at me on stage or death threats in the mail. This is the first song ever started covering but I don't think most people even recognize it. I don't even sing the original chorus. But, it's a great Rhythm and Blues track that fits in well with the set and is always my secret weapon to get people dancing. This version is from a recent show at the 100 Club in London.
Lagniappe Sessions Archives / original illustration  for aquarium drunkard by Ben Towle.