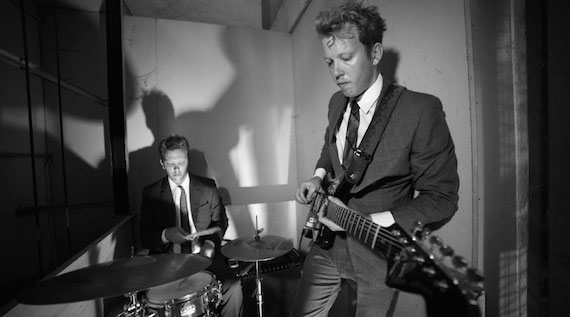 The Mattson 2 are twin brothers Jared and Jonathan Mattson. Descending from southern California. with one brother on drums and the other guitar, they are a self-described jazz duo. But as Agar, their latest lp, attests, they occupy a space much wider than that. At only five tracks and just under thirty minutes long, Agar is certainly concise; a clear and focused statement on both the brothers' artistic chops and frame of mind. However, it's also a complete freak-out of an album —- two extraordinary musicians letting loose, chasing the muse.
Agar opens with a collective howl, a commencement to the boundless sonic exploration that is soon to follow. Album opener "Peaks of Yew" finds Jared locking into a hypnotic raga groove as layers of eastern-leaning atmospherics, provided by Farmer Dave Scher, wash through the spaces. It's a track that glistens across an orange reddish sky before erupting into flames.
There is a cinematic scope to the sounds on this record. "Dif Juz" begins in an almost conceptual western tension, all tingling guitars, before propelling into widescreen ambience. "Pure Ego Death" sounds like the score to an imaginary science fiction film; all tones and waves and air, flowing across an empty, desolate landscape. "Meluminary" rips freer and faster, a pure free-jazz jam that is perhaps the best example of the brothers telepathic chemistry — effortlessly and mesmerizingly in-sync. Jonathan takes the reigns about halfway through, launching into a manic drum solo, occasionally pierced by haunting, alien transmissions.
The album's closing title-track is pure metal, finding both brothers taking their playing to an inflammatory extreme, a culmination of the album up to this point — pinpoint precision unleashed and enflamed. We, the listener, engulfed. words / c depasquale