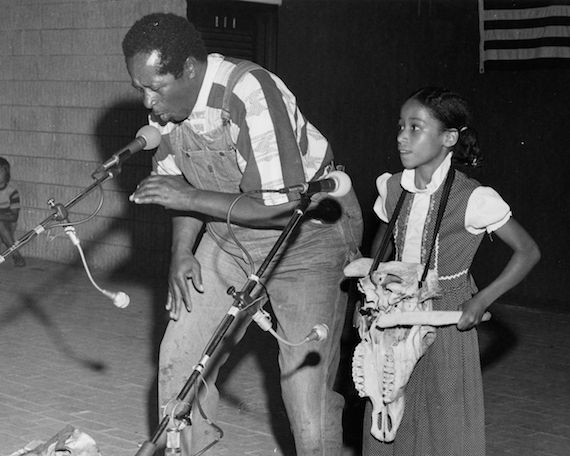 Diversions, a recurring feature on Aquarium Drunkard, catches up with our favorite artists as they wax on subjects other than recording and performing.
Luke Winslow-King's latest long-player, Everlasting Arms, hit shelves last month via label home, Bloodshot Records. Once again, the  New Orleans based journeyman's latest collection is a swirling medley of primitive blues, gospel, folk and beyond. For this installment of Diversions, Winslow-King highlights a choice selection of Delta Blues and NOLA favorites.
Abner Jay :: The Reason Young People Use Drugs
I think Abner Jay really understands America's youth. He has a knack for singing very direct lyrics without metaphor. His sadness and life experience are shared so purely and honestly. You  can't tell  from this video that Abner Jay is a one man band; singing, and playing harmonica, guitar, and drums with his feet.

Jesse "The Loan Cat" Fuller :: San Francisco Bay Blues
I promise I won't lead you to anymore one man band videos after this one. Jesse Fuller has such a great spirit. His rhythmic idiosyncrasies really make the music pop. I love the setup of the song when he mentions that this tune is his money maker, and proceeds to tune up his  fotdella.
Joe Savage :: Dangerous Blues
This video really made an effect on me because of Joe Savage's deeply passionate vocal performance. Alan Lomax ran in to these guys under a bridge in Mississippi in '78. It was eye opening for me to find Lomax's American Patchwork series. He discovered so many talents and traditions that most thought were lost.
Fred McDowell :: Shake 'em on Down
Fred McDowell has been one of my biggest influences. He gets so much momentum going with his right hand fingerpicking. It really gets under my skin. I've often found myself trying to learn one of his tunes, failing, and spinning off into some new rhythm of my own. His simplicity and grit are inspiring, and he can really make the guitar cry with the bottleneck.
RL Burnside :: See My Jumper Hangin' on the Line
Here's another one of my favorite Alan Lomax field recordings. RL Burnside getting down on the farm. I love the sound of his amp out in the yard. You can hear some of the kids crying in the background at one point. We've been running into RL's grandson  Cedric Burnside  on the road lately.
Sleepy John Estes :: Someday Baby Blues
This is a Ken Burns style video with a recording of a '78. Sleepy John is my favorite singer. I think not having any teeth might make him sound cooler. Hammie Nixon is great on the harmonica too. I like how seems to play over the vocals the whole time and make it work.
Roberto Luti :: Dark Was The Night
This is a solo video of my good friend and slide guitar maestro Roberto Luti.He is featured in the B side of our new album  'Everlasting Arms'. Here, he plays a Blind Willie Johnson tune by the sea in his hometown Livorno, Italy. Roberto has  his National guitar  tuned really low for an extra rich tone here.
Dirty Dozen Brass Band :: Funeral Parade (Lomax Archives)
This is some live footage of a jazz parade with The Dirty Dozen Brass Band in New Orleans back in the 80's, also from the  Alan Lomax Archive. The drum major is Uncle Lionel Baptiste who later became a New Orleans celebrity himself. I wrote my song 'Crystal Water Springs' the day "Unc" passed away.   Here is a video of one of the many jazz funeral processions held in his honor.  Uncle Lionel Baptiste Jazz Funeral
Previously: Diversions :: Chris Forsyth (Bootleg Mix)