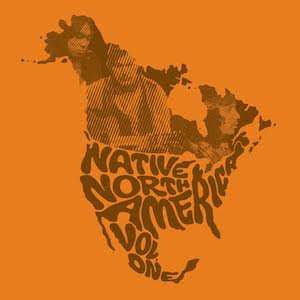 The steady hand of Canadian musicologist and curator Kevin "Sipreano" Howes has been present in many of Seattle-based label Light in the Attic's key releases, but his newest project for the label, the mammoth collection Native North America (Vol. 1): Aboriginal Folk, Rock, and Country 1966-1985, is not only his most personal, but also one of the label's most historically significant releases.
"I started seeking out Canadian Aboriginal recordings on vinyl around 15 years ago," Howes explains. He pitched the idea of a collection covering native sounds to Light in the Attic, with whom he's worked for a decade. With a firm go-ahead secured, Howes got to work. Though the music speaks for itself, Howes provides deep historical context for these songs, detailing the artists and their stories in a lavish 60-page book, drawing on interview sessions Howes conducted with the artists, photos, original LP and 45 artwork, and lyrics (with translations of the songs in Native languages). The book contains a full page of thanks, and Howes is quick to add, "Much love to the trailblazing artists who made this work possible!" each time he discusses the set.
"After I fell in love with the music, I had to learn more about these incredible artists," Howes explains. "Unfortunately, academic texts and Canadian history/music books didn't take me very far. Even the good old Internet was shooting blanks, but in my experience, going straight to the source is always the best."
Some artists proved easier to find than others, Howes explains. "Legendary Métis singer-songwriter Willie Dunn wasn't easy to get a hold of at first, but the Inuit rock band Sugluk from Salluit, Quebec (in the province's Nunavik arctic region), were really challenging to contact. Some of the members didn't have telephones, so I actually had to put out a message in Inuktitut over the northern community radio airwaves with the help of a local radio host."
The musical breadth featured is nearly as vast as the geographic ground the collection covers, gathering folk rock, psychedelic grooves, country soul, and garage rock from distinct Indigenous cultures across Canada and Alaska. "All 36 songs blow my mind in one way or another," Howes says. "They were often made for folks in their regional communities, but like musicians the world over, most were hoping that their songs would be able to reach as many people as possible."
Not all of the music featured on the collection is obscure; some of the artists, like Sugluk, Sikumiut, and William Tagoona were recorded and broadcast nationally by the Canadian Broadcasting Corporation, and Howes cites Willie Dunn's "international acclaim." But the collection also draws on regional and private-press releases. "Much of this music wasn't heard outside of the greater Aboriginal music community at the time of release," Howes says. "…this music was very much embraced on the reserves and in regional communities across the country, as well as gaining some traction in coffeehouses, dance halls, and the folk festival circuit."
As such, Howes envisions the set as both a way to commemorate and catalog the work of Native artists (a second volume, featuring music from the United States' lower 48 and Mexico, is already in the works), but also start a larger conversation about their importance and musical value. "I think it would be so cool if people out there had listening parties with their friends," Howes says, "where they could share the experience together and talk about what they've heard and seen."
Howes himself has already had the pleasure of sharing the set — with the creators responsible for the music it contains.
"It's been great starting to share the compilation with the artists themselves. When revisiting music from the past, you are often bringing back the full range of emotions that went into its creation. These emotions can be both good and bad, but I want this to be a positive thing for everyone, a celebration! There is much joy in Native North America, but there is also deep pain and struggle. It was a massive honor for me to learn firsthand about this cultural and spiritual history." words / j woodbury