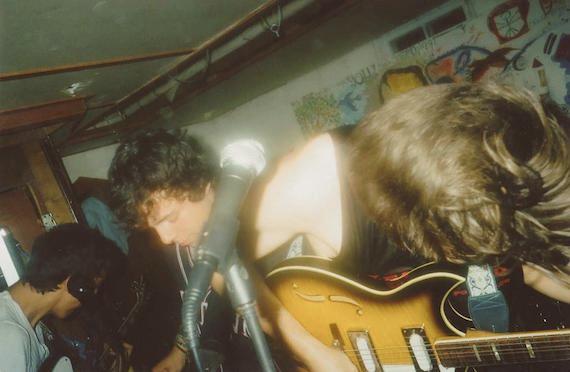 Twin Peaks' 2013 debut Sunken, issued by Aquarium Drunkard's sister label Autumn Tone, was a tight, fuzzy blast of garage rock. It was a brief, but powerful, statement from a couple Chicago kids inching toward their twenties.
Wild Onion the band's 2014 LP for Grand Jury, takes the promise of their first expands it outward. Originally conceived as a double album, that standard hallmark of lofty rock & roll ambition, a (barely) older and wiser Twin Peaks pared the selections down to 16 essential songs, crisscrossing blown-speaker verve with jangling pop, snotty attitude with lovelorn gazes.
"We had so many songs, we were having trouble pinpointing what we wanted to do, trying to narrow it down," says Peaks' guitarist/songwriter Cadien Lake James. "We were like, 'Fuck it, we don't have it narrowed down yet, that's not who we are at this point.' We're just some dudes who like all sorts of rock & roll, and we span genres, and it just made more sense to put it all on the album. We tried to make it like a mixtape, where the songs could be very different, but flow together."
Wild Onion indeed plays like an expertly-curated mixtape, with songwriters James, plus guitarist/singer Clay Frankel and bassist/singer Jack Dolan, and drummer Connor Brodner, cranking out cocksure jammers like "I Found a New Way," and balancing them against chorus-laden dream ballads like "Strange World." Not to be outdone, "Stranger World" layers synths and saxophone, right before giving way to classic a jangle pop stunner, "Telephone." Despite the variety, and despite that fact that the songs are the result of three distinct songwriters, Wild Onion sounds remarkably cohesive, held together by energetic youthfulness and unceasing melodies.
"For us, what it always comes down to is it's us playing the songs," James says. "If we're all playing together it's going to sound like us. Because we dig each other's songs, and we dig putting it all together."
Citing acts like Exile-era Stones, the Oblivions, and Jay Reatard (James' "favorite artist for a year or two"), the band struck a balance between cutting tracks live, to retain maximum energy, and layering and building compositions through overdubs, a tactic employed by inspirations like Tame Impala and Mac DeMarco.
"There were four of five tracks [including] 'Flavor' and 'Sloop Jay D' with all the instruments live," James says. "But, growing up as someone who started recording to Garageband, always building stuff up from the bottom, that's still sort of how I approach it. I'm intrigued by people who are doing it that way."
Tellingly, the band traces its roots back to elementary school, and the though the band's songwriters have begun to explore individual directions, they continue to draw on connections established early on.
"As much I don't like being considered a pop-punk band…it's something when you're first getting into guitars in elementary school, that's something that surrounds you," James laughs. "As much as we've grown out of it, it shows itself if you really look deep. It's like, 'How can we be energetic and punk when we're actually soft boys?'" James laughs, but Wild Onion suggests they've figured it out. words / j woodbury