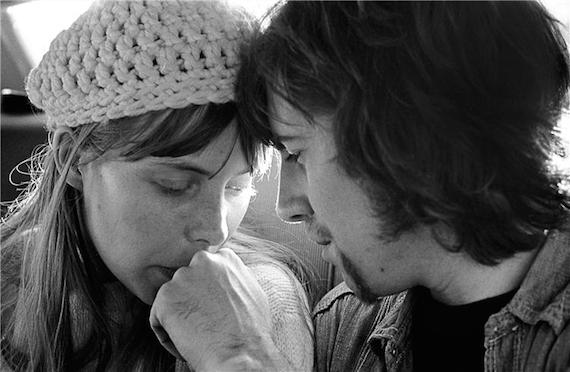 Having last week seen Gone Girl back-to-back with another (far quieter, far more chilling, far superior) infidelity-noir, The Blue Room, I've been thinking a lot about contrasting points of view and conflicts of interpretation. In both these films, the drama is refracted through a he-said-she-said-they-said prism in which every perspective is revealed as partial, cluttered-over in prejudicial evidence. As an audience, the central challenge we are posed with is how to navigate these contradictory perspectives–especially when, like little detectives, what we want are facts, damnit. We are pushed by such narratives to decide whether our sympathies will tip one way or another.
Narrative songs, however, have a great way of avoiding this challenge because unlike plays or films, problems of perspective are in fact no problem at all. There's something more immediately flexible about them. Within the same song, 'I Shot the Sheriff' might be just as viable as 'The Man Who Shot Liberty Valence.' We all know we can sympathise equally well with both the singer and the sung-to in 'Like A Rolling Stone.'  We don't have to pick sides.
Take the classic example of 'Jackson,' popularized by both June Carter/Johnny Cash and Lee Hazlewood/Nancy Sinatra in 1967. 'We got married in a fever,' the couple sings together before giving divergent takes about what's about to go down in Jackson Town. Lyrically, we're kept on the fence, but hearing both protagonists out isn't problematic. There's no challenge in our having two differing points of view coexist or given the same amount of time in the spotlight.
When the parents offer their opinion during the Beatles' 'She's Leaving Home,' it might on the face of it, seem a moment for the villains of the story to chime-in. However, Lennon's ghostly vocal reveals the way in which the entire song can be 'read' from the parent's perspective and still lose none of its melancholy grandeur.   Tom Waits' 'Christmas Card from a Hooker in Minneapolis,' is likewise exemplary in showing us how, within a song, our sympathies can be everywhere at once. Ostensibly a letter written from said hooker to an old lover named Charlie, we're placed somewhere vaguely between the two of them: she's writing, he's presumably reading what she wrote. (Things are made even more indeterminate as her words are performed in the voice of Tom Waits.) Yet the abstraction has a democratizing effect: because we ultimately share the revelation that the writer has fictionalized the details of her letter ('Charlie, for chrissakes, if you want to know the truth of it, I don't have a husband, he don't play the trombone'), we are drawn closer to Charlie; because we can sympathise with the hooker's desire to imagine a better life for herself, we're at the same time drawn closer to her.
Something similar often occurs in songs that are historically and/or lyrically linked together. There are of course a whole plethora of 'answer' songs that re-imagine the point of view of an original. But one lesser known example is 'Oh, Brother!', Joan Baez's answer to Bob Dylan's 'Oh, Sister', which turns out to be far less hokey than it sounds. In fact, like any good rejoinder it doesn't dismiss but re-informs–in Baez's case, drawing our attention to all the women that have been simultaneously revered and steamrolled down the long dusty road of Dylan's oeuvre. An even better example of this sort of reversal may be found in Baez's own 'Diamonds and Rust' (arguably the best song she wrote), which isn't an answer song per se, but a song that speaks directly to the existentially and romantically prevaricating figure that Dylan came to embody in his songs circa Blood on the Tracks. The imagery Baez is playing with is tangled up and familiar without ever being referential: phone booth, moon, blue eyes, leaves falling, crummy hotel. (You don't have to be a Dylanologist to solve that equation.) Again, the effect is that of two songs, two perspectives, shadowing one another, adding extra depth and color.
What you might call an operatic effect (separate arias, same drama), is also in evidence on Graham Nash's album, Songs for Beginners. In 1970, Nash received a telegram from his longtime girlfriend Joni Mitchell: 'If you hold sand too tightly in your hand, it will run through your fingers. Love, Joan.' And at that point he says, he knew 'it was truly over.' She was in hanging out in Crete at the time, taking a breather from their relationship, writing songs–a period which would, of course, inform her first real masterpiece, Blue. Shortly after receiving the telegram, however, Nash sat down at the piano (some say that same afternoon) and wrote this:
Not a brilliant song lyrically, not by any stretch, but listen for the way Nash balances out the preciousness with his production skills. The piano sounds lost, as if it's being played at the far side of a church. And yet his voice is right there, up close. A cello gradually drifts in, followed by a gloriously rounded Crosby-Nash harmony: 'I just want to hold you/I don't want to hold you down.' When David Lindley's violin comes in, taking over where the chorus left off, we're only a minute into the song and we're already here: above the earnestness of lyric, but genuinely feeling the ache of it now.
The same can be said about 'Better Days,' again about Nash's break-up with Mitchell, but written while he was rebounding with Rita Coolidge (who would herself go on to record a version of the same song). Again, there's the quiet, almost disconsolate opening passage, then the song gets gradually filled out. With a strum of a guitar, we're suddenly couched in an  After the Gold Rush atmosphere. Nash sounds like he's standing on a cliff, hoping his hurt will carry all the way to Europe ('You went to a strange land searching/ For a truth you felt was wrong') An organ churns away, burying the vitriol while moving the song someplace airy and epic, almost McCartney-esque. This time it's a bass clarinet solo (played by someone mysteriously credited as Sermon Posthumas) that delivers the catharsis.
Nowhere on Joni Mitchell's album is a break-up directly referred to (yes, she's 'strung out on another man' in 'California,' and there's some romantic ambivalence ('I hate you some, I love you some') on 'All I Want'. However, there is a heartbroken-ness lurking somewhere in the background of every song on Blue. What Nash's album does–among a great many other things–is give us another angle with which to approach Blue, and see not only what the central figure in Mitchell's songs might have been running from, but what she left in her wake. words / dk o'hara