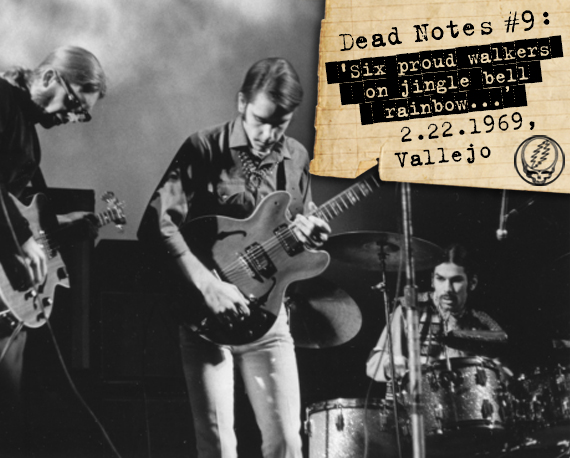 Welcome to Dead Notes #9. In early 1969 we find our bohemian freaks spaced out on STP and nitrous oxide, holed up behind a 16-track recording console working on their palindromic 3rd album, Aoxomoxoa. The sessions are described as "a little weird to very weird" and the blossoming partnership between Jerry Garcia and Robert Hunter results in lyrics so obscure and far-out that the resulting album is split between fan favorites and inaccessible cuts that only the deepest heads could fully appreciate. In the middle of January the band are guests on Hugh Hefner's short-lived, yet too-corny-to-be-cool, program Playboy After Dark. With their merry band of rogues in tow, including acid king and benefactor-cum-soundman Owsley Stanley – who made it his personal mission to dose Hugh Hefner's Pepsi – the party goers loosen their ties and tops while Garcia strums the lysergic chords of "Mountains of the Moon". Days later the band's crew is stumbling up the steep stairs of the Avalon Ballroom, arms filled with equipment, to begin a month's worth of recording for their seminal release Live/Dead.

On February 22nd, the band trips into the long-forgotten Dream Bowl in the sleepy San Franciscan suburb of Vallejo and open their second set with a barrelhouse stumble of "Doin' That Rag". The bash is just beginning as Garcia's sparse but punchy licks swirl with Tom Constanten's amusement park organ as they weave amongst Mickey and Billy's rhythmic shuffle and Phil's pumping 1-2 bass. Our narrator is waxing philosophical with an equally cunning dame as the meandering din kicks into a explosive jam echoing her game of cat & mouse. In an altered stupor, his ruffled brain eloquently spouts 'everywhere I go, the people all know, everybody's doin' that rag' as the band knocks down the forbidden gate and sprints into the garden following the boundless footsteps of "St. Stephen". Bobby and Phil are hammering behind him at a breakneck gallop as he dips in and out of sight, while Garcia lets out a searing lead that is met with a snap of a snare and a split of an apple. As our hero is caught by his once forlorn lover, their love spills over the wishing well and the Rhythm Devils are circling in an aural ring around the rosie as they strike into "The Eleven" with snake bite fervor. Garcia's solo dances on a jingle bell rainbow before sinking beneath the water only to, without a warning, invoke from the lonely depths Mr. Lovelight himself – Pigpen. As our lovers swim in post-coital delirium they fumble back to reality and there's Pig – our pauper of the hour – pleading on his knees for his baby to c'mon back. The drummers tease a thrusting backbeat as Pig eventually lures his old lady from the clutches of a torrid love affair as the band slides back in the saddle and the victorious lovelight shines on down. words / d norsen
Grateful Dead :: Dead Notes #9 :: (2/22/69 Vallejo, CA)
Archives: Aquarium Drunkard — Dead Notes (Volumes 1 —8)
NOW AVAILABLE – DEAD NOTES – THE T-SHIRT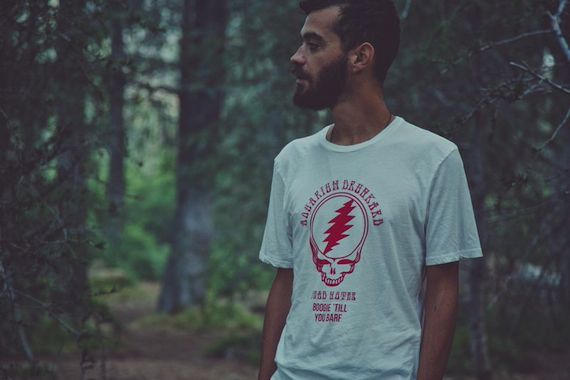 Super-soft, pre-shrunk, 100% cotton – priced at a real nice twenty bones. Limited run.
Get yours – HERE.
As worn by Jeff Thrope / Photo Sinuhe Xavier