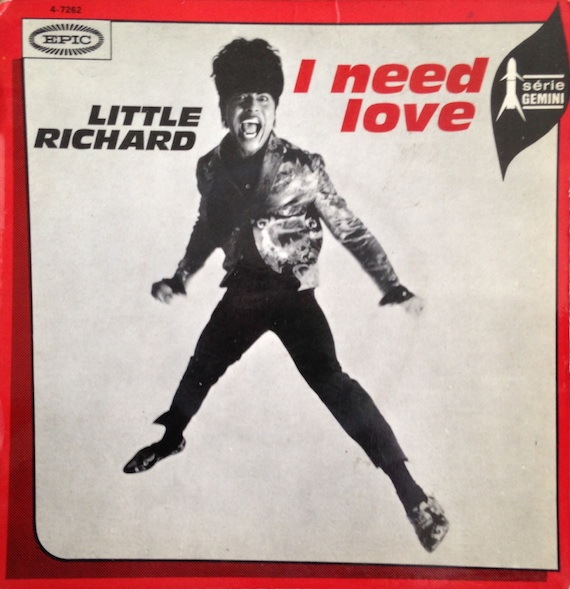 While the music scene in 1960's Los Angeles is far better known as a hotbed of surf, psych, and pop records, there was always a strong R&B scene in smog central. Being as L.A is undoubtedly the epicenter of American music, it's no surprise that the results on wax include some superb Motown influenced discs, lush deep soul, hard hitting funk, and roof raising stompers.
Alice & The Soul Sensations :: The Funky Judge (1969)
A few things that ARE known about this one…The label was in Los Angeles, it was released in 1969, and it SMOKES the more familiar version by Bull & The Matadors- in fact, this is almost a completely different song!. There is no info whatsoever to be found out about the band and it looks like this was their only release. perhaps they operated under a different name????
Little Richard :: I Need Love (1967)
Little Richard cut some great sides in the period after he went lighter on religion and went back to the devil's music (including the great deep soul cut "I Don't Know What You've Got'…which features Hendrix on guitar) but it took Larry Williams as producer to get some of that old fire out of the Georgia Peach once again.
This cut 45 is one of the many great cuts from 1967's "The Explosive Little Richard" which, as my friend Major Sean once said "You can just put it on when you're DJ'ing and walk away." Practically every cut is a great dancer, but Okeh records chose wisely when they issued this one as the single. Super hot stuff, and recorded around the time of the next selection; an era which found Larry Williams and Johnny "Guitar" Watson recording some incredible music and living a hardcore gangster life (which is well documented elsewhere). Collector's note: the image shown is an ultra-cool French issued picture sleeve.
Larry Williams and Johnny Watson (with The Kaleidoscope) :: Nobody
Larry Williams and Johnny Watson (with The Kaleidoscope) :: Find Yourself Someone To Love
What a collaboration! There has been plenty written about the general thug life of Williams and Watson, and here they are doing what they did best, backed by LA's kings of psychedelic world music, Kaleidoscope, for both sides of this extraordinary disc.

Gloria Jones :: Heartbeat (1965)
What can I say about this record other than the fact it's one of my all time favorites? This is the type of record where inspiration, talent and an unbelievably excellent performance from all result in a record that, no matter how many thousands of times I've listened to it, blows my mind with each successive listen.
Producer/ songwriter Ed Cobb discovered teenage Gloria Joneswhile she was a member of gospel group The Cogic Singers. Gloria was already crossing over into pop, and the meeting with Cobb proved to be fateful. Her first single, "Tainted Love" has gone on to become not only a northern soul anthem in its original version, but also took on a second life in 1981 when the Soft Cell cover became one of the most popular new wave club hits of all time.
While there's no denying the power and majesty of "Tainted Love", to this listener 'Heartbeat" is the greatest record that Gloria cut, and as I mentioned earlier, one of my all time favorites as well. Special props go to brilliant arranger Lincoln Mayorga (dig the hypnotic heartbeat rhythm section) and the organ (probably played, or better yet SLAYED by Billy Preston). Gloria's voice here is the epitome of power and soul, and luckily for us, it's spread out over two parts. I'm the type of person who finds a 2:40 single side to be musical perfection, but with a track like this, I'd be fine with it stretched out over an entire LP side (what yo hear here is an edit I pieced together of both sides).
Previously: Wax Wonders :: Chicago Soul, Part Two
(Derek See is a Bay area based musician who plays guitar with The Bang Girl Group Revue, Joel Gion & Primary Colours, and occasionally makes records on his own with The Gentle Cycle.)