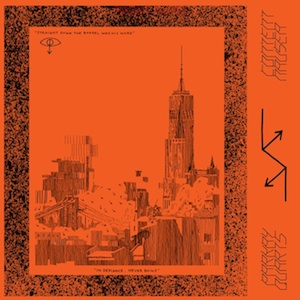 At first glance, Content Nausea seems like a minor release. There's the malapropism that replaces Parquet Courts, the Brooklyn post-punks also responsible for this year's excellent Sunbathing Animal, with the decidedly less regal Parkay Quarts. There's the fact that Content Nausea contains three minute-long instrumental jams and covers of Nancy Sinatra and the 13th Floor Elevators; excise those and "Uncast Shadow of a Southern Myth," a rewrite of one of singer Andrew Savage's old songs, and you're looking at an EP. And then there's the nature of Content Nausea itself: The scattered drum machines and occasional yakety sax give the album a looseness that recalls debut American Specialties more than the well-honed strike of Sunbathing Animal.
Just about all of those supposed knocks are statements of fact, but facts are only part of the story. Truly, PC/Q's fourth release in the past twenty-four months is nearly as balanced and well-constructed as the rest of their recent output, and its semi-kaleidoscopic tracklist is guided by the same clarity of vision that they exhibited across Sunbathing Animal. Where that record took its time developing its overarching theme – the push and pull of your average urbanite trying to remain engaged with the world and their own self – Content Nausea assumes you know the drill. Austin Brown's opening "Every Day It Starts" drops you in face first, he and Savage chanting in a monotone of flat vocal harmony that's become something of a Parquet Courts trademark. As a high-frequency tone chimes through, the song locks in to a tightly wound instrumental bridge, with popped pearls of harmonic and twangy fingerpicking in the back of the mix decorating a start-stop guitar solo that rises gently before suddenly breaking in on itself.
Like its predecessor, Content Nausea is largely interested in the question of human freedom. "Pretty Machines" boogies along on a sunny melody, but Savage is singing here about how quickly he falls for prepackaged goods. When he extends his view outward until it encompasses lifestyle ("urban ease") and ideology, the bob of your head to the beat begins to feel more like an affirmation of your own guilt. Freedom for Savage has always meant staying awake to the things around you, not finding a convenient narrative and hiding beneath it. "These days it's harder to suffer," he sings, and the sheer oddness of hearing a phrase like that said with lamentation should be enough to get anyone's head out from under the covers.
It's an idea that Savage unfurls like a scroll in the title track. The group barrels along like they're playing half a bar of Hank Williams in triple time while Savage stumps for the unplugged life. He dismisses the constant stream of data and content that floods our phones as feeding "just another nervous habit," one that keeps us turned in on ourselves, seeking perpetual comfort and sacrificing something vital. Halfway through, he delivers a 90-second monologue over perpetual false endings and the drone of a fiddle courtesy of Eaters' Bob Jones. "This year it became harder to be tender," he says. Savage is no ascetic – nobody who gives you 45 songs to digest in a two-year period could be. But he's mourning our collective decision to turn some crucial part of our humanity and our will over to the people who populate those devices. That Savage's band is automatically implicated probably isn't lost on him, but his desire for his listeners to not swallow his words without first considering them shouldn't be lost, either.
As a set of ideas, this is all interesting enough. But Savage puts them in play to the closing strains of "Uncast Shadow of a Southern Myth." The song seems to concern Paul MacLeod, a deeply eccentric Elvis fan from Holly Springs, MS, who turned his technicolor mini-mansion into a deep repository of Presley junk called Graceland Too. MacLeod gave tours of his home any time someone happened to show up and knock, making Graceland Too something of a legendary destination among in-the-know Southerners and drunk college students. Earlier this year, he shot and killed Dwight Taylor, a local African-American who MacLeod said was trying to force entry; two days later, MacLeod himself was found dead on his front porch. The general consensus is that the stress of the situation did him in.
It's a harrowing story, almost a grotesque parody of something out of Flannery O'Connor. But Savage delivers it with surprising tenderness and pathos, framing its every aspect as tragedy. He paints MacLeod as being in thrall not so much to Elvis as to the idea of Elvis, unable to understand Presley's humanity but more than willing to swallow the legend. Taylor, who Savage notes was "omitted from Southern affection," was horribly free from the comfort of the South's self-justifying illusions, but he wasn't free from its effects. The band tread this ground lightly, as if aware of the fact that they're outsiders here, but they blow heavy as Savage bellows the titular phrase in the song's final build. It's moving in a way that these guys have never even attempted, much less achieved.
Maybe this is all a bit much to put on a handful of lo-fi indie rock songs. But what makes what Savage and Brown (along with bassist Sean Yeaton and drummer Max Savage) are doing so thrilling is the clarity of their vision and the confidence with which they execute it. That extends beyond the lyrics and deep into the music itself, which even here draws deeply from the well of American art-rock, sure, but not without the band first processing, considering, and adding to what they find – just as they always have. By playing the way they do, they prove that they're no more beholden to the suggestion that they're cheap revisionists than they are to the sounds laid down by their forebears themselves. Content Nausea is bound to draw those same arguments, and it's not likely to make converts of anyone not already on board. But it's careful and considerate in what it does, far from freewheeling. And that's what makes it free. words / m garner