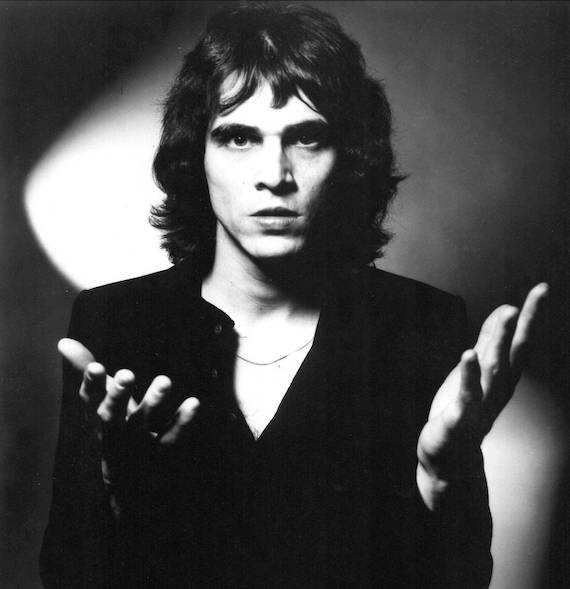 Dwight Twilley doesn't care much about terms like "power pop."
It's not that he objects, he just doesn't care about the tag. "The Beatles were pretty much the greatest power pop band of all time, so if you want to put me in the same category as them, I'm fine with it," he laughs, speaking over the phone with Aquarium Drunkard
Indifference aside, Twilley's records, with the late Phil Seymour as the Dwight Twilley Band and solo, remain key entries in the power pop canon, undeniably hooky and tight LPs blending Fab Four jangle with Sun Records-style rockabilly. The records attracted the ears of fans like Tom Petty, who'd go on to contribute to Twilley recordings, and earned the Oklahoma singer a few major hit. As the 70s drew to a close, Twilley shuffled between labels, eventually slinking away from the public eye.
In recent years, however, Twilley has been on a tear. Self-releasing his records these days, he's back with Always, a 12-track collection of sharp rock and pop. Following the passing of his longtime musical partner Bill Pitcock IV, Twilley enlisted a broad cast of guests for the record, "pals and friends" like Steve Allen and Ron Flynt of 20/20, Susan Cowsill, Mitch Easter, Tommy Keene, Roger Linn, Leland Sklar, and Ken Stringfellow.
Twilley spoke with AD about his history and making records in 2014.
Aquarium Drunkard: I know you guys recorded in England, but listening to early Dwight Twilley Band records I'm struck by the very distinct American edge, in terms of the rockabilly influences and the "Sun sound."
Dwight Twilley: My partner Phil Seymour and I, when we were kids…we were kind of Simon and Garfunkel guys. We had these pretty little songs and pretty little harmonies. We lived in Tulsa, Oklahoma, the middle of the country. We had a little collection of tapes and we thought we should have somebody from a record company listen to these. Maybe somebody would like 'em, you know? We couldn't afford to go all the way to Los Angeles, that was out of the question, and we couldn't afford to go to New York, but we had heard that they had recording studios and record companies in Memphis. That wasn't too far away. So we got in my little '58 station wagon and brought our cassette tape of songs and ended up in Memphis, Tennessee, just literally driving down the street looking for what might be a record company. Phil said, "That's gotta be a record company," and we just walked in the door and played our little cassette for some guy named "Phillips," and it turned out he liked our music. It meant nothing to us at all that it happened to be Sun Records.

AD: That's wild.
Dwight Twilley: He sent us down to another town we'd never really heard of called Tupelo, Mississippi, and he put us to work with a producer named Ray Harris, who was an early Sun recording artist. Really, that was kind of the life-changing event for us, because it changed our outlook on music. We were given an education into early rock & roll. The first thing he pointed out to us was we'd all sing like pussies. [Laughs] And he was right. He took a listen to my songs and said, "Dwight, he's a talented boy but he's too spacey, he needs some meat and taters under his belt." And he was right about that too. We worked with him on-and-off for a couple of years. We'd go down and work with him and he'd play us his old records, explain to us that it would be Jerry Lee Lewis playing piano in the background, [he'd play] Bill Black records he produced. We got that education…That was the thing that set us aside from the other groups that were kind of going in that direction.
AD: That led to you guys getting signed to Shelter Records. I think it was T. Bone Burnett who referred to Shelter's Leon Russell as the "master of space and time." What was it like working with him?
Dwight Twilley: Well in Tulsa he was the king of the universe, but we didn't really get to know Leon until after we recorded "I'm On Fire." We were signed in L.A., which is crazy because everybody in Tulsa wanted to be on Shelter Records and we didn't really think it was our cup of tea. It was kinda that Delta bluesy-type sound, but it turned out we went out to L.A. and ended up getting signed to Shelter Records out there. We ended up meeting Leon, and he was very kind and generous and ended up playing on our first album. We didn't have a long relationship because shortly after we were signed…that's when Shelter Records basically fell apart. It was the beginning of my incredible series of legal explosions and bridge burnings.
AD: The music industry.
Dwight Twilley: No kidding. Welcome.
AD: So when in the sequence of things did you and Phil land on naming the band after yourself? It was originally called Oister, right?
Dwight Twilley: That was [English record producer] Denny Cordell's idea. He just liked the sound of my name.
AD: What kind of conversations did you and Phil have about it? Did you think "This could be weird for us," or were you just kind of excited to be on the ride?
Dwight Twilley: I remember being kind of against it at first, and Phil saying, "No, this is probably what we should do." He kinda trusted Denny's instincts. I'd later hear grumblings that Phil was always pissed off about it, but I don't remember hearing any of that at the time.
AD: Listening to the records it's clear that the two of you were true partners. You two had a particular magic together.
Dwight Twilley: He was a fantastic drummer and musician. We had a great sound vocally. A lot of people think you can take two good singers and put them together in a room and sing harmony and it will be unique. That's not really the case. What it really takes is years. [You can sing that way] once you get to know the person, know what the other guy is going to say, [when] you're both thinking the same thing and [can] anticipate the phrasing of the way he's going to sing something…it's rare, and something valuable in your life that you don't get many times.
AD: Following the dissolution of the Dwight Twilley Band and some great solo albums on a number of labels, you struck out on your own. Your new one, Always, is on your own label. As someone who's navigated the industry for a long time, what are the pros of doing it yourself, or some of the cons?
Dwight Twilley: The music industry is kind of lost. It's a big disappointment. I make records because I love to make records. The culture, people's interest, it's sort of gone. When you listen to music on a computer or an ear bud, you're probably hearing 70% of the work that goes into making these records. But I feel fortunate that I was around when there was a real industry, when they knew what a hit was. People would really listen; it used to be a matter of pride when you'd invite someone over to your house to listen to music on your system. What kind of cool speakers do you have? You'd sit down and listen to a side of a record and it would be like an event. Now it's more of a private thing. You sit around with something stuck in your ears or stare at a computer. I think some of the magic is lost there.
AD: You did something with Burger Records not that long ago…
Dwight Twilley: Yeah, they released Green Blimp, my 2010 record on vinyl.
AD: Do you find that there are younger kids out there who still get it, who still feel that same magic?
Dwight Twilley: There are some, yeah. We just started having some success with the song "Looking for the Magic," which has been featured recently in some motion pictures (including) You're Next and all the sudden there are much younger kids in the audience, and they're singing along and know all the lyrics.
AD: That's one of my absolute favorites.
Dwight Twilley: It seems to be recognized more right now.
AD: Is that weird?
Dwight Twilley: Sure, it's strange. Songs are kind of like your kids: they cause you all these problems, but then they come back and take care of you. words / j woodbury
For heads, by heads. Aquarium Drunkard is powered by its patrons. Keep the servers humming and help us continue doing it by pledging your support via our Patreon page.