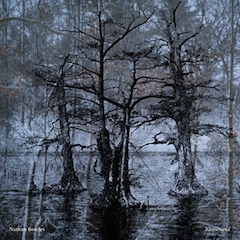 For good or ill, the banjo has become the ultimate signifier of old timey Americana. You want to sprinkle a little down home "authenticity" into a song? Put a banjo on it. To bring anything free of cliche to the table it takes a seriously skilled and imaginative musician.
Nathan Bowles is definitely that musician. As a versatile multi-instrumentalist, he's been on the scene a while now, contributing regularly to the Pelt/Black Twigs Pickers universe, and playing with such talents as Jack Rose, Hiss Golden Messenger, Daniel Bachman and Steve Gunn. Bowles put out his first solo album, the excellent
A Bottle, A Buckeye
, on Soft Abuse in 2012.
Nansemond, his new LP on Paradise of Bachelors (a label that has been batting a thousand since launching a few years back), is a stunner from start to finish. It's a transporting collection of sounds that fuses age-old Appalachian traditions with cosmic drones, in the process creating something that sounds fresh and vital to these ears.
Some friends drop in to help; a highlight is "Chuckatuck," the majestic duet between Bowles and experimental guitarist Tom Carter. But Bowles does amazing things mostly with just the four strings of his banjo. The long, deep solo rambles that take up a good portion of the record are beautiful excursions that conjure up strange and spectral southern landscapes.
Nansemond
is mostly instrumental, but Bowles is nothing if not a storyteller, taking you on an evocative, transfixing journey. Listen up. words /
t wilcox