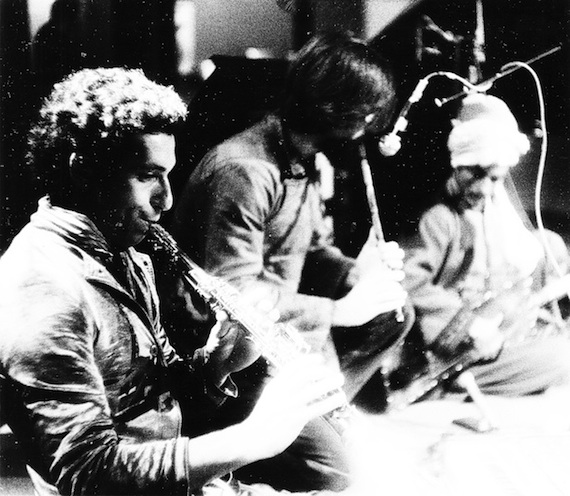 As a term, "new age music" is slippery, an attempt to group a wide swath of sounds, encompassing strands of ambient, electronic music, jazz, worship, and world music into a definable, classifiable genre. Three new reissues and collections document the many wild threads that existed in the field before new age music codified as a genre, demonstrating both its diversity and accentuating its underappreciated value.
Ariel Kalma, An Evolutionary Music (Original Recordings: 1972 — 1979)
Released by RVNG Int. — a label responsible for essential collections of music by Sensations' Fix, K. Leimer, and Craig Leon — An Evolutionary Music features unreleased recordings from the archives of French-born Ariel Kalma. The artist mingled with trumpeter Don Cherry and joined the spiritual collective Arica in New York in 1976, and the songs take root in free jazz and mysticism, explored via ambient and early electronic means. Kalma blends layered saxophone, spoken word, and drum machines to create avant garde music as personal as folk songs, more spiritual than academic. Songs like "Chase Me Now" and "Rainy Day" are as thrilling and jolting as compositions like "Ecstasy Musical Mind Yoga" and "Echorgan" are contemplative and mindful.
Jordan De La Sierra, Gymnosphere: Song of the Rose
Jordan De La Sierra was a student of minimalist composer Terry Riley, and his Gymnosphere suite, "music for the well-tuned piano," was released in truncated form in 1977 by a small Bay Area label called Unity. A new edition from the Numero Group and Stephen Hill of space music program Hearts in Space actualizes De La Sierra's original vision for the suite, spread across two LPs. A student of the avant garde, De La Sierra's vision is worshipful and cosmological, and Gymnosphere's aim, he writes in the detailed liner notes of this edition, was to establish "a vibratory connection between the bio-rhythmic cycles of our bodies and the ambience of nature."

Robbie Basho, Art of the Acoustic Steel String Guitar 6 & 12
Following time spent recording for John Fahey's Takoma Records and folk label Vanguard, guitarist Robbie Basho joined the Windham Hill roster with 1978's Visions of the Country. The label would go on to be a commercial giant in new age music, but records like Basho's 1979 Art of the Acoustic Steel String Guitar 6 & 12; exemplified the labels roots in a kind of earthy naturalism, centered on the ground but gazing up at the stars. Freshly reissued on CD by Grass Tops Recording and vinyl by Gnome Life Records, it's primarily instrumental, but Basho contributes his voice to "Pasha II," and it sounds as unique and knotty as his deft fingerpicking. Like Kalma and De La Sierra, Basho explores Eastern and Western modalities in tandem, and while many consider Art of the Acoustic Steel String Guitar 6 & 12 to be his technical peak, the album never sacrifices holy intensity in favor of precision. Like the sounds of An Evolutionary Music and Gymnosphere it's music delivered, to quote De La Sierra, "in truth and goodness and beauty." words / j woodbury