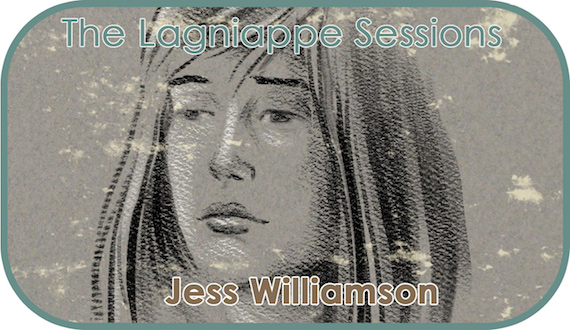 Lagniappe (la ·gniappe) noun 'lan-ˌyap,' — 1. An extra or unexpected gift or benefit. 2. Something given or obtained as a gratuity or bonus.
The Lagniappe Sessions return in 2015 with Austin, TX based singer-songwriter Jess Williamson. "Blood Song" off Williamson's debut from last year, Native State, is what initially turned us on — seeing her live (three times) thereafter is what kept us coming back. Here, Williamson and her bandmates (Jesse Kees, Shane Renfro, and Andrew Stevens) interpret Nina Simone, Leonard Cohen and Bob Dylan. The artist, in her own words, below.
__________________________________________________________________________________
Jess Williamson :: Seems So Long Ago, Nancy (Leonard Cohen)
I am a huge fan of Leonard Cohen, and from the first time I heard this song I felt deeply moved by the lyrics and have had a heavy and aching heart toward its subject, Nancy. Nancy really existed and this song is quite literal. In an interview about songwriting, Leonard Cohen said that one of his tricks is to use very specific imagery in his songs. He describes Nancy as 'looking at the Late Late Show through a semi precious stone'. I imagine her alone on a couch in a slightly messy but warm and comfortable basement watching TV. I see a few candles lit and there is a phone next to her off the hook. She has the Late Late Show on only because it is just what was on, and she isn't really paying attention to it. She is holding a semi precious stone, maybe an amethyst or quartz, up to her right eye. She is amused by how the TV is refracted and changed by the stone's colors and edges, and she knows she is probably about to kill herself. It's a beautiful and tragic image and an example of some of Leonard Cohen's best writing.
Jess Williamson :: Don't Let Me Be Misunderstood (Nina Simone)
Singing is a special sort of instrument different from all others because it is the instrument that incorporates language. A rare and talented vocalist can say so much more than the word itself when singing. Nina Simone's vocals on her version of this song elevate the lyrics beyond poetry, beyond song, beyond story. Listen to the way she sings 'don't let me be misunderstood'. It's like she is crying. A good friend recently shared this poem with me called Sonnet by Graham Foust. It is only one line and it says, 'I sing as if I'm eating what I'm singing with a knife'. Nina Simone sings Don't Let Me Be Misunderstood with an effortless strength that seems to come from a place within her soul that she is very familiar with accessing and we, the listener, are blown away by just a glimpse of the power she has. The rest is just for her. This is my humble attempt to cover her masterpiece. I am a lesser and a different kind of vocalist, singing this song like I'm eating it with a knife.
Jess Williamson :: The Times They Are A Changin' (Bob Dylan)
I selected the other two covers before the grand juries chose not to indict the officers who killed both Michael Brown and Eric Garner. The day I learned of the decision, or lack thereof, in the Eric Garner case I knew we needed to address these injustices in some way with this opportunity from Aquarium Drunkard. The hideous embarrassment for our country of unrestrained and unpunished police brutality is a problem that is fundamentally a human issue and a source of shame for all Americans. I have struggled with how to speak about it and how to be an ally when the community that is most affected is one that I am not a part of and whose struggles I will never be able to fully understand. It is a feeble gesture in light of what's happening in our country right now, but I wanted to bring this song into the conversation. I am incredibly saddened that these lyrics about hope and change written by Bob Dylan during the Civil Rights era are at once relevant today but also completely flaccid. We clearly do not live in a post-racial society. Many of us feel shocked and helpless right now. Are the times really changing?
Lagniappe Sessions Archives / original illustration for aquarium drunkard by Ben Towle.