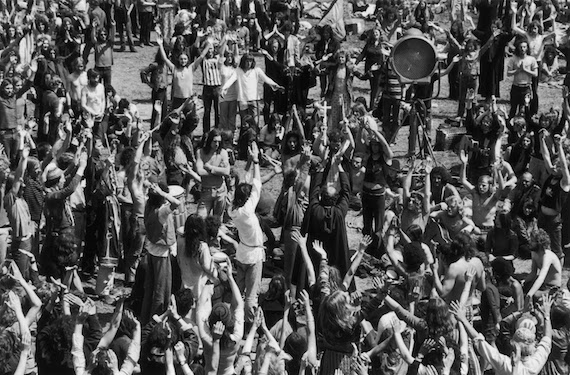 By the time Fairport Convention took the stage at the 1970 Philadelphia Folk Festival, they had already been through more lineup changes than most bands experience in decades. Since forming in early 1967, talents such as Judy Dyble, Sandy Denny, Ashley Hutchings and Iain Matthews (not to mention drummer Martin Lamble, who died in a tragic 1969 car crash) had all passed through Fairport's revolving doors. Guitarist Richard Thompson would be the next to go, bidding adieu the group adieu not too long after this show was recorded.
But the Philly Folk Festival gig certainly doesn't sound like a band on its last legs. The rhythm section of bassist Dave Pegg and drummer Dave Mattacks seem positively hopped up on something, as they thrash through the rigs, reels and laments of Fairport's Full House-era setlist with gusto, providing a perfect launchpad for the unbelievable guitar/electric fiddle duels of Thompson and Dave Swarbrick (whole lotta Daves in this band). Things slow down a bit for the epic, mournful "Sloth" wherein Thompson peels off some proto-"Marquee Moon" licks in the lengthy instrumental section. This particular Fairport lineup is one of the pinnacles of the UK folk rock scene of the period, breathing new life into age-old songs and having a blast doing it.
A few days after the Folk Fest, Fairport was at the LA Troubadour, when who should appear in the audience but a fellow band of Brits known as Led Zeppelin? One thing led to another and soon, a jam session for the ages was taking place, as Jimmy Page traded solos with Thompson on "Hey Joe" and "Morning Dew" among other tunes. The mind boggles. According to legend, multitrack tapes were rolling for the entire thing, but Led Zep's manager Peter Grant absconded with them, and no one ever heard them again. Maybe Page has unearthed them during his recent archival digs… ? words / t wilcox
Download: Fairport Convention :: Philadelphia Folk Festival, August 29, 1970
1. Walk Awhile 2. Dirty Linen 3. Staines Morris 4. Flatback Caper 5. Sloth 6. Banks Of The Sweet Primroses 7. Sir Patrick Spens 8. Jenny's Chickens/The Mason's Apron
For heads, by heads. Aquarium Drunkard is powered by our patrons. Keep the servers humming and help us continue doing it by pledging your support via our Patreon page.