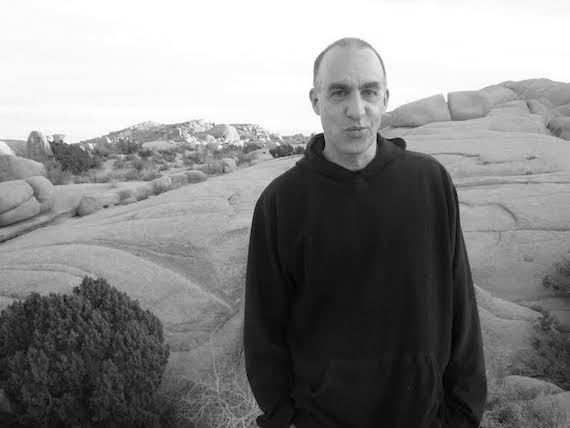 It feels like John Lurie has done it all. As leader of the Lounge Lizards, he dominated New York's underground music scene with punk-inflected jazz from the early '80s until the early 2000s. As an actor, he defined director Jim Jarmusch's early films — Stranger Than Paradise and Down By Law — cutting a striking figure in black and white, as well as providing scores for those films and Jarmusch's Memphis epic Mystery Train. He played roles in The Last Temptation of Christ, Oz, and Paris, Texas, co-wrote the theme for Late Night With Conan O'Brien, earned a Grammy nomination for his Get Shorty score, crafted a mythic blues figure called Marvin Pontiac (enlisting Beck, Michael Stipe, David Bowie, and Leonard Cohen to help further his ruse) and created a beautifully absurd fishing show, Fishing With John.
These days, Lurie focuses on painting. Complications from advanced Lyme disease prevent him from playing saxophone, but with his art he taps into the same creative energy that supplied his music with its manic jolt. Occasionally, the two worlds dovetail: Last year, Amulet Records released The Invention of Animals, a collection of '90s recordings by the John Lurie National Orchestra. His painting of the same name is featured on the cover.
Last November, Lurie launched a late night live podcast, VICE After Dark with John Lurie, in conjunction with VICE. The offbeat, often hilarious show is currently on hiatus, but its three episodes serve as peek into Lurie's headspace. Intrigued, I asked him for an interview. Lurie agreed and we emailed back and forth over the holidays. See more of John's art at his official site and on Twitter, and enjoy our conversation.
Aquarium Drunkard: I've really been enjoying your internet radio show, VICE After Dark with John Lurie. Have you enjoyed doing it so far?
John Lurie: Yes and no. I think it could be something kind of great, but to be honest the first three were pretty stressful. It is, of course, difficult to do a live radio show, but I think I could get used to that part. But there were technical problems that had me kind of flustered.
AD: Is the VICE show on hiatus?
John Lurie: Hiatus for sure. Maybe it's done, but I hope not. But VICE has to get behind it a bit.
AD: The interviews with Flea, your brother Evan Lurie, and Steve Buscemi were great. Had you talked to other folks about calling in?
John Lurie: The great thing about those three is that they are all so real. Finding people who are known and can be real is not so easy. I had a list of 10 people that I contacted for the third episode that I thought would be good, but three were in plays, one had a death in the family, three were in Europe and three didn't get back to me. And then I had no one. But I don't think the show needs a guest to work.

AD: I loved the "feel" of the show — it reminded me of something like Coast to Coast AM, with interesting characters calling in from all across the country late at night. It reminded me of Fishing With John as well, a sort of sideways take on a format that has a very mellow, languid quality. Have you listened to call-in shows in the past or currently?
John Lurie: No, I really never have. And I didn't know what to expect. You see all of these comments on blogs where people just write the ugliest shit — I guess from bitter people who like to write ugly shit anonymously from their mother's basements. I thought it might be a lot of that. But it wasn't at all. The callers were for the most part good and a few were great.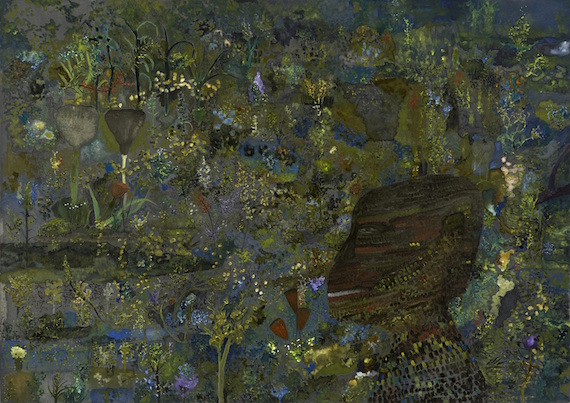 Bobo didn't believe in evolution so God turned him into a flower
AD: Do you listen to other podcasts at all?
John Lurie: No, I listened to one Marc Maron podcast but other than that — no. And until Marc asked me to be on his, I had no idea what a podcast was.
AD: You haven't been on WTF, have you?
John Lurie: No, because you have to go to his studio in Los Angeles. It almost happened when he was in New York but didn't. The cool thing about my show is the guest can call in. So, you can do it from your bed.
AD: Recently you've been very active on Twitter and Facebook, and the results have been funny. I've read that you've contemplated a book — are you working on one?
John Lurie: I have written a book which is 90% done — what to do with it is the question. I am also about a third of the way through another. First one is entitled What Do You Know About Music, You're Not a Lawyer? The second: There Has To Be a God Or It Couldn't Get This Weird.
AD: Both of those titles sound promising. Do you care to elaborate what either are about? Fiction, non-fiction?
John Lurie: They are both autobiographical, covering different periods of my life.
AD: As you've worked on these books, did you go back and re-watch films you've been part of, both as an actor and as a composer? Do you ever reevaluate your past work or prefer to leave it alone?
John Lurie: No, I didn't do that. I had to do some research about what happened when because your memory can play tricks on you. With the music that was recorded, I still hear the mistakes.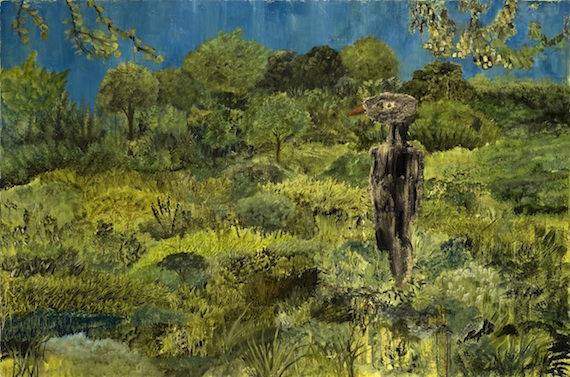 Man cannot destroy nature, nature is too mean.
AD: A few months back there were some interesting sounding tributes to your work — with Sex Mob, Inner Greatness, Antibalas, Flea, John Zorn and members of the Lounge Lizards performing your compositions. Did you attend any of those performances?
John Lurie: I saw the string quartet thing — some of that was amazing. And I played harmonica at the end of the concert at Town Hall. There was a lot going on and I had a show of my paintings in September, which is what I am really concentrating on. But to be honest it was emotionally difficult for me to go and see a lot of it since I can't play the saxophone anymore. I went to see Antibalas because I had not seen them before and people I trusted told me they were the real thing. But to see stuff like Sex Mob and Michael Blake, I just felt too weird to go.
AD: It must be painful to not be able to play anymore due to complications from advanced Lyme disease. Does painting help channel some of the same energy that informed your music, or is it a different sort of creative process?
John Lurie: Well, no it was painful but I was so sick at the beginning of this in 2002 that I wasn't really thinking about anything other than what the hell was happening to me. And then the painting does pretty much exactly what the music did. At least, once the work started to come into its own.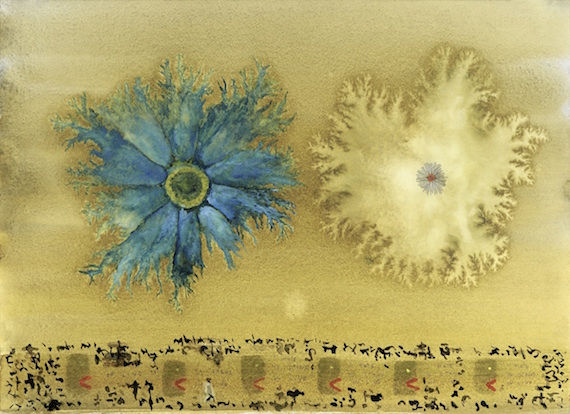 I hate to stand on line
AD: Your paintings seem to tap into the same unique humor that I hear in your music. You mentioned the work coming into its own. When did that happen in your opinion?
John Lurie: There are a lot of moments along the way. You look at a painting leaning against the wall. You find it beautiful and there is nothing else in the world like it. So then it must have come into its own. But there was a moment in 2008, I had run out of a color and needed to run out to the art supply store. I was going to change out of my clothes that were covered in paint and someone said, "You don't have to change, you're a painter." And I thought, "Yeah, I am comfortable with this."
AD: The Cavin Morris gallery described your paintings as "synesthetic." Is that something you've ever encountered in your own work, or the work of others?
John Lurie: You know I don't really know what that means in terms of art. I thought it was like when you touch someone's foot and they feel a tingling in the back of the neck kind of thing.
AD: There seems to be a lot of spaciousness in your paintings. I understand that you spent some time in Palm Springs and Big Sur. Did these places inform your paintings? The vastness of the desert, the green of Northern California?
John Lurie: I don't see them as spacious. A lot of the recent ones are very detailed, actually. You know, you just are always kind of making notes of what things look like and they pop up unexpectedly as you are working. words / j woodbury
Related: Music From The Films Of Jim Jarmusch
We're glad you're here. Help support independent media via our Patreon page, which allows readers and listeners to directly support Aquarium Drunkard as it expands its scope while receiving access to our secret stash, including bonus audio, exclusive podcasts, printed ephemera, and vinyl records.