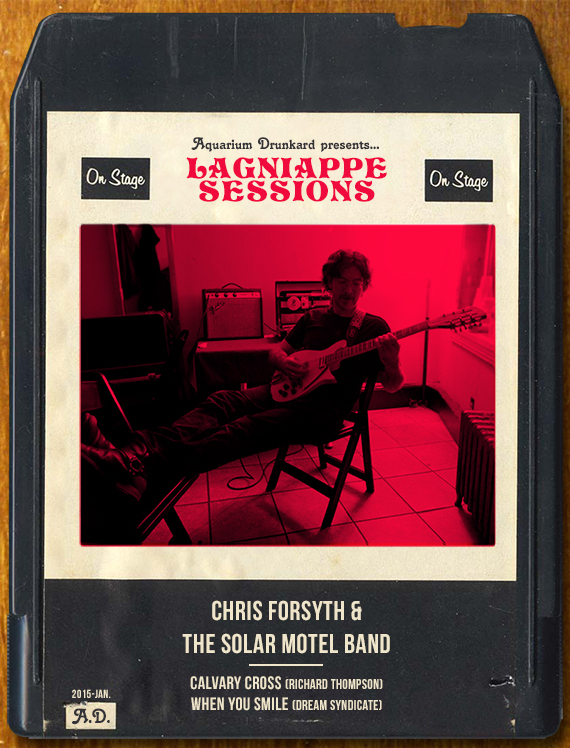 Lagniappe (la ·gniappe) noun 'lan-ˌyap,' — 1. An extra or unexpected gift or benefit. 2. Something given or obtained as a gratuity or bonus.
This week the Lagniappe Sessions touch down with Chris Forsyth & The Solar Motel Band — fronted by an artist we've previously described as your "new favorite guitar anti-hero," creating music akin to "Television circa 1977 recording a cover of Pharoah Sanders' "The Creator Has A Master Plan". Need we say more?
Here, The Solar Motel Band delve into the majesty of Richard Thompson's "Calvary Cross" and Paisley Underground giants The Dream Syndicate's "When You Smile". Forsyth, in his own words, below…
Chris Forsyth & The Solar Motel Band :: When You Smile (Dream Syndicate)
Dream Syndicate's The Days of Wine and Roses is one of my all time most obsessed over records. That and the self-titled Down There EP that preceded it are pure gold, if you ask me. Damn close to perfection. Steve Wynn's songwriting is at a peak here, and there's that noir-ish menace that really set The Dream Syndicate apart from the rest of the Paisley Underground bands. Plus, Wynn and Karl Precoda made a really great, essentially raw guitar team (and were fortunate enough to be recorded magnificently by Chris D. on this record). There's a spark running through the performances that is so rare. Comparisons to the VU and Crazy Horse, etc are easy but I think what they did in 81-'82 is something that I really strive to do with my own music: they internalized their influences so thoroughly that they managed to tap the same energy, the same essential force, that made their models so powerful in the first place. Progress and originality are red herrings, anyway; more like byproducts of a true creative act, not pre-requisites. And people didn't really care about that stuff so much until relatively recently. Special credit is due to our man Nick Millevoi for just owning the lead feedback on this track. His playing on this reminds me of another of my favorite guitarists who knows a thing or two about the power of channeling spirits in the moment – Keiji Haino.
Chris Forsyth & The Solar Motel Band :: Calvary Cross (Richard Thompson)
I play mainly instrumental music with the Solar Motel Band, but we've always peppered our sets with the odd cover with vocals here or there. We've tended to gravitate towards epic guitar workouts like Television's "Little Johnny Jewel" or Neil Young's "Cortez the Killer", so this song is a logical choice, keeping with the tradition of the iconic jam. I love the studio version of this song on …Bright Lights… but this take is more modeled on the extended live version that appears on the excellent R.T. comp guitar, vocal. I find the chord progression to be really oddly beautiful in it's simplicity. A descending Am to G to F progression is really common – you'll find it in countless songs such as "All Along the Watchtower," "Lover of the Bayou," shit, even the end of "Stairway to Heaven," – but this "Calvary Cross" progression, so stately and cyclical, is inverted, starting on the F, then to the Am, resolving on the G. There's a momentum to it like a pendulum or a perpetual motion machine. It's always grabbed me. Plus, I feel a strong attachment to the words. This song could be about a mystical/religious experience, obviously, but also a love affair or any kind of very intense relationship. I've read speculation that the subject is Thompson's muse, itself; the compulsion to create. There's surrender in these lyrics. They're a little terrifying, but also so full of truth.
Chris Forsyth: guitar, vocal – Nick Millevoi: guitar – Peter Kerlin: bass guitar – Steven Urgo: drums. Recorded and Mixed by Jeff Zeigler at Uniform Recording, Philadelphia, December 20 & 31, 2014.
Lagniappe Sessions Archives / imagery via d norsen.