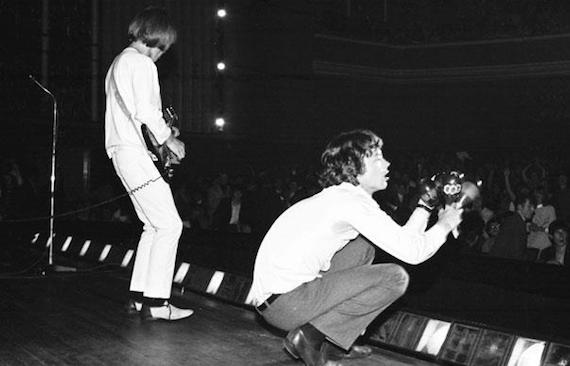 While it existed as a poorly edited rough cut on rough quality bootlegs for many years, thankfully the historically important and downright amazing Charlie Is My Darling is now available on a coherent and highly official DVD. Charlie documents the Rolling Stones at the peak of mod mania, touring Ireland in the fall of 1965 and performing to both riotous youngsters and at least one young priest. In addition to the on-stage rushes, there is some priceless footage of the band on the road, on trains, and backstage (oftentimes sending up The Beatles and Elvis Presley).
Beyond the obvious fact that this performance is filled with some of the most aggressive, raw, powerful and downright majestic music of the Stones career, I'm struck with some less obvious things as well. There are very few places to HEAR Brian Jones speak, other than his introduction of The Jimi Hendrix Experience at Monterey two years after this movie was shot. While Brian (still very much the de facto musical guiding light of the Stones in '65) is well represented in print interviews, his interview sequences in Charlie show his introspective, ethereal , and cerebral personality in full flight and demonstrate the charisma that made him the most popular member of the Stones. I have a difficult time wrapping my head around the fact that this performance will be celebrating its 50th birthday in a few months. Any day of the week, anywhere in the world, and every day of those past 50 years, bands of varying abilities have hashed out their own version of not only a similar sound, but a similar look as well. Sure, rock 'n roll may not be a young person's game anymore (with most musicians and fans in the contemporary garage/ psych/ whatever you wanna call it being significantly older than the Stones are here), this is still a sound and image that seemingly hasn't dated. A far cry from the culture of 1915 vs 1965; music and style couldn't have been more different.
Calling this performance proto-punk would be an insult; this is some of the most exciting music that can be seen or heard anywhere, anytime. 50 years on. words / d see
Only the good shit. Aquarium Drunkard is powered by our patrons. Keep the servers humming and help us continue doing it by pledging your support via our Patreon page.