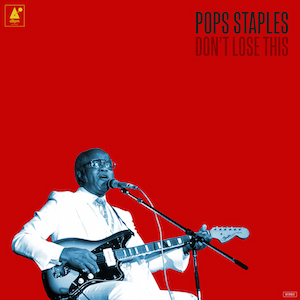 In 2014, Mavis Staples tasked Jeff Tweedy with a heavy responsibility. She asked the Wilco songwriter, who's helmed the production console on her last two solo LPs, to take tracks from an unfinished 16-year-old session recorded by her father, gospel patriarch Roebuck "Pops" Staples and his daughters, and use them to craft a completed album. Don't Lose This, named for Pops' command to Mavis regarding the incomplete recordings before his death in 2000, is a modest but stalwart piece of work.
Tweedy resists any urge to tinker, instead presenting the barest elements of Pops' sound, his tremolo-shaking electric guitar and worn voice, with as little obstruction as possible. In addition to original tracks by bassist Tony Grady and drummer Tim Austin, Tweedy adds spare guitar and bass, and his son Spencer contributes economic drums, but mostly Pops and his daughters, Yvonne, Mavis, and the late Cleotha, who passed in 2013, handle the work. It's a wise move; it's hard to imagine what one could add to these songs that isn't already there in Pops' holy murmurs and the Singers' sanctified choruses.
Pops' guitar always muddied the waters between the blues and gospel, and on Don't Lose This it sounds incredible, from the introduction of "Somebody Was Watching" to the stinging live version of Bob Dylan's "Gotta Serve Somebody" that closes the record. Mavis takes the lead vocal on "Love On My Side," a standout selection, and the group revisits the Carter Family's "Will The Circle Be Unbroken," adding to the number of times the group included the standard on one of its recordings. Their reading this time is both somber and celebratory, with the sisters' voices swelling around the insistent thump and roll of the rhythm section and Pops' snaking electric guitar. Even at its sparsest, the record's simple elements exhibit a tonal lushness. All on his own, Pops imbues "Nobody's Fault But My Own'"with a kind of mournful grace. "You do wrong your soul be lost," he sings. Luckily for the listener, these recordings weren't lost, and the love and care exhibited by Mavis Staples and Tweedy is a testament to just how "found" they were. words / j woodbury
Pops Staples :: Somebody Was Watching
Aquarium Drunkard is powered by our patrons. Keep the servers humming and help us continue doing it by pledging your support via our Patreon page.