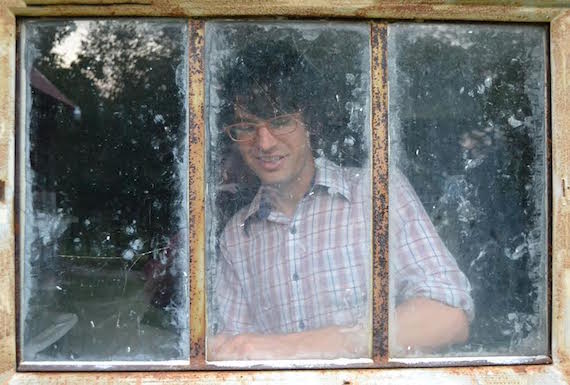 For 15 years, Indiana folklorist and songwriter Joseph O'Connell has recorded records under the name Elephant Micah. His latest, and first for Western Vinyl, is called Where In Our Woods, and it's a gorgeous, sparse record. Built on a foundation of O'Connell's weary, slyly funny words and nylon-string acoustic guitar, there's subtle ornamentation, too: tom drums, pump organ, an occasional harmony — O'Connell's friend Will "Bonnie 'Prince' Billy" Oldham chimes in on the LP — and the record could be filed alongside those of O'Connell's vocal admirers, the late Jason Molina of Magnolia Electric Co. and Songs: Ohia, and M.C. Taylor of Hiss Golden Messenger.
But O'Connell's perspective is his own, singing about themes that reoccur in his vast discography. Throughout Where In Our Woods, the songwriter addresses the concerns that fascinate him: meth-fueled trailer fires, the death of a rare albino deer, filtered through his attraction to "redneck mysticism." O'Connell tells his stories through the eyes of Middle America characters, best exemplified by his exploration of the late Wendell Hansen, known as the "Bible Birds Man," who trained exotic birds to do "Christian-themed stunts" as a roadside attraction in Indiana.
"A lot of people have asked me about him, and as I've tried to answer their questions, I've realized that to me, more than a real character, he's a legend of a real character," O'Connell says. "My whole point of entry to thinking about him is really the things that I heard about him from other people, the stories that surrounded him and the kind of fascination that people had with him. The fact that he represented Indiana to other people kind of captured my attention. It led me to ask, 'Is this what people think Indiana is?' [Laughs] He's kind of a larger than life character that people see a lot of absurdity in… [people] thought of him as something of a freak."
But O'Connell sees more in Hansen than freakishness — explored in part on Where In Our Woods, and even more fully on a previous record, 2010's Elephant Micah Plays the Songs of the Bible Birds. "Well I'm not sure, if the Bible Birds will ever get back together," O'Connell sings on "The Demise of the Bible Birds," from the new album, with Oldham providing haunting harmonies. "Some say it's ruffled their feathers/to have flown so far/away from their homes." The songs aren't historical documents, he explains, but instead "flights of imagination," providing illustrative context for O'Connell to examine the connections "between the secular and the sacred, between man and animal."
He further explores that connection on "Slow Time Vultures," a song that addresses the migration of vultures — birds that O'Connell didn't realize migrated — and the end of "slow time" in Indiana, when the state adopted daylight saving time in 2006.
"I think I thought it was fun to try to inhabit the vultures as characters," O'Connell says. "I think that's kind of what the Bible Bird Man did with his trained birds, too. He kind of personified them. He gave them this kind of fable-like voice, and I think that's what I've wound up doing with a lot of these 'bird songs,' where these birds have a human point of view. The change in the time policy meant the end of slow time, because [Indiana] wouldn't be out of sync, and I thought I'd have the vultures speak to that."
The vultures end up speaking like a lot of the characters O'Connell sings about as Elephant Micah, taking on the aspects of someone "who is willfully behind the time."
"In some ways I thought that fit with the character of a vulture, because their place on the food chain is kind of passive," O'Connell laughs. But even as "slow time" has vanished, it lingers in the songs of Elephant Micah, which move deliberately, unfolding at their own pace. Where In Our Woods does the same, revealing more as time passes quietly by. words / j woodbury