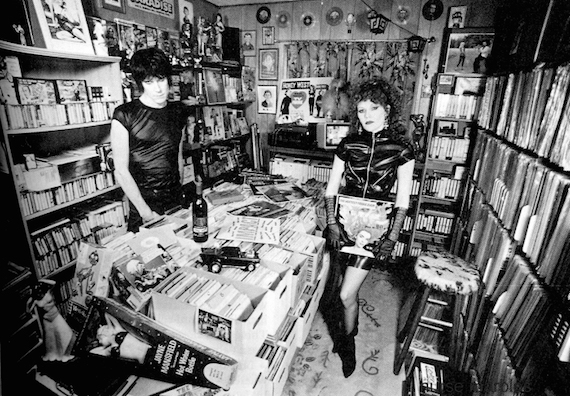 Diversions, a recurring feature on Aquarium Drunkard, catches up with our favorite artists as they wax on subjects other than recording and performing.
Lux Interior died six years ago today, so it's only fitting that the year's first installment of Diversions finds us catching up with Bloodshot Records' owners, Rob Miller and Nan Washaw. The Chicago label celebrated its 20th anniversary last year with the release of  While No One Was Looking: Toasting 20 Years of Bloodshot Records – a 38 track compilation comprised of artists paying tribute to the label's two decade history.
Below, Miller and Warshaw run through their own history with music, and in turn cite the artists that helped form what would eventually define the label's ongoing aesthetic – an unflinching amalgamation of country music and punk. Not surprisingly, the Cramps played a large role. RIP Lux.
_________________________________________________________________________________
The Cramps – Human Fly: Poison Ivy Rorschach's solo is a paragon of minimalism–an anti-solo that'd make a shredder fume, so simple I could have played it—but I didn't. Besides, she could say more with her icy sneer and the snap of her gum; she was simultaneously the coolest AND hottest woman I had ever seen on stage–before or since. And, next to her, like a warm, breathy voice growling in your ear from behind in a dark room—alluring and forbidding, one half Elvis and one half Vincent Price, one half hillbilly and one half punk, Lux Interior, the showman, shaman, and rock and roll archeologist, led me willingly straight to the underbelly. Hearing "Human Fly" was an awakening, an unburying, a baptism in the waters of music's continuum. Thanks to that pulsing, distorted, fuzzed-out song, the aural equivalent of a rusted mausoleum door opening, I have taken the road more weird and less popular, and that has made all the difference.
Mekons – Lost Highway: The Mekons' dismantling of the Hank Williams classic from Fear and Whiskey proved that lack of musical proficiency should never be a hindrance, that the "authenticity" debate is as boring as it is stifling—usually carried out by frightened, narrow-minded people craving the status quo, that revolution can sound like a ramshackle mess and that there are a lot of highways to get lost on. They taught me to respect your forbears, but don't revere them, that reverence is a form of murder, it puts music in a jar on shelf in a museum, it suspends it in amber. Monuments are meant to be torn down. After all, as Twain said, sacred cows make the best hamburger.
Oh, and you can still hold strong opinions without losing you sense of humor. Yes, Bono, you can.
Crass – Big A Little A: If only for the genius line "If you don't like the rules they make, refuse to play their game." A call to action that has to some degree or another, consciously or not, informed every aspect of Bloodshot's business model. When shitheads in high school were beating me up for being different, it helped give me the strength to not try and fit in and end up a shithead too, to stay different and fuck 'em if didn't like it. Without that sentiment, I don't think I ever would have had the wherewithal to start a label without knowing a fucking thing about the racket.
Flatt & Scruggs – Randy Lynn Rag: Like so many, I was in a dumb punk band in high school. Like so many, I swiped records from my friend's mom's record collection stashed under the hi-fi. Ha ha ha, I'll take this one, The Golden Hits of Flatt & Scruggs. All white suits and cowboy hats, dumb bumpkin grins and red string ties. Who hadn't done their best hee-haw overbite and sung along to the Beverly Hillbillies theme? Then I played this song. The dexterity, the musicianship, the SPEED hit me right between the ears. These dudes were playing music at a level of talent and sophistication I couldn't even comprehend AND could do it faster than our crap band ever could or would and not break a sweat. I was immediately shamed. And hooked.

Knitters – Poor Little Critter on the Road: In the summer of 1985, I was a snotty punk rocker living in righteous squalor in Oakland, CA, working in a warehouse, living with my snotty punk rocker girlfriend and going to Fang, Flipper and Fishbone shows. One day on the college radio station KALX, I heard this side project of the Blasters and X that upended my notions of the lastfastrules, all history is bunk orthodoxy of the punk scene. Their influences were the Louvins, not the Ramones; they sang about broken hearts and getting drunk, not smashing the state or police trucks; they taught me right then and there that country music did have to suck. While my girlfriend was imploring to stop listening to "that hick shit," I was looking at the songwriting credits and thus began looking into the music behind them: the Carters, the Ledbetters and the Haggards. With X, the antecedents were already there, but I was too stupid to hear them yet. The Knitters drove 'em home.
Hank Williams – Ramblin Man: Look, let's be honest, in the early days of the whole country punk thing there was a healthy dose of ironic attraction. Yee-Haw! They sing about drinking, hangovers, cheating women, and dropkicking me Jesus through the goalposts of life. Any band could get applause doing an amped-up version of "Cocaine Blues." But this, this was like the song played at the Big Bang. There is an elemental depth to it. It's in the soil, it's in our bones, it's in the isolated hollers and neglected back alleys and at the side of every roadway ever built. It's a song that could be a thousand years old, but it's longing and loneliness and Shakespearian level of pathos chills me still.
Howlin Wolf – Down in the Bottom: I picked up the compilation LP Wizards of the Southside for $4.99 at Schoolkids Records in Ann Arbor, MI my freshman year of college. It had Muddy Waters, Sonny Boy Williamson, Little Walter and others on it. But it was this Howlin' Wolf track that stopped me cold.
Country blues comes to the city and the result is some weapons-grade proto-punk. The genius of Hubert Sumlin on electric guitar, the greatest man in American music you've never heard of, Willie Dixon, on bass, and the larger than life voice and almost out of control acoustic slide guitar playing of Wolf. There was an energy, a vitality, a ferocity and an earthiness that was as alluring as it was revelatory. It unlocked the stellar Chess Records catalog, the world of Chicago blues and, later, the primordial Delta sounds of Robert Johnson and Son House. It kicked to the curb the watered down 12 bar blues horseshit I'd been numbed by at college watering holes. As with the unending Stones vs Beatles debate, there's always been a kind of Muddy Waters vs Howlin' Wolf rivalry. I am decidedly a Wolf man.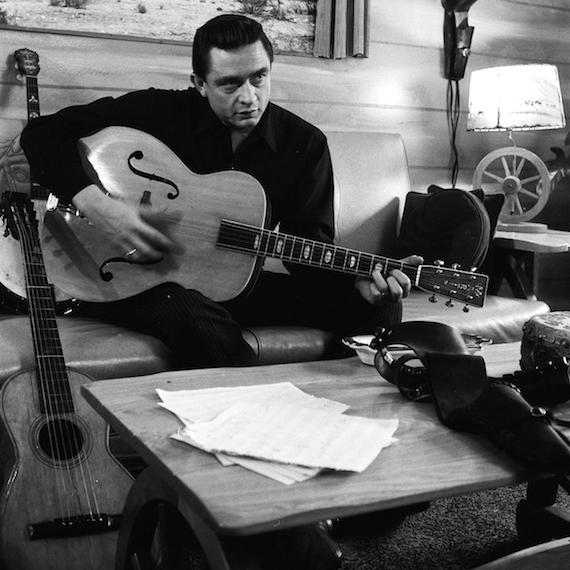 Johnny Cash – Man In Black: He had the cool lines: " I shot a man in Reno just to watch him die," "My name is Sue, how do you do…?," " I taught the weeping willow how to cry," the black attire, the speed freak and drunkenness back stories so enlivening to someone who thought country music was "Working 9 to 5" and paeans to America's ass-kicking greatness . He made live records from prison and flipped off photographers. In short, he had all the bona fides to cross the seemingly un-crossable chasm between punk and country. For me, "Wanted Man," with its social justice underpinnings, fell right into my political/music sweet spot, a natural extension (or, more properly) a precursor to the Dead Kennedys and the Clash. It was also an entry to country's long history steeped in such populism, from Bob Wills to Loretta Lynn to Woody Guthrie.
Gun Club – She's Like Heroin to Me: The Gun Club's album Fire of Love hit me like a goddamn thunderbolt. In the environment of the day, when I was otherwise seeing the Circle Jerks, Black Flag, Misfits and the like, it was a wall of unhinged, tortured, spooky, darkly ecstatic and angry pagan punk hoodoo. It spanned the sweat and dirty fields on the Mississippi Delta to the scuzz and dirty needles on the LA streets. Ward Dotson's opening riff, Terry Graham's big beat drumming and Jeffery Lee Pierce's shamanistic yawp sound as intense and perfect as they did the first time I heard them. I've worn out three copies of the LP. Wore. Them. Out.
Charlie Pickett & the Eggs – Overtown: I came across their EP, Cowboy Junkie Au Go Go, via a roommate who wrote for the college paper. Besides the undeniably cool title, it had cow skulls and syringes on it. Cool, man. But a cool name and cover a great band doth not make. This song about scoring in the Miami slums dismisses stylistic straitjackets in a way that was pure punk: it's as much Thunders and Reed as anything Cash or Coe; it's motorcycle boots, Stonesy fuck-yous and hard beating country heart. It works without a net, without a blueprint and with little regard for the musical bones it picks at.
Rob Miller – Co-Owner, Bloodshot Records
The Sonics – The Witch: The Sonics paved the way for Pacific Northwest punk and garage. When I was in college in Olympia WA in the early 80s, we knew and respected The Sonics as the forerunners to our punk rock. But the road they paved was also the path to edgy and gritty roots music. It likely was the Cramps cover of "Strychnine" that helped us discover The Sonics.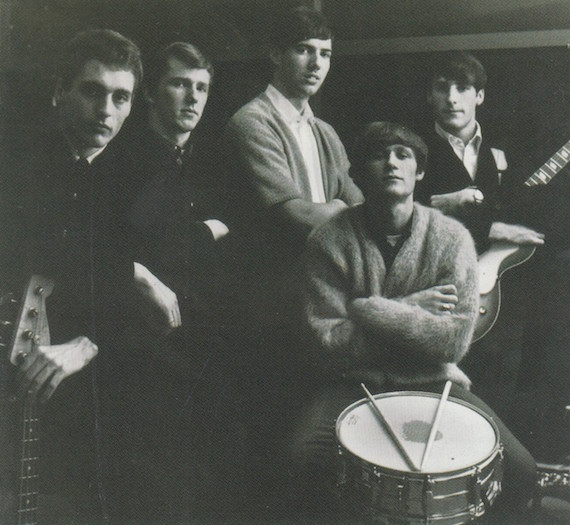 Dead Kennedys – California Uber Alles: My first punk rock show featured The Dead Kennedys, The Offs, The Plugz, The Memebers, plus a few more bands, in 1979 at (Jim Jones) People's Temple in San Francisco. It was the first time I saw fans pogo-ing, spitting at the band, and throwing beer bottles at the band (hitting Klaus Fluoride on the head). It was shocking and exhilarating — it was cutting edge. At that time Jello Biafra was running for Mayor of San Francisco, initially as a prank, but then he came in 4th as a write-in vote. I bought a button that said, "There's Always Room For Jello". I loved how actively political the band was.
The Avengers – The American In Me: Sarcastic, angry, and questioning of the status quo were what punk lyrics were about. Lead singer Penelope Houston nailed it here. Punk opened up music to anyone — women were a much bigger part of this underground scene than they had been in rock. Plus you didn't have to know how to play an instrument so long as you were passionate.
The Wipers – Mystery: Greg Sage's lyrics, and the band's image, are about being an outsider. Many of the Wipers songs have Ramones type structure, but with deep personal and dark lyrics.
Celibate Rifles – Let's Get Married: The Celibate Rifles (joke on the name Sex Pistols) were an Australian punk band with great social-political catchy songs. On one of their early US tours, after their Chicago show they crashed at my house. We stayed up most of the night in deep philosophical conversation.
Red Scare – Then There Were None: I DJed on KAOS college radio in Olympia WA from 1982-85. At that time the Riot Girl scene was emerging simultaneously in Oly and DC. I gravitated toward great female fronted punk bands such as Red Scare, X-Ray Spex, New Wave artists like Lene Lovitch, and indie rock leaning Get Smart, plus of course Siouxsie & The Banshees.
X – We're Desperate: Bands like X and The Cramps were the perfect gateway drug from punk to traditional country and acoustic blues. Jon Doe and Exene Cervenka's harmony vocals, albeit in minor keys, and Billy Zoom's big guitar sound, showcased their take on traditional forms. The Cramps covered numerous classic Country and Rockabilly artists including Charlie Feathers, Roy Orbison, Elvis, and Ronnie Dawson.
The Replacements – If Only You Were Lonely: I was a Replacements fan since I first saw them live in the early 80s at a tiny bar in Chicago. They were a messy, fun and wild, drunk party on stage. I played this 7" every time I DJed my regular country night in a punk rock bar. It is the perfect imperfect raw country ballad.
Bad Livers – Lust For Life: Bands like The Bad Livers and Killbilly were the first bands I saw live who openly embraced both punk and country. They played in the underground and punk venues/bars I was frequenting. Their shows were high energy and raucous. In the early 90s punk rock had become co-opted by the Major labels and frat boys were using the mosh pit as their excuse for a fight. Yet the community at Bad Livers and Killbilly shows felt more like the early days of punk — it was organic and supportive where, when moved by the music, a girl like me could start slamming or get in the pit without getting hurt. There was a sense of community among outsider serious music fans who dared to stir American roots forms in with their Underground Rock.
Nan Warshaw – Co-Owner, Bloodshot Records
Previously: Diversions :: Chris Forsyth (Bootleg Mix)