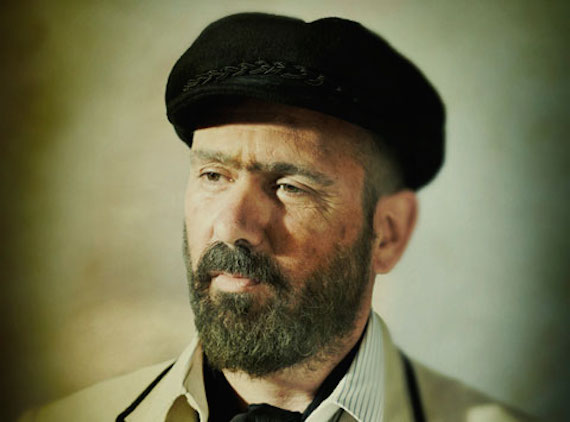 The inarguable, intangible greatness of Mark Eitzel is a slippery thing to articulate. To begin with, it appears by all available metrics not to be a well-known fact that Mark Eitzel is one of our best living songwriters. But Eitzel is indeed one of the greats – a crucial link in the chain between Cole Porter, Merle Haggard, and King/Goffin. As a lyricist there is no one more clever, devastating or capable of rendering a character sketch in a few choice words. Both as leader of the great American Music Club and as a solo artist, Eitzel has created transcendent music, ingratiating and experimental in equal proportions. In terms of underappreciated artists in our culture, there are few greater oversights.
This is on the one hand a strange thing, given the longstanding consistency of his brilliant work, and on the other not so odd owing to the particular brand of his anti-charisma. With his simultaneous obsession and revulsion towards show business, Eitzel in some ways resembles wrong-footing comedians like Steve Allen and Marc Maron more so than fellow musicians. He is not, strictly speaking, eager to please. If he claps along in a live setting to one of his best known songs, he will instruct the audience to please not follow suit: "you'll only screw it up". Eitzel's live persona uses as its jumping off point the bitter resentment and ambivalence implicit in Dean Martin's drunken gadabout persona, and follows those cues to their logical conclusion. Which is to say: he's unlikely to be headlining Coachella anytime in the near future.
Nevertheless, Eitzel's deeply moving work has periodically felt the tentative embrace of the mainstream. As far back as 1992 he was Rolling Stone's "Songwriter Of The Year", but something about that sort of approbation never seemed to stick; Eitzel has often made the bad career move of being interesting and unpredictable. His music alternately evokes Ellington and Erasure, Richard Thompson and The Rich Kids. The very name "American Music Club" simultaneously eludes to the abject, generic horrors of our strip mall times, while also delivering on its inherently more positive connotation. No contemporaneous band this side of NRBQ would prove so adept at weaving together country, blues, folk, rock and jazz into an ingenious and utterly idiosyncratic alchemy.
By the time American Music Club delivered its first inarguable masterpiece Everclear in 1991, the band had released three other records replete with passion, poetry and intermittent genius. Each of these records – Engine, California and United Kingdom – are fascinating documents of nascent genius, and well worth owning. But Everclear is a different animal altogether. Recorded during the peak of the AIDS crisis in San Francisco, it is a perfectly pitched nightmare tour of human misery, refracted through, and redeemed by, Eitzel's remarkable capacity for rendering human tragedy with a wry, journalistic remove. Tracks like "Rise" and "Sick Of Food" are almost-too-painful exhortations to overcome the illness and fear that had hemorrhaged his adopted hometown. "Why Won't You Stay" and "Jesus' Hands" are still sadder acknowledgments of the inevitable casualties of an ongoing crisis. It is that unique capacity for crushing empathy that makes Eitzel's funny, angry, scabrous work so essential. Every bit as much as Larry Kramer's The Normal Heart and Randy Shilts' And The Band Played On, Everclear is a crucial document of an American catastrophe written from a bird's eye view.
We spoke to to Eitzel about his reflections on Everclear, the first in an ongoing series that will highlight a number of albums from his career.
Aquarium Drunkard: After a few AMC albums, which were received at various levels of acclaim, Everclear felt different; purposefully posed as a kind of statement record and a brilliant one. Did you feel that way about it while it was happening?
Mark Eitzel: We wanted to make a record that might sound good on the radio. All of our previous records had sounded pretty small in radio terms. Our pedal steel player Bruce Kaphan was a staff engineer at a large recording studio in East Palo Alto called The Music Annex and the idea was for him to help Tom Mallon make it sound bigger – bigger gear, whatever. So we started it with that idea. Bruce was probably the biggest factor in making the album what it was. It was about a year in the making  and involved much drama. Frontier Records had a deal that a larger record company that increased the recording budget that fell through just as we were beginning to make the record. Lisa Fancher from Frontier Records was wonderful and very committed — and after the money fell through allowed us to find another label — which is how Everclear ended up on Alias Records. Frontier, however, helped make my career happen. She put out a lot of great music. I'm eternally grateful.
Aquarium Drunkard:  There feels like a great sonic and emotional leap was achieved – a kind of total confidence and presence in the material. Did that seem apparent at the time?
Mark Eitzel: Well, we'd done a lot of touring for United Kingdom [the album that preceded Everclear] so we were a lot more confident on stage and maybe in general. For the first time we were successful outside of San Francisco, which was huge. And bringing in Bruce to help Tom make the record was a very big change, because he knows to make big sounding records. I can't overemphasize the role that Bruce played, both musically and with respect to the arrangements – he was both hands-on and hands-off in the best possible ways. And then we brought in Joe Chicharelli to mix it, and Joe added so much sonic drama.
Aquarium Drunkard:  Part of what is so crushingly moving about Everclear is the depiction of a distraught community in the Bay Area, devastated by the AIDS catastrophe. And yet for all of its rich dark humor and pathos, this is plainly a life-affirming album. In the face of wicked death, you're cajoling a community to rise.
Mark Eitzel: When you connect with people in a dark place enough to change the frame or change the picture, maybe you can help them get over it. But you have to understand where they're coming from and what they're going through. You try to write songs without being too sentimental about it. You try to tell a story and hope there is something interesting about it. Writing dark songs is an odd thing to do. Maybe that should be reserved only for people who are healthy. But then if they were healthy, how would they know? Anyway, we were a great band, which meant everything.
Aquarium Drunkard: In the best tradition of the Faces or the Kinks, American Music Club had a reputation as being a hit and miss proposition. Fans talk about it like the best and worst shows they've ever seen. Sometimes it's the same show.
Mark Eitzel: American Music Club as unit was always pretty damned dysfunctional. It depended on the night. There was never a night when we all thought "This is a great night!". There was no night where someone didn't say that the show sucked. Sometimes it occurred onstage, where there was a lot of indifference and anger being displayed in front of an audience. But even still, on many a night American Music Club was a great, great band. People we worked with, tour managers and folks, said we were very scary because we never spoke. It was not a fun-loving group of individuals.
Aquarium Drunkard: Everclear is a record with such geographic specificity that the Bay Area becomes like a character in itself. Do you think geography is important to the process of songwriting, or can you write the same record in any setting?
Mark Eitzel: I think it matters. 50% of writing a record is your own bullshit you bring to it. The other 50% is where you are. When I first moved to San Francisco, I was a punk rocker from Columbus, Ohio. I was used to a certain kind of punk rock scene. In Columbus it was very open and very friendly and I was really shocked by San Francisco. It was completely different — very dark and cruel and exclusive. It drove me away from making punk music. Years later we would go to the Mission Rock bar It was a biker bar, it was on the ocean, and they tolerated the young people. At that time it was kind of a crappy industrial area. We used to ride bikes everywhere. It was an important place for me and my friends. We used to hang out and drop acid on the bay. Romantic young people getting high. Anyway, the city is absolutely beautiful, and maybe beauty leads to expectations that aren't really there.

Aquarium Drunkard:  Let's talk about some of the stories behind the material on Everclear. Can you talk about "Rise"?
Mark Eitzel: "Rise" was about someone who was dying of AIDS, a man, and I was sort of a primary caregiver for him. He was always picking on me, always on my ass because I didn't know how to do the laundry for him. But yeah, that was for him. It had a simple theme – let's not die. But the only rub was playing it live – it's one of those songs where you're trying to find the key and the emotion, and you have the loudest drummer in the world behind you. It can feel kind of dumb. As far as the writing, I just reflected the world as I saw it. There was a time, it took me years to get over it, when I saw A few of my close friends died, maybe within a year of each other. They died of drug overdoses, and then AIDS came. So for me it wasn't quite survivor guilt, but maybe PTSD.
Aquarium Drunkard: "Miracle On 8th Street"?
Mark Eitzel: I don't know. You know I was playing off the movie Miracle On 34th Street, and it was sort of an answer to that movie. But I had these friends, and there was always a party on 8th street. I thought a lot about cinema and movies in my songwriting. I thought of characters and actors. Robert DeNiro was a huge influence. Raging Bull, all of those Scorsese movies he was in.
Aquarium Drunkard: "Ex-Girlfriend"?
Mark Eitzel: A friend of mine – his then girlfriend was our bass player. I guess one night we were all drunk and she kept saying something about how my friend (her boyfriend) was just really teetering on the edge. Of course when he heard the song he was pissed and said to me, "Oh fuck you", and I was in trouble all the way around.
Aquarium Drunkard: So all things being equal, was the experience of making Everclear a pleasant, or at least memorable, one?
Mark Eitzel: It just took a while. There was the gap after Tom quit the band, there was the gap scrambling to find money after Frontier lost their funding. I recorded Songs Of Love Live much to the band and our manager's disapproval — overall it was a tough year for AMC. Also I think it was recorded in three studios with some songs added at the last minute. There was a lot of tension and drama but in the end it was worth it. words / elizabeth nelson bracy and timothy bracy