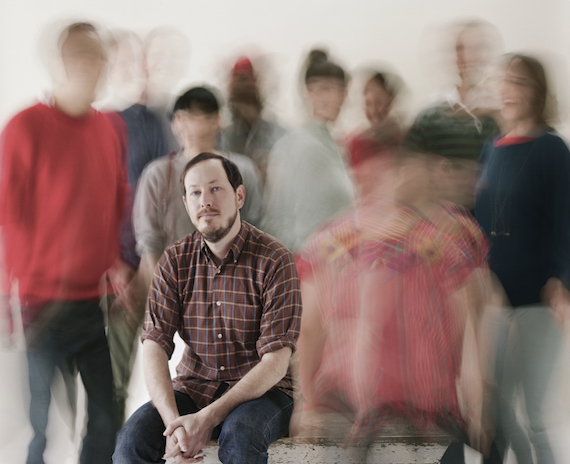 Much has been made surrounding the origins of the 'freak-folk' movement, for which Vetiver – the songwriting vessel of Bay-Area native Andy Cabic – has often been accredited. And while certainly an important snapshot in time, to look upon Cabic's body of work solely through that narrow lens serves the listener a disservice. On Complete Strangers, his sixth studio album since 2004, it's obvious Cabic has grown immensely attuned to his own capabilities. These, like so many Vetiver songs, have a long-lasting fortitude to them – they are old friends, the comforts of home and sound better with age.
Speaking with Cabic is much akin to his music. His voice is mellow, inviting, imbued with a righteous confidence. Ahead of his first release for new label-home Easy Sound, we caught up with Cabic while preparing for the onset of the first full-band Vetiver tour in a couple of years.
Aquarium Drunkard: The last tour found you playing solo alongside old friend Devendra Banhart. Tell me about that string of shows.

Andy Cabic: Those were all around northern California. A lot of places I hadn't been before, let alone played before…some really nice venues. It was promoted and arranged by Folk Yeah who do a lot of shows in cool spots around Northern California. They were small intimate shows, short drives. It was an idea that we had a few years ago to book some short tours in places that are really beautiful that we'd want to spend some time in and not be hurried along with a show every night at some breakneck pace. Spots we could really enjoy being on tour.
In 2012 we did this for the first time in Japan and then we did it just this last fall in California. We're about to go to Spain in May to do it once again. It's great…we just kind of get on stage together and are there the whole time just playing songs of both of ours, back and forth. One of Devendra's and then a Vetiver Tune.
AD: Having known Devendra for so long, does being around/playing with him bring out anything in you creatively or otherwise?
Andy Cabic: Yeah…I don't get to perform my songs in that style of arrangement very often. I'm happiest when I have a stage full of friends playing off each other. To just do songs with two guitars isn't something I do often and the songs that sound best that way tend to be old ones. So here I am on stage playing with Devendra playing the songs we used to do a decade ago and it does bring me back. There's a fragile sturdiness to doing songs that way. I don't get to tap into that often. He's super fun to travel with…a goofball who doesn't take things too seriously. We got to see a lot of friends. It was familiar.

AD: The first time I heard a DJ set of yours was at the Woodsist Fest in Big Sur. How do you normally prepare for a set?
Andy Cabic: It depends on what is happening. If it's playing between some bands at a show I'll just grab whatever is in the wheelhouse of those bands. A lot of times I just put in my bag whatever I'm into at the moment. I've had a bi-monthly series at a bar in town here, we just play a lot of old mellow r&b, soul and boogie, and whatever we want really. It's called Mellow Shots…so we keep it mellow…that's really the only concept we have.
AD: Your covers on Thing of the Past turned me onto some of my all-time favorites, Bobby Charles and Michael Hurley. Who was it that initially got you into those artists?
Andy Cabic: I have a circle of buddies that are all kind of heads that are always digging through records and trying to find out about new music. That's a big part of how they connect with the world. Most of those artists, that's how I found out about them…and most of them also played on those records. I can't quite remember where I heard Michael Hurley first…Bobby Charles I heard through Devendra. He bought the CD at Green Apple Books around the corner from where I lived…I remember it very clearly that evening.
AD: Are there cover albums that did the same for you?
Andy Cabic: Certainly Fakebook by Yo La Tengo was a big record that did it for me when I was younger. I found out about a lot through that record. Bowie's Pin Ups. Meg Baird has done some great covers that have turned me onto some great artists as well.
AD: Over the past few years there have been some great Vetiver remixes. How did those come together?
Andy Cabic: I've done a few of them. There were a few from To Find Me Gone and I did those with Thom Monahan (Neighbors Remixes) and same with "More of This". I enjoy it. It's fun for me and just another extension of working with Tom on the songs and experimenting and playing around with them. Seeing or hearing another opportunity to take another step forward or approach a song from a different angle.
Other remixes I reached out to folks whose own projects I really enjoy…in that case I just gave them free reign to see how it goes.
AD: Sonically, I began to hear some of the textures from those remixes show up on Errant Charm and definitely this new one. Complete Strangers seems to pick up right where that record left off.
Andy Cabic: Yeah…some of the songs on the new record took a while to complete. I didn't have a clear vision for them at first…it wasn't just me picking up a guitar and writing the song. Some of them had a more round-about creation. But most of them came out of demos that I either did myself or experiments with Tom at his place. In that sense, it is like those remixes or other records I've done where it comes out of conversations I'm having and just reaching the next step from the last project.
It's pretty special in the sense that I've done all my records with one person so when we do begin a new project we have moments of talking about it and reflecting on what we've done and what we want do next. But I can't remember specifically stating what those things are. By the time we've reached the end we've covered so much ground and so much has changed that your perspective is different.
AD: You've definitely been moving in a certain direction without it feeling like a drastic change.
Andy Cabic: It comes down to my voice. I can really only sing the way I sing. I'm not going to try to write songs where I put my voice in a context where I'm not being true to myself or singing in a way that isn't sustainable live or over the course of my life… to do something that is out of character. It doesn't seem worthwhile in some ways. Whatever I do musically, if I want to sing on top, that is sort of the equalizer. That's how it's connected to other records I've done because that's stylistically how I'm built.
I feel like I'm always writing the circle of what Vetiver is capable of sounding like. There's stuff on there that harkens back to the second album or earlier albums and there's also things that are the next step from the last record but also maybe represents the one to come. I'm interested in having a body of work that has that fluidity across it rather than reacting and thinking I need to do something completely different. If it were to be that, I would not call it Vetiver.
AD: Sonny Smith shared similar thoughts when it came to his own singing capabilities. I've read a handful of reviews describing your vocal style as having lullaby qualities. Do you hear that at all?
Andy Cabic: No. I just know when I'm singing and it feels right and I try to aim for that. I'm not trying to put people to sleep. I like songs that don't hit you over the head either. There is enough of that in the world being done by plenty of other people. I think something that I do well is complimenting my voice well with music. Songs with subtleties and some depth but at the same time are catchy and stay with you after you're done.
AD: What's the live set up looking like for the upcoming tour?
Andy Cabic: We're working on it. I haven't played with any of the guys yet. Hopefully the guys who will play with me for the first run of dates in May will be able to play with me throughout the year. I've been talking to Richard Gowen who is a great drummer, plays with Johnathan Wilson. Nick from Sandy's and Range of Light Wilderness will be on bass. Eric Johnson will sit in on keys. Jeremy Harris is a great local musician and producer and will play guitar and keys too. All good friends. I feel fortunate that they're interested in traveling with me.
AD: Is it ever difficult to not have band continuity?
Andy Cabic: Continuity would be nice. I've had it at times. But also I've been not touring and working on the record and laying low for a couple of years. I don't expect the people I play with to just sort of wait for when I'm ready to tour again, they have their own things going on. It just is what it is. You know? It helps if you look at it as an opportunity rather than a problem. words / j silverstein