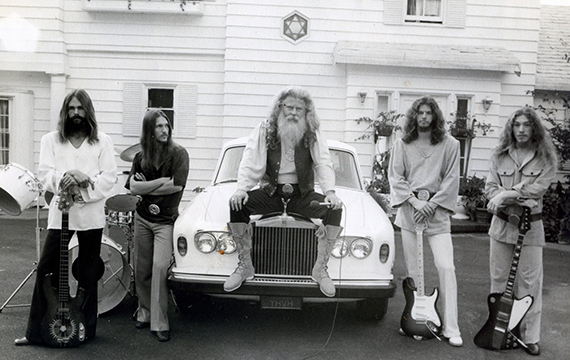 High atop the mountain of New Age and psychedelic reissues resides a throne for a man not quite of this earth. Hirsute with a colossal presence that was equal parts yoga master, health food prophet and hippie Santa Claus – Father Yod (later Yahowha) is the granddaddy of spiritual-private-press-cum-cult-esque music. However, before his spiritual enlightenment Father was born James Edward Baker in 1922 in Cincinnati, Ohio. He later earned the Silver Star as a United States Marine in World War II and became an expert in Jujitsu. Desiring to become Hollywood stuntman his efforts were derailed when he became enamored by the Nature Boys, a Los Angeles-based group of a beatniks who lived "according to Nature's Laws." His time was soon all spent studying philosophy, religion and esoteric spiritual teachings before becoming a follower of Yogi Bhajan, a Sikh spiritual leader and teacher of Kundalini Yoga. Disenchanted when Bhajan declared he was not god, Baker decided to assume the mantle. In 1969, Baker gathered a group of followers dubbed The Source Family and opened a health food restaurant, The Aware Inn, in the Laurel Canyon section of Hollywood. Now christening himself, Father Yod, Baker adopted a credo based on kindness to animals, a fruit diet, the wearing of cotton clothes and, finally, sex without orgasm. Amongst those who worked in The Aware Inn were a number of budding musicians and Father formed the psychedelic free rock band Ya Ho Wha 13 around their talents in 1973.

Ya Ho Wha 13 recorded all nine of their albums in a soundproofed garage that served as a makeshift studio at the family's communal residence. Most were recorded after their pre-dawn marijuana enhanced meditation allowing their dark psychedelic stream-of-conciousness sound to be fully improvised with no rehearsal. The first spontaneous release, Kohoutek, was credited to Father Yod and The Spirit of '76   and came out in 1973 – the year of the comet Kohoutek. With the arrival of this otherworldly astral body it brought a renewed interest in cosmic consciousness in both the media and popular culture. Father Yod devoted himself to daily chanting and meditating on the comet as evidenced across the two sprawling side long jams — simply titled Side A and Side B. Blistering guitar, funk-rock piano and organ with female backing vocals set the mood as Yod waxes his cosmic sermons. As the emotions move from tranquility to elation, the chants slowly descend to near inaudible vocals culminating in a piercing Emergency Broadcast System-like tone that signals the comet's arrival.
A year later, in 1974, the Savage Sons of Ya Ho Wa was released while adding Rhythm Aquarian to the line-up and moving Electron Aquarian to the vocal pulpit resulting in the most wildly rocking albums in their catalog. And while Father Yod does not appear on the album you need look no further than album's cover to see he is still in the driver's seat. Especially on the opener "Edge of a Dream", with the refrain 'I want to see/What's going on' echoing deep into your consciousness. The band is super tight as the music channels the raw, fiery San Francisco ballroom sound anchored with a funky rural backbeat — as Djin's ripping Crazy Horse-esque guitar and Electron's fried vocals pummel the listener on frenzied cuts like "Just Sitting Here" and "Man the Messiah".
Drag City has lovingly restored and reissued both LPs on vinyl for the first time in over 40 years. Both feature all of the original artwork, including an insert about the comet, Kohoutek. Also found within are new reflections from Isis Aquarian – caretaker of the Source Family legacy. words / d norsen